Heat Check: The NBA's Biggest Surprise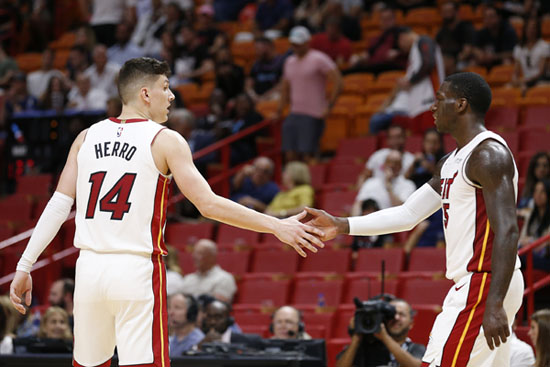 During the 2019-2020 NBA season, there have been numerous surprises, including the downfall of the Golden State Warriors, the brilliance of Ja Morant, and the resurgence of Carmelo Anthony. The biggest surprise of this NBA season, however, is the Miami Heat.
Before the season, the Heat were projected to go 43-39 and tie for the 13th best record in the league, according to Bleacher Report. But because of the culture change by the team's leader Jimmy Butler, and young budding stars Tyler Herro, Bam Adebayo, Duncan Robinson, and Kendrick Nunn, the Miami Heat have returned to the top of the Eastern Conference. 
Jimmy Butler deserves the whole league's respect. This year, he's averaging 20.4 points, 6.9 rebounds, and 6.6 assists per game for the Heat. In the past he's been viewed as a selfish player, but this year he has proven the opposite. He is renowned by his teammates and coaches for his rigorous work ethic, with his workouts starting as early as 3:00 AM. Butler has been a key part in the culture change in Miami and has inspired the Heat's young group to emulate shades of his work ethic. 
Tyler Herro and Bam Adebayo are two great young talents drafted from the University of Kentucky. Herro is averaging 13.3 points along with 4.3 rebounds per game. But stats don't tell it all —  Herro is a mesmerizing player to watch on the floor with his combination of playmaking and his accuracy from deep. The latter, Adebayo, is averaging 15.6 points along with 10.6 rebounds and, surprisingly, 4.5 assists per game, second most among big men. Bam is an interior force with not only powerful moves around the basket, but also finesse with his passing ability, which is rare for someone his size. They both showed great promise at the University of Kentucky and are fulfilling that at the next level. 
Two unlikely NBA talents have emerged in Duncan Robinson and Kendrick Nunn. Robinson averages 11.8 points and 3.3 rebounds per game. Robinson is a sniper from 3-point range. He started his journey to the NBA at a Division 3 college, and worked his way to Michigan, and eventually earned a spot on the Miami Heat. Nunn is a candidate for Rookie of the Year, averaging 15.4 points, 2.8 rebounds, and 3.7 assists per game. Nunn is an absolute bucket, with his innate ability to score anywhere on the floor. He went undrafted this year, but has proved the doubters wrong. These two have proven that hard work truly pays off. 
The Heat exemplify what it means to play team basketball. The team has great chemistry and its players look as if they have been playing together for much longer than they actually have. With the leadership of Jimmy Butler, mixed with their crafty veterans and young talent, Miami looks like they can go all the way.