Sam's Throwback Thursday
Let's go back to a time when our parents were jamming out at mixers and dances like we do today. Let's go back to the 80s.
It isn't normal for me to say I like a song after discovering it because of TikTok, but I'm not ashamed to say that I heard this song for the first time because of TikTok.
I love listening to older songs and usually throw on some jams from the 80s, but I had never heard of "The Promise" by When In Rome until last week. As usual, when I find a song I like, I post it on my Snapchat story.
I immediately started getting responses because of the sheer beauty and nostalgia of this song, like some from Luke Daley, saying, "Might have to be a TBT," and "I don't know where I heard it when I was little, but when I just listened to it, it felt like I knew every word." I, too had an experience like Luke's. This song sounded so familiar, yet I had never heard it before.
After asking my dad if he was jamming out to this song in his St. X days, he explained how it was played at every mixer and dance they had in the late 80s. I could immediately picture myself at a mixer in the 80s, dancing and drinking punch while yelling out the words to this song.
Something about this song makes me wonder how music like this isn't played more regularly. So many great songs came from the 80s, and instead of choosing to leave them there, we need to cherish and refresh the new generations, showing them where everything we have today stemmed from.
About the Contributor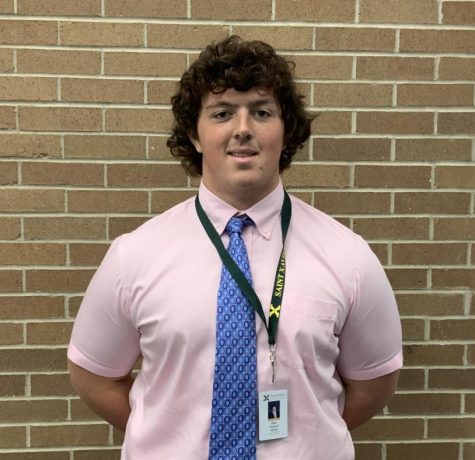 Sam Hayward, Staff Writer
As a senior football player, Sam spends a lot of his after school time practicing and bonding with his teammates. During the winter, Sam loves to find...