Tiger Soccer Takes State
Saint Xavier soccer defeated South Warren 1-0 to capture their 15th state title. 
The championship game was locked at 0 for over a half, but with 31 minutes to play, Sulli Meyer scored on a header from a corner kick by Augustin Gonzalez. This goal proved to be enough for a victory thanks to the Tigers' lockdown defense  and solid play from junior goalie Clayton Brooks. 
"Once we get the lead, we expect that we hold on to that lead, and we don't let the other team score," Meyer said. "We knew that if we got up one goal we were going to win the game." 
The road to the state championship game was a long and exciting one. After beating KCD in the regional championship, the Tigers went on to beat Elizabethtown in the first round of state. The quarterfinal matchup was a memorable game. Down 2-1 with under two minutes left, Sulli Meyer scored followed by a goal by Jackson Marks with 17 seconds left to send the team to the state semifinals. 
After losing just one game in the regular season, the Tigers were confident going into the postseason. This team had 48 players and every one helped in a big way. Having a team this big could be difficult to unite, but the team overachieved. 
"It's really tough to mold 24 guys together into a single unit," head coach Andy Schulten said. "I feel like we did a pretty good job with 48."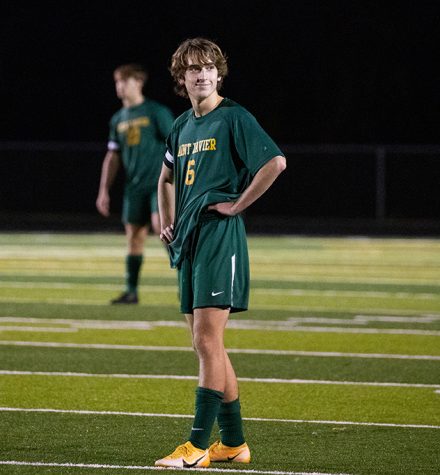 Being one of the first St. X teams to play a season this year, there were question marks all year–would they even be able to finish the season?
"I firmly believed that we weren't going to have a season," Schulten said. "I just told the guys that if the season is one week long or two weeks long, just value it and have fun with it. It might be the only thing we got."
Thankfully, the season happened and was a success. The seniors left the pitch with a much better feeling than last year. 
"It was heartbreaking junior year losing in the regional final," Meyer said. "We bounced back senior year and made it all worth it."