Frank's Dawgs
March 15, 2023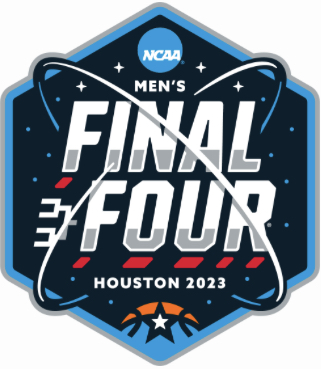 One in 9.2 quintillion… The absurd odds for anyone to complete a perfect March Madness bracket. I, Frankie Klein, will be defying these odds this year no matter how large the number is. My number one thing that I keep in the back of my mind when filling out my bracket is to not make what I call a "Dicky V Bracket." A Dicky V Bracket is a bracket where there are only 1 and 2 seeds in the Final Four. This is very unrealistic because ten of the last 11 Final Fours have had a 7 seed or higher in them. Keep this in mind when filling out your brackets this year.
South Region
Winner: Alabama Crimson Tide
Overview: The Mountain West Conference is historically bad in the tournament. So bad that all of their teams in last year's March Madness were eliminated in the first ten hours of the tournament, which is why I have San Diego State being upset by Charleston and Utah State falling to Missouri.
Furman is a fun team with four players averaging double digits in points per game. Everyone on the team can shoot the three-ball and I have them beating a very slow Virginia team and making a short Cinderella run before being cut short by Alabama.
Ryan Kalkbrenner for Creighton is a 7 '1″ beast of a man that I can see leading the Blue Jays past the Baylor Bear's very weak defense.
Arizona has a two headed monster down in their front court with Azuolas Tubelis and Omar Ballo. Not many teams will be able to stop these two from scoring and rebounding, but I feel as if Alabama can, and will.
Between the Crimson Tide's gritty defense and Brandon Miller's skill of scoring the basketball, they seem as if they will be the team to make it to the Final Four out of the South Region.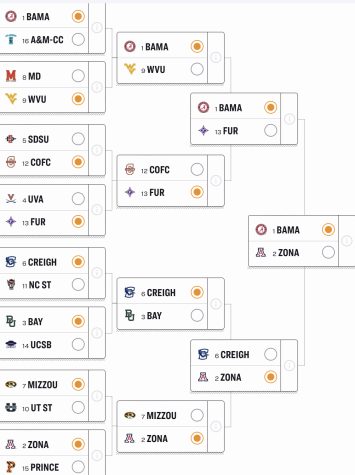 East Region
Winner: Memphis Tigers
Overview: The East Region is wide open for any team to come out victorious. I am not a believer in FAU and I think that the American Conference champions, Memphis, will handle them easily in the first round.
Purdue is also a very fraudulent top-seeded team in March Madness. They have the NPOY in Zach Edey, but I can see the Boilermakers falling to the Tigers' tandem of Kendric Davis and DeAndre Williams in the Round of 32. Once Memphis starts pressing Purdue, the game is over. The Boilermakers can't beat a press to save their lives.
Duke and Oral Roberts matchup will be a great game where Max Abams and the Golden Eagles will be trying to repeat the Cinderella run they had in 2021. I believe the Blue Devils are way too hot for them right now though after coming off an ACC Tournament Championship though, and will make it all the way to the Sweet 16 with their first year head coach.
Tennessee will be upset by Louisiana because of their star point guard's injury.
Kentucky has been very shaky this year, but they have also had some very persuasive moments this season. I believe the Wildcats will end Bryce Hopkin's revenge tour and even beat Kansas State to reach the Sweet 16. I could totally see a Duke vs. Kentucky Elite 8 game though because, I mean, why not?
USC will handle Tom Izzo's inconsistent Michigan State team easily in the first round and face Marquette in the Round of 32. Shaka Smart is 0-6 in March Madness throughout his career, but I believe he breaks the streak this year. This is a good Marquette team with two very good guards, but I predict their championship hopes being crushed in the Elite 8 by a team I see as last year's North Carolina versus Memphis matchup. The Memphis Tigers will be the team representing the East Region in the Final Four.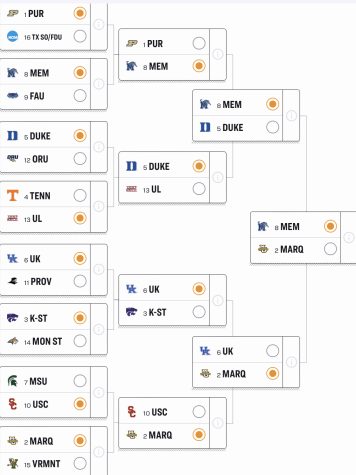 Midwest Region
Winner: Houston Cougars
Overview: This Midwest Region was the toughest of the four to pick. I can see so many different outcomes happening, but I believe the outcomes that I chose made the most sense. The Iowa vs. Auburn game will be taking place in Birmingham, Alabama, so the Tigers are essentially playing a home game against the Hawkeyes.
I love this Drake team over Miami for many reasons. Miami will have their best big man, Norchad Omier, either out, or coming back from an injury that he suffered in the ACC tournament. Drake is also a very old and experienced team, with their starting lineup having an older average age than five current NBA teams.
Many people like Kent State over Indiana, but I can see the Hoosiers going on a small run to the Sweet 16. The Hoosiers are led by Trayce Jackson-Davis, who leads the Hoosiers in every statistic apart from steals. Indiana has been a little inconsistent this year, but when they are on their A game, man are they good.
I loved how Pittsburgh played against Mississippi State in the play-in game and I feel a sense of madness within them. I'm even going to go out on a limb and say that the Panthers will win on a late game winner against Iowa State, as they did against Mississippi State.
Texas A&M was robbed when the committee gave them a 7 seed in this year's tournament. I believe they will put up a fight against Texas in the Round of 32. Texas will win that game though and move on to play Xavier in the Sweet 16, but the Musketeers stand no chance against the depth of the Longhorns. Their lack of defense also doesn't help their case.
Marcus Sasser will be back to 100% health from his groin injury to help lead Houston to the Elite 8, where they will face off against Texas. Houston just plays way too fast for the Longhorns to keep up and they will run away with the Elite 8 win. The Cougars will keep it chalk and make it out of the Midwest Region to move onto the Final Four in their own city.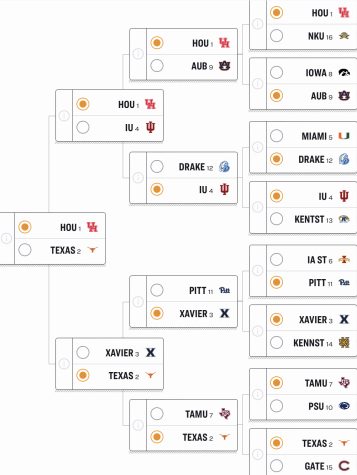 West Region
Winner: UConn Huskies
Overview: The West Region is by far the most talented region in the tournament. With Kansas, UCLA, Gonzaga, UConn, and Saint Mary all in the top 11 in Ken Pom rankings, this region is filled with talent. The Arkansas and Illinois will be a total rock fight, but I see the Razorbacks coming out victorious.
I love VCU against Saint Mary, especially after the Gael's loss to LMU in their first game of the WCC tournament.
I'm going to go with Northwestern over Boise State for the same reason I chose Charleston and Missouri to make it out of the first round in the South Region. UCLA still has a great team this year, even with their best defender getting injured in the PAC 12 tournament. With that being said, I have them beating UNC Asheville, but don't be surprised if the Bulldogs give the Bruins a run for their money.
My favorite part about this bracket is the Gonzaga vs. UCLA Sweet 16 game. The Bruins will be out for revenge after Jalen Suggs' game winning half court shot against them in the 2021 Final Four to end UCLA's dream of a 12th national championship. I have UCLA coming out victorious in the rematch and going up against UConn in the Elite 8.
UConn makes it to the Elite 8 after defeating Kansas in the Sweet 16. I love UConn this year because of their gritty defense and outstanding free throw percentage this year. Adama Sanogo will stomp all over the guard heavy Bruins in the Elite 8 and lead the Huskies to what some may say, a very surprising Final Four appearance out of the West Region.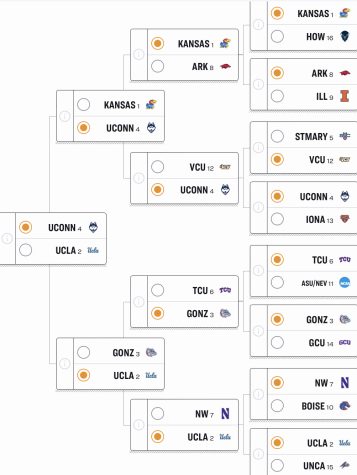 The Final Four
Winner: Houston Cougars 
Overview: The 2023 Final Four is in Houston, Texas this year and the space theme looks awesome. Only one out of my four Final Four teams are from a Power Five Conference and I love it. My predictions have Alabama, representing the SEC, facing off against Memphis, representing the AAC in our first Final Four game. Brandon Miller and that Crimson Tide defense will be too much for the Tigers to handle. The Bama freshmen are dangerous and the team actually plays some very good defense. Give me the Crimson Tide to the National Championship.
In the second Final Four matchup, I have Houston against UConn. The Cougars get a home game in the Final Four, how about that? Marcus Sasser will not let his team lose in front of a home crowd in his last season with the team. He is out for revenge after a Final Four loss in 2021 and missing the tournament last year with an injury. He is out for blood and UConn stands no chance.
This leads us to the final game, the National Championship. The one seeded Alabama Crimson Tide taking on the one seeded Houston Cougars. This will be a great way to end a great tournament. These two teams played against each other earlier this season in December and Alabama came out on top, beating Houston 71-65. This will not be the outcome when these two teams go at it again on April 3. Houston has the better coach in Kelvin Sampson and greater tournament experience than Alabama. Coach Sampson held a whole week of practice this year with lids on the rims, so the team could work on their rebounding. Nobody can tell me that the top seeded Houston Cougars are not winning the 2023 Men's Basketball National Championship.
Good luck this year in your brackets and go Cougars.