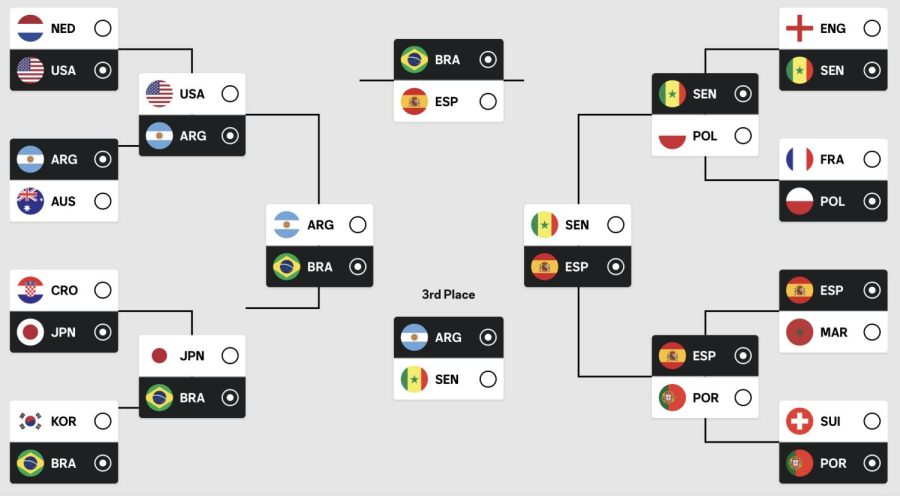 World Cup Qatar Predictions: Knockout Stages with St. X Soccer Stars
December 5, 2022
The Qatar World Cup has been a pleasure to watch thus far with many fantastic moments being captured. There have been many chaotic games with goals that people dream for. Richardson, the Brazilian forward, had an acrobatic finish in their first game against Serbia. England's Marcus Rashford had a swift free kick past Wales' goalkeeper in their final group stage match. Spain, as a team, blew Costa Rica away with seven goals. Saudi Arabia had the upset win over favorites to win the tournament, Argentina. All these matches have truly shown that this World Cup seems like a movie.
In our last World Cup story, Xavier News writers were put to the test to predict the group stage. For our predictions we made a point system to see who won with a point for each country being correctly selected to go through, but also if we predicted them in the correct order then three points were earned. The total points standings of the group stage predictions were…
1. Ben (16 Points)
2. Sam (15 Points)
3. Luke (11 Points)
(To see who we picked in our predictions go to our last World Cup post on Xavier News.)
The next predictions are for the knockout stages with St. X soccer star players Trip Campbell and Stone Work. We will try to breakdown our decisions all the way to the final, and see who will hoist the golden trophy!
Ben's Bracket: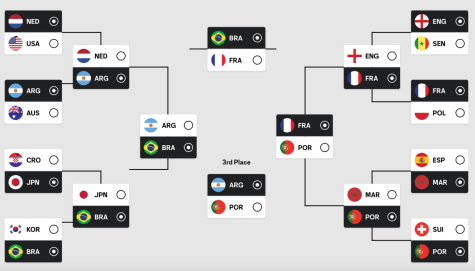 Brazil is looking to gain their sixth World Cup trophy to add to the cabinet, and this tournament is Neymar's last chance to hoist it for his country. Neymar is truly a generational player and this trophy would definitely help him in the all time greats conversation. Howard has Brazil winning the tournament and France making a massive effort to also gain another trophy to their possession. Ben has a legendary third and fourth place game with Ronaldo versus Messi. Ben is looking to see Japan and Morocco upset some major opponents, and he also predicts the United States to be bounced out of the competition in the round of 16.
Trip's Bracket: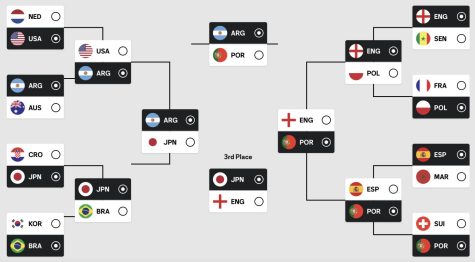 Argentina is looking to help support Messi to lift the trophy, and after their skeptical loss to Saudi Arabia in the group stage they will look to have a surge of excellence. Trip has Messi and Argentina becoming world champions. This would be the first time since Diego Maradona dominated in 1986. The St. X soccer player sees Portugal also making it to the final, which will once again make a dream final of Messi versus Ronaldo. Trip predicts Poland, United States, and Japan making deep runs in the tournament, but even seeing Japan gain third place in the tournament.
Stone's Bracket: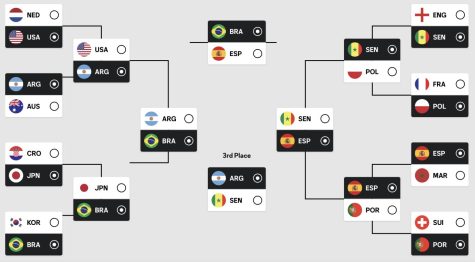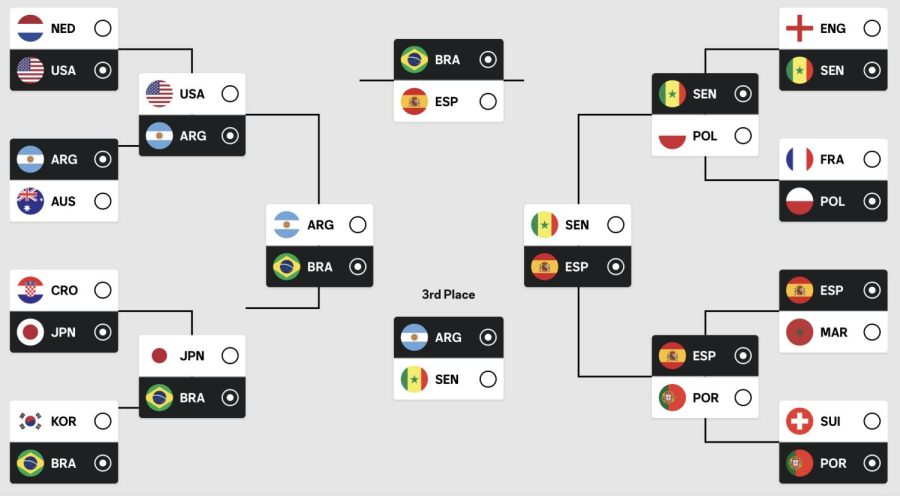 Stone Work sees a Brazil versus Spain final, which could very much happen. Both teams showed their attack threat in the group stage. He believes Brazil will edge Spain due to their reliable speedy tricksters of Neymar, Vinícius Júnior, Richardson, and Antony. Since Stone's favorite teams Italy and Germany are nowhere to be seen, Stone is hoping for Senegal to make a massive Cinderella run. He predicts England and France to be next European giants to be sent home.