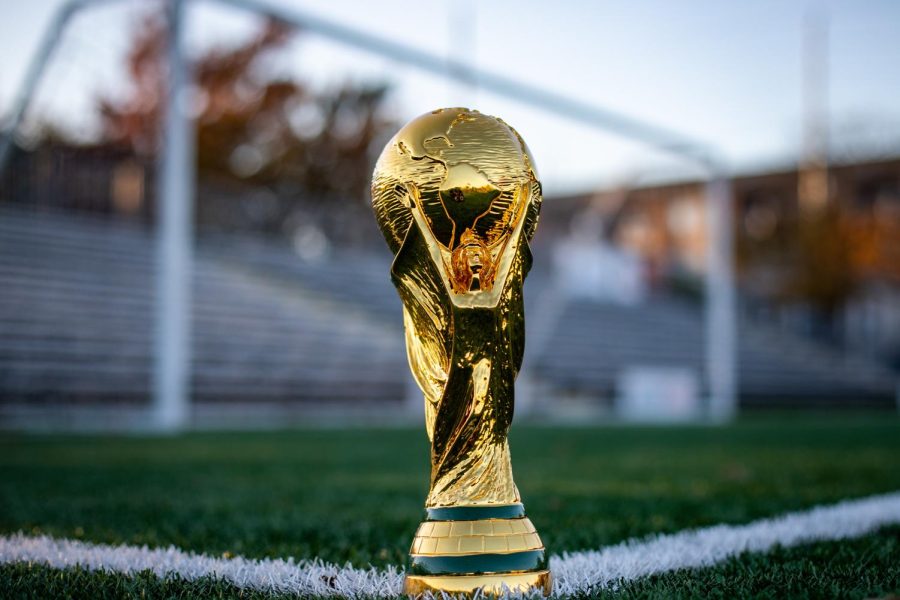 Photo courtesy of Rhett Lewis via Unsplash
World Cup Predictions: Qatar 2022
November 21, 2022
The World Cup, a time of action-packed moments and memories in the making. I've watched two fantastic World Cups because the tournament only happens every four years in my lifetime. In 2014, the Brazil World Cup's bright, vibrant atmosphere filled my eyes with great joy. In 2018, The World Cup had many great games and extraordinary moments in Russia. Let's hope Qatar will carry the legacy of previous World Cups with greatness.
This year's World Cup has already seemed like a fantastic movie, with the scene set in the sandy deserts of Qatar. This World Cup will be special because this is the first time the World Cup has been held at the end of the calendar year. Usually, this magical event is in the summer with the energetic spirit flowing. This year will hopefully still bring that same fiery atmosphere as before.
Like many other tournaments, many people give their predictions and challenge themselves to try and pick their favorite to win the World Cup. Xavier News has decided to put ourselves up to the task of predicting our winners in this historic event. This preview will be the first part of our predictions, with the round of sixteen coming next!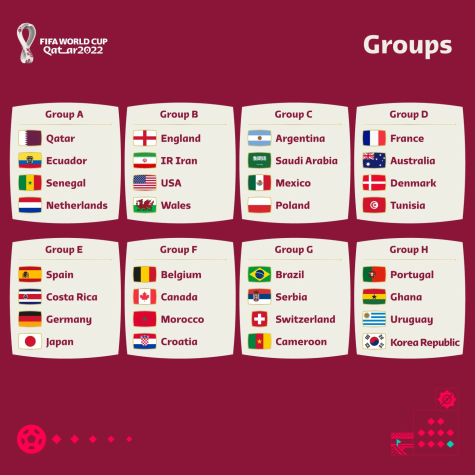 ---
Group A
The Netherlands hasn't been in a World Cup since 2014 when they went all the way to the semi-final, where they lost to Argentina on penalties. Senegal has just won in January in the African Cup, and they should be looking for a quality performance even without their main man Sadio Mané. Ecuador hopes to sneak past the group stage in a tough group without many star players. Qatar has the home-field advantage, with the fans looking to support their country to the knockouts as they are a relatively small country for the sport.
Luke
Winner: Netherlands
2nd Place: Ecuador
Sam
Winner: Netherlands
2nd Place: Senegal
Ben
Winner: Netherlands
2nd Place: Senegal
---
Group B
England is a favorite this year with so many young and skillful players; coach Southgate and his players will be looking to lift the World Cup this year. The United States hasn't been in the World Cup since 2014, and with a newly refurbished squad, they will look to get past the round of sixteen. Wales' last hope is with their star player Gareth Bale, and they hope to beat their rival England. Iran is another Middle Eastern team hoping to do well this year with their star player Mehdi Taremi leading their line.
Luke
Winner: USA
2nd Place: England
Sam
Winner: USA
2nd Place: England
Ben
Winner: England
2nd Place: USA
---
Group C
Argentina… in the last dance for the G.O.A.T., Messi will be trying to lead his team to glory and lift the Cup against some massive opponents. Poland has a prolific scorer in Robert Lewandowski, and they will be seeking the knockouts with a 2nd place finish. Mexico made it to the round of sixteen in 2018, but they fell short of the skill of Brazil. Saudi Arabia is looking to get out from the bottom of their group, and they are poised to do well.
Luke
Winner: Argentina
2nd Place: Mexico
Sam
Winner: Argentina
2nd Place: Poland
Ben
Winner: Argentina
2nd Place: Poland
---
Group D
France is the defending world champion looking to retain their past efforts. Although, with a hindered squad and without their dominant midfield of Pogba and Kante, this team will need to fight a little harder. Denmark has one of the best team, chemistry-wise, in the World Cup and they will be looking to go far. The Danes went to the semi-finals in the 2020 Euros, but fell short to the Three Lions of England. Australia is a sneaky team that could cause the collapse of a giant team like France in the group stage. The Northern African team of Tunisia will also hope to sneak some good results to qualify for their first time in a World Cup!
Luke
Winner: France
2nd Place: Denmark
Sam
Winner: Denmark
2nd Place: France
Ben
Winner: France
2nd Place: Denmark
---
Group E
Spain and Germany are two former powerhouses looking to revive their dominance and rebuild back to the top. Spain has molded into a tiki-taka possession style of play, while Germany is looking to play some blistering paced soccer with Leroy Sane and Serge Gnabry (Bayern Munich teammates) leading the front line. Japan is also a dark horse of this group that could knock off one of these top dogs. The last team in this group is Costa Rica, who made a historic run to the quarterfinals in 2014, but with the legendary goalkeeper Keylor Navas, anything can happen.
Luke
Winner: Spain
2nd Place: Germany
Sam
Winner: Spain
2nd Place: Japan
Ben
Winner: Spain
2nd: Germany
---
Group F
The group of destiny… Belgium's last chance at glory with their golden generation of Kevin De Bruyne, Romelia Lukaku, and Eden Hazard. The expansive attack will help Belgium, but they are lackluster in the back with aging defenders. Croatia will return to the World Cup after a heartbreaking loss in the finals in Russia, and Luka Modric will be back at it again with the maestro mentality in the midfield for his team. Canada will also look forward to the World Cup after a 36-year absence. Morocco is one of five African teams looking to make it to the knockout stage, and with Hakim Ziyech, former Ajax Amsterdam star, back on the team, they will turn some heads.
Luke
Winner: Belgium
2nd Place: Morocco
Sam
Winner: Belgium
2nd Place: Croatia
Ben
Winner: Belgium
2nd Place: Croatia
---
Group G
Neymar is the first name that comes to your mind when you say Brazil, and this is his last attempt at going for the grand prize. Brazil has never been this strong as a team with world-class players from goalkeeper to striker. This is Brazil's greatest chance. Serbia is also looking forward to the knockouts with a superb strike force of Aleksandar Mitrović and Duśan Vlahović. Switzerland will also look to be a dark horse in the tournament, with their goalkeeper Yann Sommer being a stud in the net. Cameroon will try to make it out of the group but will struggle.
Luke
Winner: Brazil
2nd Place: Switzerland
Sam
Winner: Switzerland
2nd Place: Brazil
Ben
Winner: Brazil
2nd Place: Switzerland
---
Group H
Cristiano Ronaldo and Luis Suarez will match up early in this tournament for the last time in their careers. Ronaldo will have a supporting cast that will hopefully guide the Portuguese to a final. Uruguay has the next Suarez with the generational talent of Darwin Núñez. Ghana is looking forward to a rematch with Portugal from 2014, where they lost 2-1, as they hope to achieve greatness and make it to the quarterfinals as they did in 2010. Lastly, South Korea will be led by Heung-Min Son, the Tottenham Spurs winger, to try to achieve a master class and survive this challenging group.
Luke
Winner: Portugal
2nd Place: Uruguay
Sam
Winner: Portugal
2nd Place: Uruguay
Ben
Winner: Portugal
2nd Place: Uruguay