Service at St. X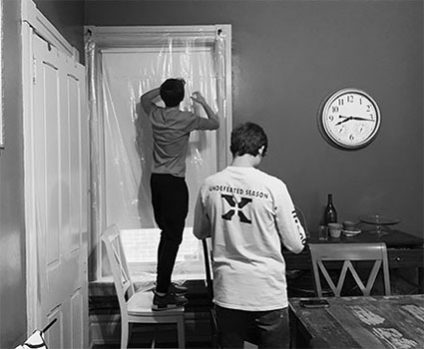 Saint Xavier High School is a community dedicated to serving others. With service requirements for all four grade levels, St. X ensures that the value of service is well ingrained within the student population. However, most students go way above and beyond this requirement and serve many more hours in the community. In fact, this year alone the students of St. X have served over 5,855 hours. In comparison, those hours are worth about $144,000. Those numbers have accrued just in the few short months that school has been in session and will only continue to grow as time goes on.
Many events occur regularly, so it's easy for a student to get involved. There are weekly, monthly, and annual service projects to choose from.
One great opportunity for monthly volunteering is Habitat Restore. Students volunteering with this organization help to stock shelves, decorate, and offer advice on certain projects. Some of the other options for monthly service are Dare to Care, working with the Abbey of Gethsemane, and helping at the St. Agnes food pantry.
There are many enjoyable weekly events as well. For example, one is working with the Miracle League where guys can play baseball with children who have physical, emotional, or cognitive disabilities. Some of the other weekly offerings are tutoring at the Francis Center and helping making and handing out food with Loaves and Fishes.
In addition to these regular weekly and monthly service events, campus ministry also sponsors a few events that happen once or twice a year. The biggest one being the Hunger Walk, which had over a 100 St. X students involved and is the biggest project of the year. In addition to the Hunger Walk, St. X lays gravestones twice a year, once in the fall and once in the spring.
For students looking to serve outside of the Louisville area; unfortunately, there aren't very many opportunities during the school year. The only one really offered by St. X is the Appalachian trip that happens over the summer. With all of these weekly and monthly projects it really has never been easier to find opportunities to go out and serve the community.
Campus ministry is truly an amazing organization. They work constantly with new organizations to get students out into the city to work with new people. According to Mr. Kresse, a service coordinator, "The Ryken Service Club is about emulating the mission of the Xaverian brothers." So far this year the students of St. X have accomplished this goal, and will continue to do so.
There are projects to fit every type of person and every type of schedule. If you want to get involved, it's easy and free.
"
People who serve others are happier than those who don't."
— Mr. Kresse