Album Breakdown: Weyes Blood – Titanic Rising (2019)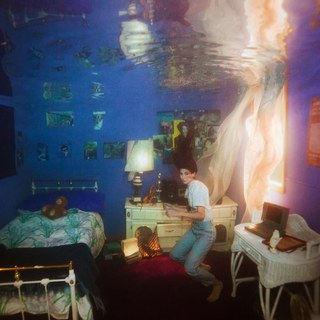 Weyes Blood returned in 2019 with their breakthrough album Titanic Rising. Their baroque pop sound finally struck a chord with the indie music community, getting rave reviews from most top publications like Pitchfork, Metacritic, and The Needle Drop. This album sounds like if George Harrison's songwriting, Beach House's production, and ABBA's instrumentation were fused into a soft-rock group for the 21st century.
1. "A Lot's Gonna Change"
A lot changes indeed. As a haunting minimalist piano introduces us to our singer, Natalie Mering, a perfectly placed drum fill sets the stage for what's to come in this album. The unorthodox chord progression and contemplative lyrics instill a universal feeling of longing for the past. If you can dig this first song, chances are you will dig the rest. 
2. "Andromeda"
The second song on this album has proved to be the most popular, with over seven million streams on Spotify. The success of this song makes sense because of the groove created by the acoustic guitar and punchy snare tone. Between these elements, the synth line, and the clean slide guitar, this song sounds like it could have come straight off of George Harrison's "All Things Must Pass", the only difference being the more modern approach to production. The way Mering layers her vocals sets her apart because they blend so well. If you want to hear what this band is all about, this is your starting place. 
3. "Everyday"
If The Beach Boys and ABBA made a song together, "Everyday" would be it. The upbeat feel of the song contrasts most of Weyes Blood's other tracks, but they prove they can do this just as well. Much of the positivity stems from the lyrics, where Mering uses a storytelling approach with phrases like "then again," and "I said…" A percussive piano plays throughout with horns reminiscent of a marching band. 
4. "Something to Believe"
Mering slows it down with an uplifting track reminiscent again of George Harrison with its smooth slide guitar. Her vocal command, strong but not flashy, is evocative of Florence and the Machine, especially on their cover of Elton John's "Tiny Dancer." With its contemplative and nostalgic tone, this song best fits the backdrop of walking along a lake on a 60° spring day.
5. "Titanic Rising"
This interlude of heavenly synthesizers bridges the gap between what feels like two separate living entities. 
6. "Movies"
Although this song is called "Movies," it might be better off as "TV Series" because it sounds like it could be in the trailer for the next season of "Stranger Things." It sets the tone for the second half of the album with the use of some extra-terrestrial reverb and the empty space of what sounds like a church atrium. Vocally, Mering draws out the melody as it becomes less and less abstract until percussive strings bring the rising action to a halt. Suddenly, echoing drums transform the track into a completely different animal, as if it was a Pokémon evolving. 
7. "Mirror Forever"
Droning synthesizers and metallic bass define the soundscape of this track. If The Weeknd's dramatic production and Cocteau Twins' melodies came together, "Mirror Forever" would be a likely result. In the moments where the song feels like it could explode with energy, Mering reels it back in. Moments like these are scattered throughout this album, where the production is always articulate and never overdone. During the chorus, subtle toms pan from left to right while massive snares echo.
8. "Wild Time"
This song could be on a Radiohead album and not seem out of place. Acoustic guitar strums major seventh chords through an easy going beat. When the chorus hits, a steaming overdriven guitar layers a chord progression that feels so unnatural yet comfortable. This is the type of dish you wouldn't think to ask for at a restaurant—a weird combination, but it's actually…pretty good!
9. "Picture Me Better"
With the last major track of this album, Mering delivers a goodnight ballad supported by stripped down acoustic guitar and orchestration that was probably sampled from a Christmas classic. Okay, probably not, but you get the point. Often, orchestration in this fashion can sound overdone and cheesy especially when so much empty space exists. At times, the vocals sound like a whisper, floating through the wind on a cold winter night. Natalie Mering has incredible breath control and is obviously an expert in the field of kairos. If you dig smooth, crooning singer-songwriter ballads, this is your track. 
10. "Nearer to Thee"
This 1:06 outro is a rehash of the orchestral melody from "A Lot's Gonna Change." By including this track, the album feels complete, ending right where it started. It was allegedly included as a reference to the last song played on the real Titanic before it notoriously sank. The melodic motif finishes without a resolution, subtly symbolizing a Titanic not risen, but still submerged.
Weyes Blood will be performing at Headliners Music Hall on July 31, 2020. To learn more about upcoming tour dates and other band information, check them out at http://www.weyesblood.com.