Tigers Defeat Shamrocks; Mosley Drops 39
Saint Xavier senior Nicholas Mosley led the Tigers (12-2) to their first win over Trinity (6-7) in 3 years with a career-high 39 points Sunday night at Bellarmine University.
Mosley got off to a hot start, dropping 22 first half-points and helping outscore Trinity 34-15 at halftime.
"Everything seemed to be falling. After my third three of the first quarter went in, I knew it was my night," Mosley said.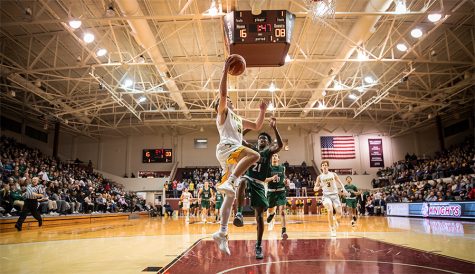 The Tigers continued to apply pressure to a young Shamrocks lineup in the third quarter and entered the fourth quarter with a commanding 20-point lead.
Trinity showed some life and quickly brought the deficit down to just 12 points. St. X regained control with a few baskets down the stretch, including a dunk from junior forward Ayden Mudd.
Mosley posted 17 points in the second half, making his total for the game 39. Coach Klein described the performance as, "one for the ages," saying, "it gave our team a rhythm and confidence."
The Tigers will match up against Male on the road on Friday, January 9th. The Tigers will be looking to build off their last two wins and defeat another regional rival.