Hubbuch Supported by Classmates During Poetry Out Loud
March 6, 2023
There is certainly a level of pressure that goes into being a solo performer in the spotlight; however, knowing you have supporters in the crowd is sure to relieve some of that fear. This was the case for senior Chase Hubbuch in the state level Poetry Out Loud competition.
Representing the green and gold as our very own Poetry Out Loud school champion, Hubbuch ventured to the state's capital to take on the challengers at the Grand Theatre. Although he would be alone on stage, he wouldn't be alone on the trip. Mr. Metzger's AP Literature class took a bus ride down to Frankfort to cheer on their friend and classmate.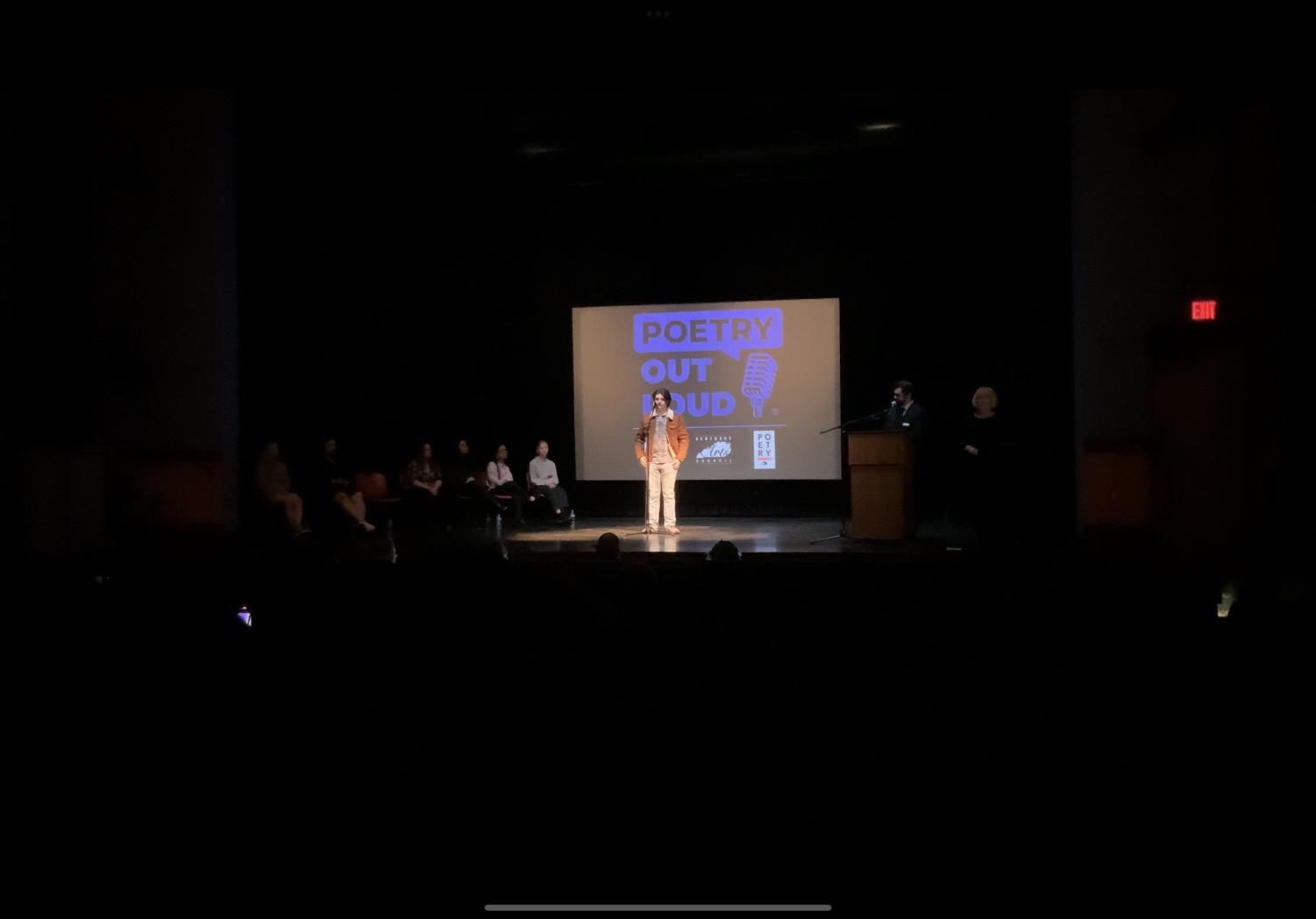 Mr. Metzger felt it was important for the class to make the trip during the school day to support Hubbuch in his competition.
"I wanted to not only to support our classmate Chase, but also to continue to meaningfully engage the class with poetry," Metzger said. He also stressed the importance of respecting the other students in the competition and their level of time and effort spent in their own craft. 
Hubbuch did not appear nervous in the bright lights of the big stage. He drew on his preparation to perform at a high level. 
"The experience was largely the same," Hubbuch said. "I could see about the same amount of crowd and was still just speaking into a mic. The only difference to me was my level of nervousness. Since I had already performed these poems live at the school level I felt more comfortable doing the next level of competition."
Aside from personal performances and the practice required to compete, Hubbuch was also grateful for the support of his teacher and classmates. 
"It definitely made me more confident having that support," he added. "Knowing that I had 20 guys in the crowd all rooting for me was super meaningful."
Hubbuch didn't walk away as the victor, but his performance was nothing to be ashamed of. He represented our school and class very well. This experience showed that the St. X brotherhood is more than just in the classroom and that wherever a Tiger goes his brothers go too.