St. X Spoils Trinity's Hockey Senior Night
March 1, 2023
It was one of the most electric crowds the Louisville high school hockey scene has seen in a long time. Two rivals in St. X and Trinity faced off at Iceland during the Shamrocks' senior night and the Tigers proved to be too much for Trinity winning 10-4.
The Tigers started hot in the first period taking a 3-0 lead with goals from Andrew Larkin, Charlie Rutherford, and Henry Arnold. In the second period St. X extended their lead to 6-2. Rutherford, Nick Beam and Bates Cimba all scored in the second.
Rutherford completed his hat trick in the third period with the Rocks picking up two consolation goals near the end. Travis Gilson, Cimba and Beam also scored in the third. This 10-4 dismantling of the Rocks is certainly a turning point in this rivalry as Trinity had beaten St. X in every fixture for over a decade prior to this season.
St. X has ended that streak this year with already two wins over the Rocks so far this season and another game coming up Friday.
"This win feels really good," Larkin said. "Being hurt the first time wasn't fun because the Trinity game is always the biggest of the year. So I was really excited that I could make it back for the second game."
Larkin was sidelined last time out against Trinity after breaking his collarbone in a tournament over Thanksgiving break. This year's team is certainly a young one, with only three seniors on the twenty-one man roster.
"This year's group is so special because we are so young," Larkin added. "It is going to be interesting to see how much we can progress next year. This is the first year that we have a chance to win state."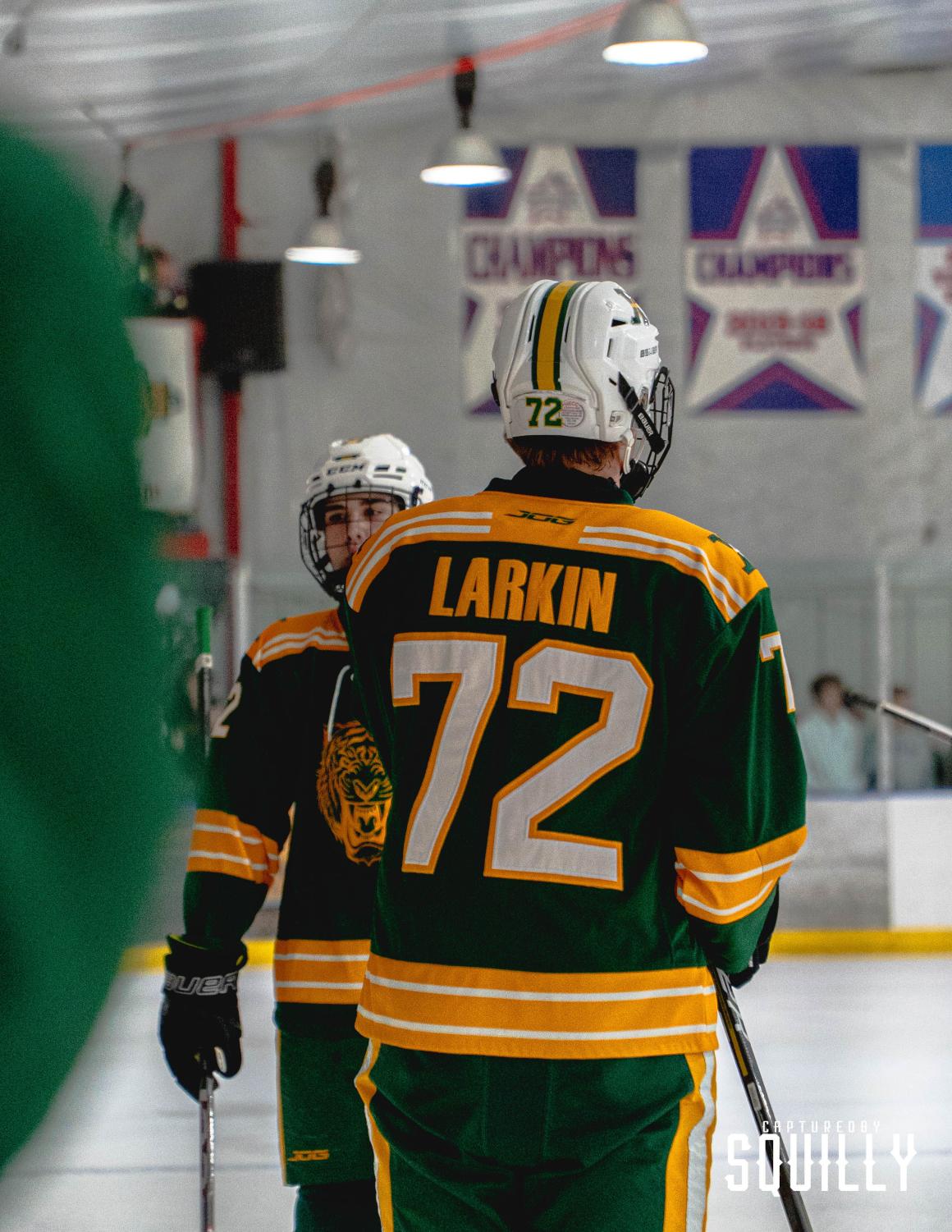 Charlie Rutherford recorded a hat trick in arguably his biggest game so far in his young St. X career. Both schools packed the stands at Iceland.
"It felt amazing," Rutherford said. "To watch your team blow out your rival school and score a hat trick with the largest crowd in your hockey career in attendance is something you'll remember for a long time."
Rutherford, just a freshman, has many more experiences in front of large crowds in his near future. He is part of this new young core coming through the ranks of St. X.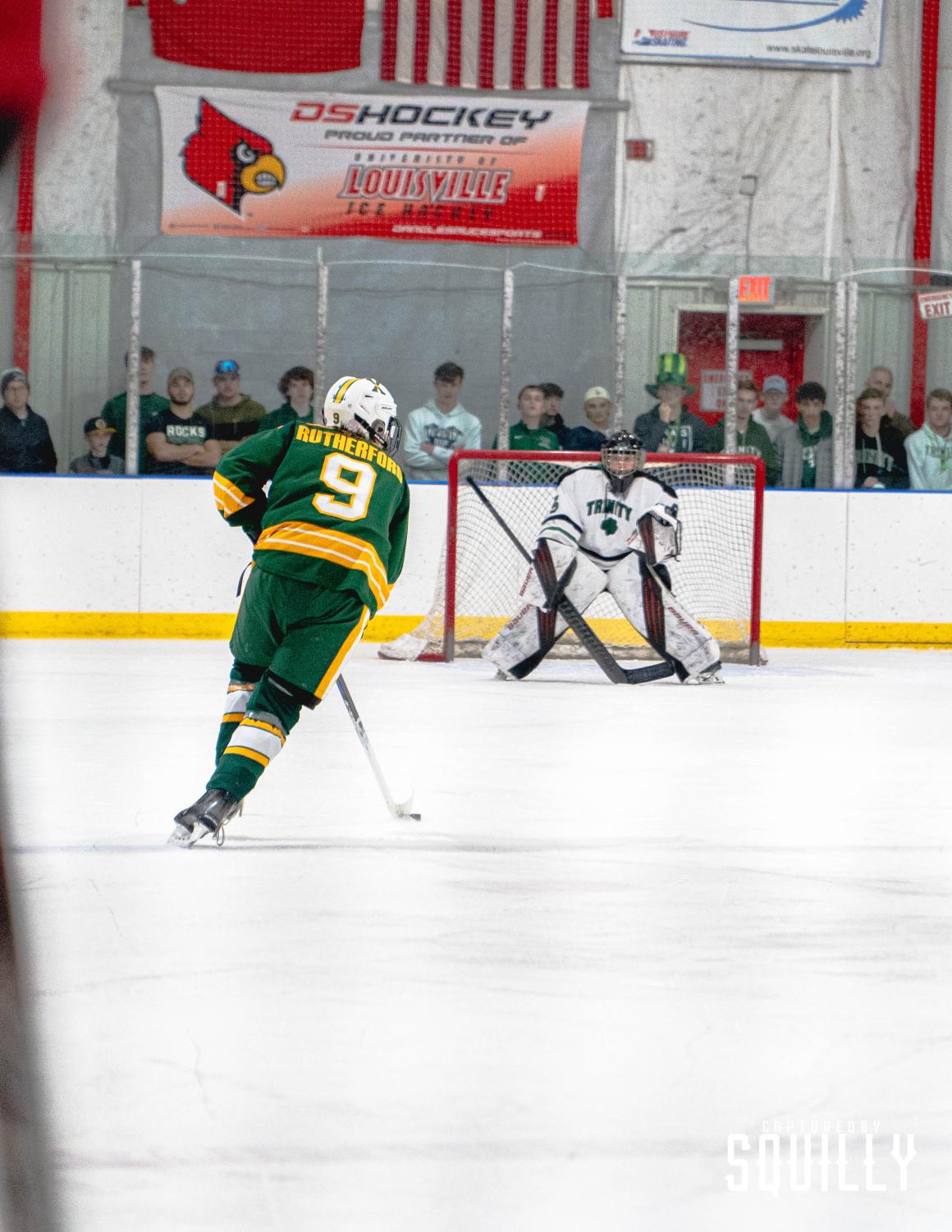 "This is the strongest group of players our program has seen in a while," Rutherford said. "Whether it be Coby and Brogan being enforcers on a line or Davis covering for me when I get caught, everyone on the team complements another person's play style in some way. We have shown to ourselves we have enough grit and skill to be competitive in league play and now we are more than ready to make a run in state playoffs."
Rutherford and his fellow underclassmen skaters have certainly set the expectations high for the rest of their careers. Another young guy out there, sophomore Nick Beam, was drawing some comparisons to Toronto Maple Leafs all star Mitch Marner last Friday night.
Marner, the top assist man for the Leafs, is an unselfish player that is always looking to set up his teammates. Beam sees some merit to these comparisons.
"I like to be a playmaker," Beam said. "I feel as if I am creative and skilled, similar to Marner. I always try to play with a pass first mindset, but can also score when the time comes."
The Tigers want to take this momentum into the playoffs as they play against Trinity again in the first round.
"Winning this game gave the team a good boost of confidence," Beam added. "We also need to have a good week of practice to prepare us for the playoffs."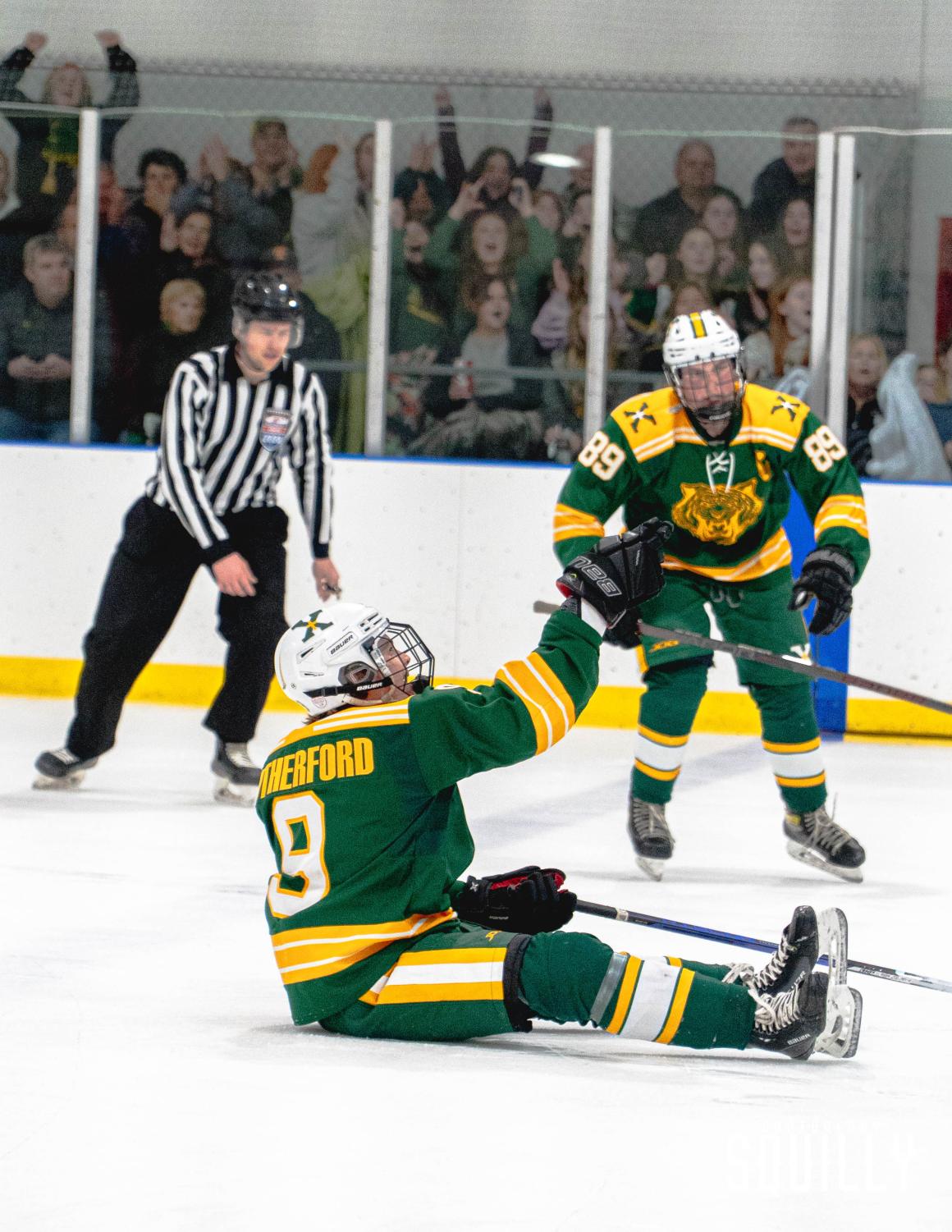 The entire team appears locked in as the Tigers seek to take state for the first time in program history.