First Bite Food Review: Hungry Pelican
March 10, 2023
Hungry Pelican, a restaurant where the demographic must be 80 percent people older than 60. While we were there we had to have been the youngest people there by about 50 years, nonetheless the food slaps. At first glance, Hungry Pelican will not jump out at you. Going into this, we had low expectations due to outsider critics; i've heard the place was dingy, dusty, all of the above. I feel as if they've changed ownership, because I saw none of the above. At the very most I would complain about the wait time on the food–it took about thirty minutes. With all of this being said, it's safe to say that we left Hungry Pelican on a high note.
Justin's Bite: 
Grilled Salmon: 8.2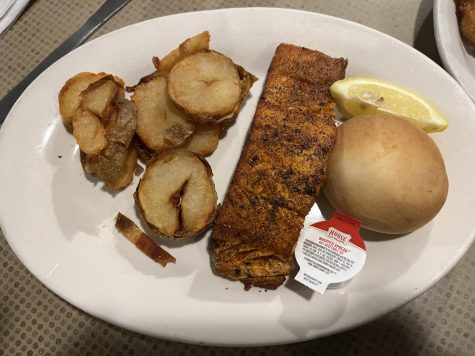 One can never go wrong with a nice grilled salmon. Even though me and my fellow food reviewer Ryan were more than likely the only customers under the age of 20 who paid a visit to the great Hungry Pelican on that fine Thursday night, the food was exceptional. I have never been a big fan of fried fish; therefore, I went with the salmon. It was nice and crispy and seasoned very well.
My first bite was taken shortly after the salmon was taken off the grill, so it was hot to say the least. It had the kind of heat that makes one wish they had a sore throat in order for the salmon to soothe it. The onion rings and french fries as the sides that came with the dish were no doubt more than I could handle. Overall, the environment inside the restaurant is more approachable for the older crowd but the food was great enough for me to recommend the carry-out option to fellow Xaverian classmates.  
Ryan's Bite: 
Shrimp Feast: 7.1 
Although the shrimp feast came with many options, I chose half scampi style and half Cajun boiled. I had to throw both of them into one ranking as they are one menu item and this could have hurt the score. The scampi style was simply elegant. For my entire childhood I enjoyed shrimp scampi and this continues into my adulthood. If they were stand alone this would've been mid 8s.
Secondly we have the Cajun boiled flavor, certainly nothing to sneeze at. I was expecting a little bit more from these, but nevertheless they were pretty solid overall. If these were stand alone it would be high 6s, making the overall score a low 7. Although this rating may be a little lower than usual, there was no shortage of great food here. I think if you're ever out in Fern Creek, you should give it a try.