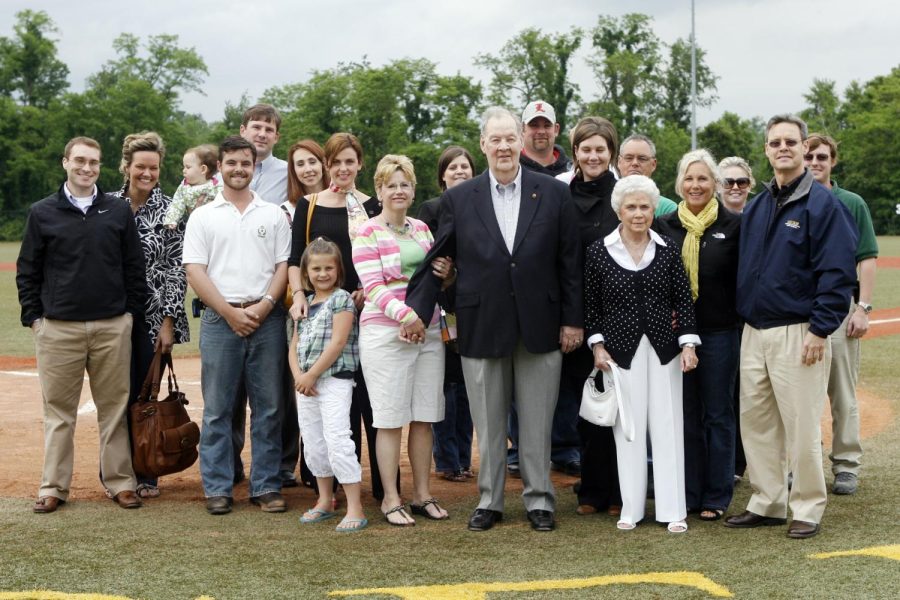 Remembering Carl Mueller '45
March 6, 2023
When going to a St. X baseball game, a sign recognizing the contributions of Carl Mueller '45 and his wife Rosemary welcomes fans into the stadium. Mueller and his wife's names also appears on the recently renovated weight room where Tiger athletes train to compete for state championships.
During Mueller's time at St. X, he was a member of the varsity baseball team for three years. During his senior year, he was the captain and leading hitter of the 1945 state champion baseball team. Also in his senior year, Mueller played varsity basketball and was the second leading scorer.
After graduating from high school, Mueller was drafted by the Boston Red Sox organization, but soon after entered the United States Marine Corps during World War Two.
Once he completed his service in the military, Mueller co-founded Cardinal Industrial Insulation, a company that is still operating in Louisville to this day. The company primarily focuses on demolition and asbestos removal. His sons and grandsons are still at work there and have completed work in the Ryken House. While Mueller maintained a leadership position in his first venture, he also co-founded American Safety Insurance Company, which made its way on the New York Stock Exchange.
Since 1978, Mueller has sponsored students to attend Saint Xavier. One of Mueller's greatest contributions to the faculty of St. X was the creation of the Faculty Fellow program. This contribution allows faculty to receive professional development at personal expense.
Mueller was inducted into the St. X Hall of Honors in 2004. He passed away in 2011 at the age of 84, he had seven kids and 11 grandkids. His legacy and support of the St. X community goes on and on to this day.