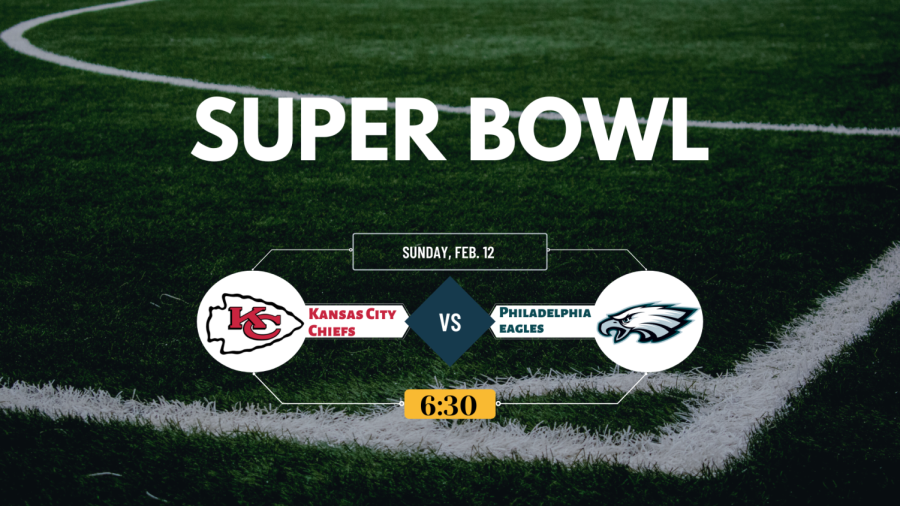 Super Bowl Pick 'Em with Coach Larkin
February 12, 2023
It is officially time for the final episode of this series. There's no better way to end this series and the football season than with the two clear best teams going at it in the Super Bowl.
The Philadelphia Eagles, who have been the most complete team in the league this year, will represent the NFC. This is a team that has been so successful at every aspect of the game. They have a great rushing attack, their pass-rush and secondary is strong, Jalen Hurts has been great in the pass game and their roster is filled with weapons on both sides. A.J. Brown, Devonta Smith, Miles Sanders, Haason Reddick and Jason Kelce are just a few of the many star-caliber talents that Philly puts on the field. Philly has only lost one game when Jalen Hurts has played, which shows how dominant this team has been all year. This team has definitely been the best all season, but they will certainly be tested on the biggest stage yet.
There is not a bigger test than facing Patrick Mahomes, who was recently named this year's MVP. He not only gives opposing defenses nightmares, but he also has a unique ability of elevating his teammates' level of play. He lost his best receiver last year in Tyreek Hill and proceeded to put up his best season with average receivers. His safety net Travis Kelce has been on his game as always. Facing up against his brother's team will bring out the best in him for sure; however, the key to the game for the Chiefs will be in getting their running game going through Pacheco and McKinnon. The Chiefs will also have to worry about stopping the bruising running game of the Eagles behind their incredible offensive line. Chris Jones is going to need to have a monster game for Kansas City to take home the trophy. The Chiefs have been in this situation multiple times, and with Mahomes leading the team they definitely have a shot to hoist the Super Bowl at the end of the night.
Picks
Who's going to win outright/score?
Coach Larkin: Philadelphia Eagles (35-17)
Adam Campisano: Kansas City Chiefs (28-27)
Ben Purnell: Philadelphia Eagles (34-31)
Luke Daley: Kansas City Chiefs (37-34)
National Anthem Over or Under (2 Minutes 2 Seconds)
Coach Larkin: Over
Adam Campisano: Under
Ben Purnell: Over
Luke Daley: Over
Coin Flip?
Coach Larkin: Heads
Adam Campisano: Heads
Ben Purnell: Tails
Luke Daley: Tails
Gatorade Color?
Coach Larkin: Orange
Adam Campisano: Light Blue
Ben Purnell: Blue
Luke Daley: Purple
What player scores the first touchdown?
Coach Larkin: A.J. Brown
Adam Campisano: Quez Watkins
Ben Purnell: Travis Kelce
Luke Daley: Marquez Valdes-Scantling
Who will win the Most Valuable Player award?
Coach Larkin: Jalen Hurts
Adam Campisano: Patrick Mahomes
Ben Purnell: Jalen Hurts
Luke Daley: Travis Kelce
Rankings
1. Coach Larkin 58-61
2. Ben Purnell 53-66
3. Adam Campisano 46-73
4. Luke Daley 39-80