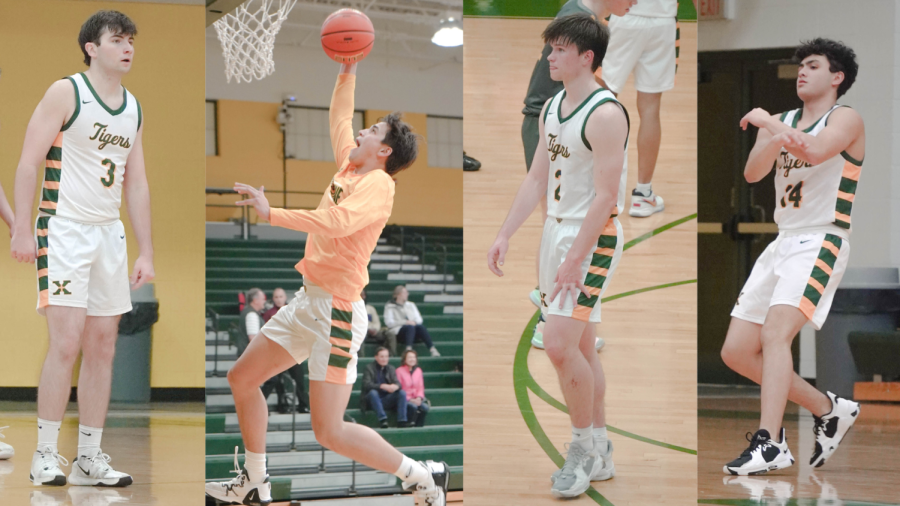 St. X Hoops Senior Appreciation
February 1, 2023
On Tuesday Feb. 1, Tiger Basketball celebrated their senior night with a win over Christian Academy by a score of 78-62. The four seniors played significant roles in that win. Learn more about each of our senior basketball players below:
Tommy Scanlan 
Scanlan has had a roller coaster of a career. He was cut from the summer league team entering his freshman year. He gave it another shot for his freshman season where he and 16 others made the team. Being one of 17 players, the chances to play were low. He got very minimal playing time his freshman year. 
The off-season for Scanlan was ruined by the COVID-19 pandemic; luckily, he hit a growth spurt and he grew three inches. At six-foot-two with a lengthy wingspan, he had a lot of upside to him for his junior season.
He proved his capabilities and fulfilled his potential. He earned himself the starting spot for the second part of the season and has become a top defender in the program. Now as a senior he has started a few games and came off the bench a few games but neither of the circumstances have changed his leadership and effort. He is a team captain and is looked up to by many, especially the freshman. He does the dirty work that other people won't and sets the standard for the rest of the team. This standard is definitely noticed by freshman forward Jeremiah Jackson. 
"When I think of Tommy I think of gorilla glue — you can always count on him and he always keeps things together," Jackson said. "If there is a play being ran wrong, then 'ooooooh' here comes the GLUE — always reliable."
Nelson Williams
Williams is one of the greatest shooters to ever wear the green and gold. Every year, from freshman to senior year, he has been the best shooter on his respective team. He was a starter on the freshman team, as well as one of the leading scorers.
During his sophomore year, he was given the decision to play varsity with minimal playing time or be "the guy" on the JV team. He decided to play on the JV team and once again asserted his shooting dominance. At the end of the JV season, he was pulled up to varsity. A lot of pressure was put on Williams to continue his shooting dominance at the varsity level. 
As a junior, he was the starting shooting guard. He shot 44% from three, proving his shooting dominance once again at the varsity level. 
This year, he has been the silent assassin. As a team captain, he shows his leadership by the way he plays — always hustling and staying composed. He is a big mentor to starting sophomore point guard Chance Dillingham.
"The impact Nelly gives on the team is lots of energy," Dillingham said. "Nelly hitting shots gets our team fired up quickly. Without Nelly, I honestly don't know where we'd be. Nelly is the most important player on the team. He's our glue guy."
Ricky Gonzalez
Similarly to Scanlan, Gonzalez has had a rollercoaster of a career. Trying out for both the summer league team and freshman team and not making it was devastating, especially as a freshman. This didn't discourage him as he came back out for tryouts the next year and made the junior varsity team. He got minimal playing time, but brought a great attitude and proved himself as one of the best defenders in the program. 
As a junior, he saw few minutes again, but proved himself as a valuable defender. During practice, he had to guard one of the best players St. X has ever seen, Mekhi Smith, and made things very difficult on him. 
As a senior, he provides valuable minutes off the bench with his ability to defend and knock down the three. He's a leader by the way he comes to practice and gets after it every day, especially to sophomore forward, Will Hanke. 
"Ricky is an absolute team player," Hanke said. "He does whatever the team and coaches need from him. Probably the best perimeter defender I've ever seen. Ricky has shown the younger guys what it looks like to give 100% every day."
Ja'Vin Jones
Jones has had a shorter stint than the other seniors. As a freshman, he was one of the leading scorers at the school on Shelbyville Rd. Transferring to St. X as a sophomore, he has been in varsity ever since. 
He was given the same decision as Williams, but decided to stay on varsity. He got minimal minutes as a sophomore, but developed as a player — especially his ability to finish around the rim.
As a junior, he was a valuable bench player and showed his athleticism at the dunk contest in the Bradenton Christian Holiday Classic with an impressive windmill dunk. 
As a senior, once again, he adds valuable bench minutes. He's developed his shot beyond the arc proving himself to be one of the best shooters in the program. He's the silent assassin on the team, leading with his work ethic. Freshman forward Bryce Johnson has learned a lot from Jones.
"When I think of Ja'Vin I think of a more quiet, to himself type of player but a very key person to our team and a leader," Johnson said. "He impacts the team with his energy on and off the bench, he gives great energy on defense and is very talented on offense, he's a true senior leader for our young team."