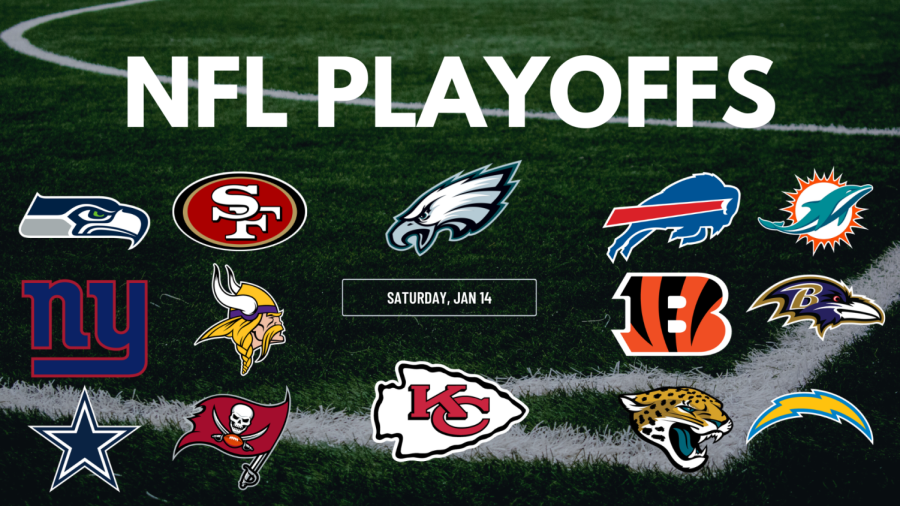 NFL Playoffs Pick 'Em with Coach Larkin
January 13, 2023
The NFL regular season has come to a close which brings us six–hopefully exciting– matchups this coming weekend. The matchups are bringing everything to the table: divisional rivalries, backup quarterbacks, and possible upsets. It is going to be an eventful weekend with games stretching from Saturday to Monday.
In the NFC, the Seattle Seahawks head to San Francisco to take on the Niners in our first playoff matchup. On paper, this game looks like an easy win for the Niners, but Brock Purdy's lack of playoff experience could allow the Seahawks to linger in this game. If the Seahawks can find a way to score on the Niners strong defense and stop the run themselves, they have a shot.
The second NFC matchup is on Sunday afternoon where the Giants will head to Minnesota. Brian Daboll has been leading the G-Men to a surprising season, and many believe that he has one more surprise left in him. If the Giants can run the ball the way they have as of late and force Kirk Cousins to make mistakes, they have a shot at an upset. Justin Jefferson is the key to everything for the Vikings in this playoff run.
The Dallas Cowboys head to Tampa Bay to cap off Wild Card weekend in what should be a thriller. Tom Brady and the strong Tampa Bay defense have a great shot to put a subpar regular season behind them, and Dak Prescott and the Cowboys have a chance to shut down all the people who have been hating on them for their playoff woes.
Over in the AFC, Justin Herbert's Chargers will head to Jacksonville to take on Trevor Lawrence's Jaguars. This could be a sneaky choice for the game of the weekend. Both of these offenses are fun to watch, and both quarterbacks are having great years. I think this one will come down to which defense can make more plays and force more turnovers.
The Miami Dolphins head north to Buffalo for an early Sunday matchup. The Dolphins will be without Tua Tagovailoa due to injury, so their defense is going to have to be lights-out to give the team a chance to prevail. The Bills should be able to control this one easily led by Diggs and Allen, but anything can happen come playoff time. Lastly, the Baltimore Ravens head back to Cincinnati to face Joe Burrow on Sunday Night Football.
Although it looks like the Ravens will be without Lamar Jackson, their defense has given Jamar Chase, Tee Higgins, and the Bengals offense trouble in the past. If the Ravens can control the run game and slow the game down without giving up big plays, I would not count them out in this rivalry game.
Picks
#7. Seattle Seahawks vs #2 San Francisco 49ers (SF -10)
Coach Larkin: San Francisco 49ers
Adam Campisano: Seattle Seahawks
Ben Purnell: San Francisco 49ers
Luke Daley: San Francisco 49ers
#5 Los Angeles Chargers vs #4 Jacksonville Jaguars (LAC -2)
Coach Larkin: Jacksonville Jaguars
Adam Campisano: Los Angeles Chargers
Ben Purnell: Jacksonville Jaguars
Luke Daley: Jacksonville Jaguars
#7 Miami Dolphins vs #2 Buffalo Bills (BUF -12.5)
Coach Larkin: Buffalo Bills
Adam Campisano: Miami Dolphins
Ben Purnell: Buffalo Bills
Luke Daley: Buffalo Bills
#6 New York Giants vs #3 Minnesota Vikings (MIN -3)
Coach Larkin: Minnesota Vikings
Adam Campisano: Minnesota Vikings
Ben Purnell: Minnesota Vikings
Luke Daley: New York Giants
#6 Baltimore Ravens vs #3 Cincinnati Bengals (CIN -7)
Coach Larkin: Cincinnati Bengals
Adam Campisano: Baltimore Ravens
Ben Purnell: Cincinnati Bengals
Luke Daley: Cincinnati Bengals
#5 Dallas Cowboys vs #4 Tampa Bay Buccaneers (DAL -2.5)
Coach Larkin: Tampa Bay Buccaneers
Adam Campisano: Dallas Cowboys
Ben Purnell: Tampa Bay Buccaneers
Luke Daley: Dallas Cowboys
Rankings
1. Coach Larkin 54-54
2. Ben Purnell 48-60
3. Adam Campisano 41-67
4. Luke Daley 33-75