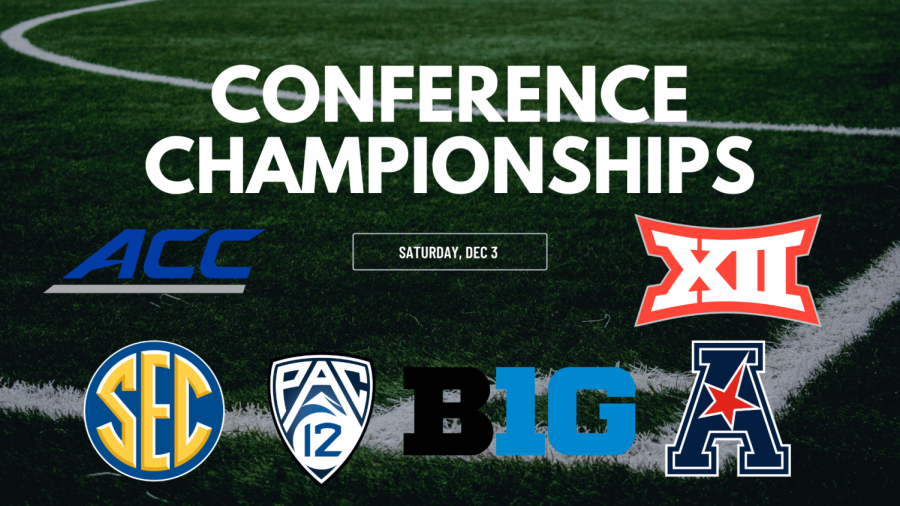 Conference Championship Pick 'Em with Coach Larkin
December 2, 2022
Arguably the best week of college football is upon us, and this weekend's slate feels more entertaining than recent years. Every team is ranked besides one in these matchups, so there will definitely be a high level of football played in these influential conference championships.
Two of these matchups are incredibly important to this years college football playoff. If USC beats Utah, a team they already lost to, in the Pac 12 championship, then they are most likely in the final four. If TCU picks up a win against Kansas State in the Big 12 championship, then they secure their spot in the playoff as well.
In the SEC and Big Ten, the other probable playoff teams, Georgia and Michigan, look to defend their conference title and reach the playoff for the second year in a row.
In the AAC and ACC, these teams do not really have a shot for the playoff, but they can still guarantee themselves a more prestigious bowl game. I expect these games—UNC vs Clemson and UCF vs Tulane— to be more entertaining as there is not a heavy favorite in each matchup.
Regardless of what game you are watching this weekend, it is going to be an enjoyable weekend for college football fans.
Picks
#4 USC vs #11 Utah (USC -3)
Coach Larkin: USC -3
Adam Campisano: USC -3
Ben Purnell: USC -3
Luke Daley: USC -3
#10 Kansas State vs #3 TCU (TCU -3)
Coach Larkin: TCU -3
Adam Campisano: TCU -3
Ben Purnell: TCU -3
Luke Daley: TCU -3
#14 LSU vs #1 Georgia (UGA -17.5)
Coach Larkin: Georgia -17.5
Adam Campisano: Georgia -17.5
Ben Purnell: LSU +17.5
Luke Daley: Georgia -17.5
#22 UCF vs #18 Tulane (TUL -4)
Coach Larkin: UCF +4
Adam Campisano: Tulane -4
Ben Purnell: UCF +4
Luke Daley: Tulane -4
Purdue vs #2 Michigan (MICH -16.5)
Coach Larkin: Michigan -16.5
Adam Campisano: Purdue +16.5
Ben Purnell: Michigan -16.5
Luke Daley: Michigan -16.5
#23 North Carolina vs #9 Clemson (CLEM -7.5)
Coach Larkin: Clemson -7.5
Adam Campisano: North Carolina +7.5
Ben Purnell: Clemson -7.5
Luke Daley: North Carolina +7.5
Rankings
1. Coach Larkin 39-47
1. Ben Purnell 39-47
3. Adam Campisano 35-51
4. Luke Daley 28-58