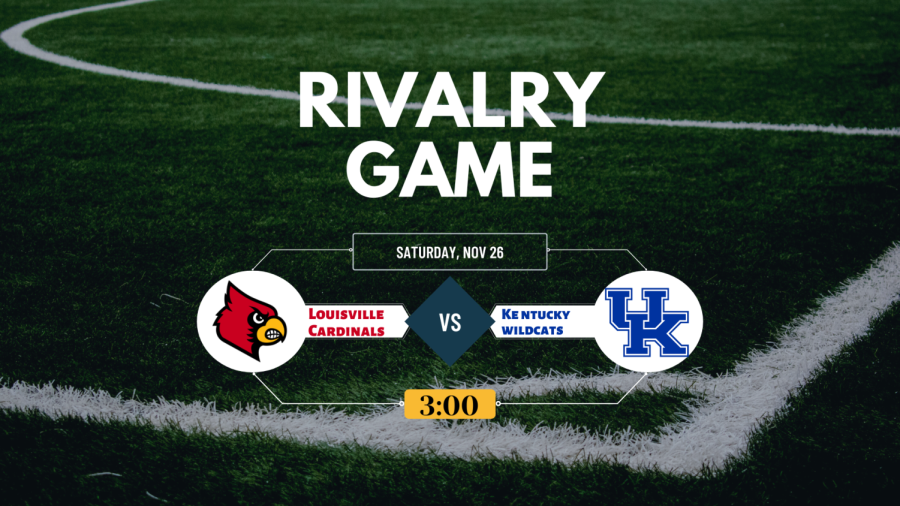 Rivalry Football Pick 'Em with Coach Larkin
November 26, 2022
There are many types of football: playoff football, conference football, Thursday night football, etc. However, there is not a type of football better than rivalry football. Louisville vs. Kentucky is easily one of the best and most hateful rivalries in any sport.
For the first time in years, the Louisville Cardinals are back into the top 25 rankings after winning four out of their last five against formidable opponents. Another thing that Louisville hasn't done in years (five) is beat Kentucky in football. This year feels like it could be the year. The defense has been firing on all cylinders with one of the best defensive lines in the country, and the offense has been running it well and getting the ball to its best play makers, especially Tyler Hudson and Marshon Ford. The Cardinals be will be able to win this game if they play good run defense against Rodriguez and if they establish their own solid rushing attack offensively.
Kentucky hasn't had the exact season they wanted, but they always tend to take it out on Louisville each year. Kentucky's defense has been great; they just held number one Georgia to only 16 last week. If they are able to replicate that performance and Levis/Rodriguez make enough big plays, Kentucky could run away with it, especially at Kroger Field. I do think it will be close this year, at least closer than the blowouts in the past couple years. The Ls may even stay up this year…
Picks
Who's going to win outright/score?
Coach Larkin: Louisville Cardinals (35-31)
Adam Campisano: Louisville Cardinals (27-21)
Ben Purnell: Kentucky Wildcats (28-17)
Luke Daley: Kentucky Wildcats (28-19)
Who covers the spread? (Kentucky -3.5)
Coach Larkin: Louisville
Adam Campisano: Louisville
Ben Purnell: Kentucky
Luke Daley: Kentucky
Who will have more total yards between Malik Cunningham and Will Levis?
Coach Larkin: Will Levis
Adam Campisano: Malik Cunningham
Ben Purnell: Will Levis
Luke Daley: Will Levis
Which team will have more rushing yards?
Coach Larkin: Kentucky
Adam Campisano: Louisville
Ben Purnell: Kentucky
Luke Daley: Kentucky
What player scores the first touchdown?
Coach Larkin: Chris Rodriguez
Adam Campisano: Tyler Hudson
Ben Purnell: Dane Key
Luke Daley: Chauncey Magwood (Odd Choice)
Over or Under 43 total points?
Coach Larkin: Over
Adam Campisano: Over
Ben Purnell: Over
Luke Daley: Over
What team will force more turnovers?
Coach Larkin: Louisville
Adam Campisano: Louisville
Ben Purnell: Kentucky
Luke Daley: Kentucky
Rankings
1. Coach Larkin 39-40
2. Ben Purnell 34-45
2. Adam Campisano 34-45
4. Luke Daley 25-54