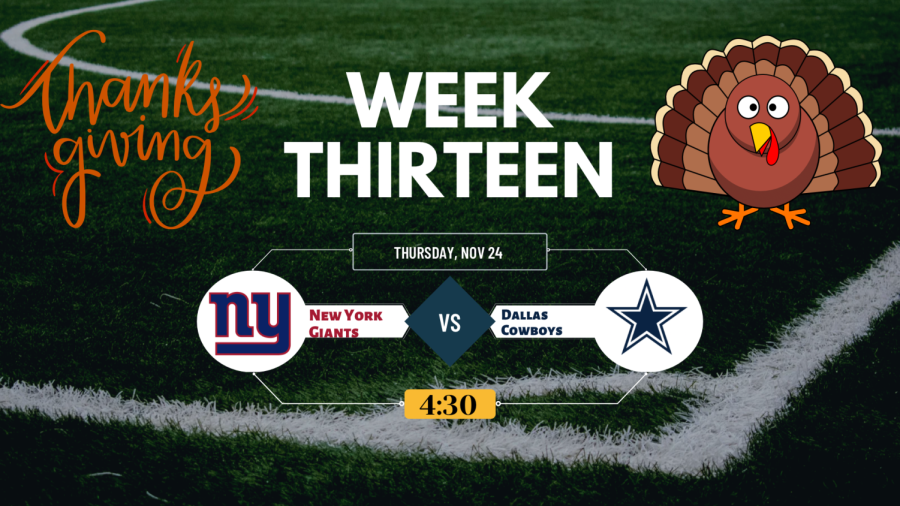 Thanksgiving Football Pick 'Em with Coach Larkin
November 23, 2022
There's nothing better than football on Thanksgiving: sitting around the TV with your family, having a full plate of food, and watching the Cowboys get a W. This will be the second time this year the Giants and Cowboys meet on prime time. I expect it to be another Thanksgiving classic between these two solid NFC East teams.
The Cowboys absolutely dismantled the Vikings by 37 last week, but I don't expect this week to be the same. The Giants have found so much success this season purely from their ability to stay into close games. The first meeting between these two was decided by a touchdown, but it easily could have gone either way. The Cowboys pass rush and defense has been incredible; however, Danny Dimes is a very mobile quarterback, so he could cause Micah and the boys some problems. If Saquon gets loose for a couple big plays, this game will be very interesting to watch.
The Cowboys aren't the only team in this game with a solid defense. Besides last week's loss to Detroit, the G-Men defense have held their own for the majority of the season, but the Cowboys are starting to click as of late especially with Dak back at the helm. Dallas has averaged over 35 since Dak returned, Tony Pollard and Zeke are punishing defenses with their 1-2 punch, and Ceedee has still been as electric as ever. A win in this game is huge for both team's playoff chances and momentum for the rest of the season.
Picks
Who's going to win outright/score?
Coach Larkin: Dallas Cowboys (24-14)
Adam Campisano: Dallas Cowboys (28-27)
Ben Purnell: Dallas Cowboys (28-14)
Luke Daley: New York Giants (28-23)
Who covers the spread? (Dallas -8.5)
Coach Larkin: Dallas Cowboys
Adam Campisano: New York Giants
Ben Purnell: Dallas Cowboys
Luke Daley: New York Giants
Who will be the leading rusher in the game?
Coach Larkin: Tony Pollard
Adam Campisano: Tony Pollard
Ben Purnell: Saquon Barkley
Luke Daley: Saquon Barkley
What player scores the first touchdown?
Coach Larkin: Tony Pollard
Adam Campisano: Ceedee Lamb
Ben Purnell: Tony Pollard
Luke Daley: Lawrence Cager (Odd choice)
Over or Under 44.5 total points?
Coach Larkin: Under
Adam Campisano: Over
Ben Purnell: Under
Luke Daley: Over
What team will force more turnovers?
Coach Larkin: Cowboys
Adam Campisano: Giants
Ben Purnell: Cowboys
Luke Daley: Giants
Rankings
1. Coach Larkin 38-34
2. Ben Purnell 32-40
3. Adam Campisano 30-42
4. Luke Daley 22-50