Tigers Take Down Trojans
November 4, 2022
As the Tigers took the field Thursday a wave of deja-vu hit them, they had once again gone 9-1 and won their district giving them home field advantage all throughout the playoffs, but they stayed focused. They scored a whopping 53 points and shut out the Southern Trojans. The Tigers certainly showed why they are one of the top teams in Kentucky.
The offense showed up Thursday with scores by a multitude of Tigers. Three quarterbacks threw six touchdowns to five different receivers. Junior quarterback Trevor Havill had three passing touchdowns, sophomore Thomas Andriole had two passing touchdowns and freshman Mason Trimble threw his first varsity touchdown, too. Sophomore receiver Kyle Krupp had two touchdown catches while senior Wes Stephenson, freshman Marlon Harbin and senior Jackson Campisano each had a touchdown reception. Senior Harrison Hatfield had one touchdown reception, as well. Mike Curry had one touchdown on the ground.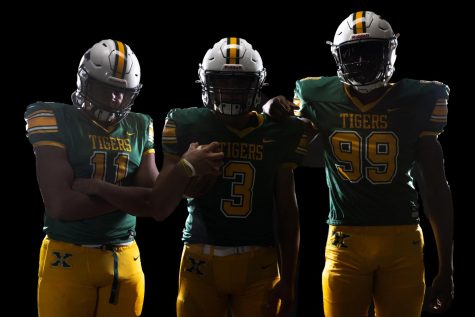 "Hard work at practice and working on individual drills consistently every day allowed me to play at my best and be able to gain separation from defenders," sophomore wide receiver Kyle Krupp said. "We come to work every day and prepare so that we are ready to go on game days."
No doubt the defense made a firm stand. Senior leadership allowed the defense to be strong throughout the game, like they have all year long.
"The focus on the week was just to get better every day," Tyler Boggs said. "Getting better at technique and the smaller things."
It wasn't just the seniors who impacted the defense, it was a total team effort with multiple underclassmen getting in the action. 
"Going into this game we knew that we just had to play St. X football and get the first round of the playoffs over with and that's what we did," freshman middle linebacker AJ Coates said.
This win sent the Tigers to the second round to play either PRP or the favored Male next Friday.