Darren's Weekly Jump
November 3, 2022
To reach the top, intensive training is necessary. Playing against a wide range of opponents, honing your abilities, and bettering every aspect of yourself is what the Blue Lock project is about. This manifests through a facility focused on eliminating the worst players and building up the best to create Japan's best soccer striker to win the World Cup. 
Blue Lock as a series is vastly entertaining, however, it's not one to provide a deep, heartfelt message. With all the characters on a quest to use ecocentrism to become the best soccer player, the character's facade of a hopeful Shounen protagonist is quickly stripped away. Despite the edgy tones, it never delves into the themes too deeply so it remains an enjoyable romp. 
As one of the best shows of such a stacked anime season, Blue Lock has to be doing something right, and that thing is the characters. Everything about the main cast exudes a fun atmosphere, especially the side characters. Out of all the characters we've seen so far, the only one who leaves a bad impression is our lead Isagi who comes off as rather bland. Luckily the show still has a lot of time to develop him, however, right now, the side characters are the ones to look out for.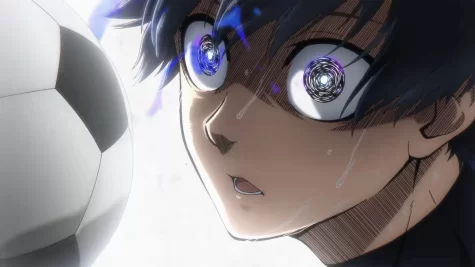 Another big aspect of Blue Lock is the animation. Despite competing against some of the biggest powerhouses in the medium this season, Blue Lock manages to compete with and sometimes surpass even the greatest shows airing right now.
If you want an enjoyable sports/battle Shounen anime to watch, Blue Lock should be your top pick.