Top 5 iPadOS 16 Features
October 31, 2022
---
Another year, another wave of Apple products and updates. As usual, Apple is back in fashion with another big iOS and iPadOS update to improve user experience. This year's iPadOS update is centered around two big aspects: communication and productivity. Normally these features are either relatively minor on the user's end or don't impact the overall experience as much as they would imagine. However, this year there are a few changes that Saint Xavier students specifically would greatly benefit from. Here are the top five overhauls to the iPad Operating System for student life (with one more that you shouldn't use, but we know you will anyway).
#5. Mail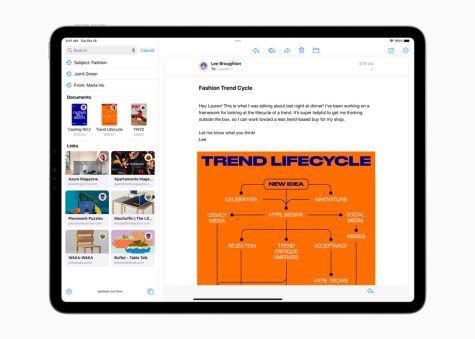 Our fifth spot isn't super exciting, but there was a lot of effort put into this revamp nonetheless. The default Mail app is receiving a refined search system for emails using context cues and term linking to help you find what you're looking for. For the first time, you will have the ability to undo sent emails. You've always been able to erase emails from your sent category so you won't see it, but starting now you'll be able to fully un-send your emails, which will also erase them from the recipient's inbox. This is a minor feature but it can be very helpful if you've made an error or sent your message to the wrong person. You'll also be able to schedule a time for when emails reach the recipient's inbox which can be very useful for organizing communications. Again, this is very minor but still a very useful and welcomed change.
#4. Live Text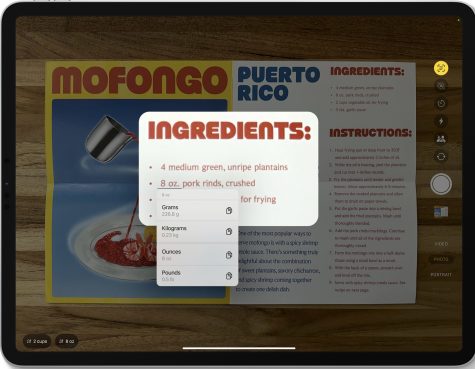 This one is technically two different features but they do work the same way in practice. With the new update, Apple will give you the option to listen to any book in the books app via TTS (Text To Speech). They have also added an opposite feature in the ability to have any video have its dialogue converted into a text transcription. With this also comes Live Text, which allows you to have subtitles or closed captions universally on any video. This feature can be very useful for studying and/or multitasking on your iPad.
#3. Safari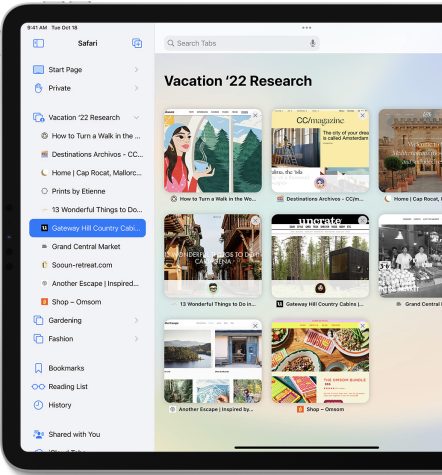 With this update, you'll have the option of creating Tab Groups. This feature gives you the ability to organize and separate your tabs however you like, a feature that the majority of web browsers do not allow. You will also be able to share these tab groups via messages instead of sending multiple links over a series of messages. Being able to organize your materials is always a useful thing, and being able to do this with browser tabs is an unheard of feature at the time.
#2. Notes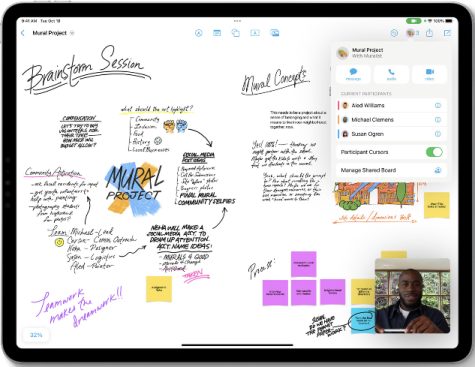 The native Notes app is getting a massive revamp that completely transforms how the app is used. School staff may wish to reconsider the requirement for students to purchase Notability for their iPads. The Notes app has gotten to a point where it's arguably better than Notability. The app has all, if not more than all of the same features Notability has now. Another bonus of Notes with this update is that for the first time you'll be able to share and collaborate on Notes with other users.
#1. Stage Manager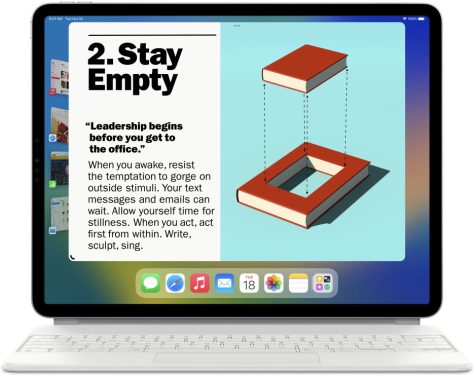 The Stage Manager is possibly one of the biggest change in Apple's software in years. This all-new feature is a big step in bridging the gap between the iPad, a tablet, and a laptop. I'm sure we've all used the split-screen mode dozens of times for multitasking and voiding the need to switch between apps, but Stage Manager is the next step of productivity for the iPad. With Stage Manager, you can now have up to four apps open at the same time as well as being able to resize each app window however you like, move apps wherever you wish on the screen, and even have apps overlap to preserve screen space. You can also plug in your iPad to an external display to have up to eight apps open at once. All the options for app window customization also apply to external display support.
Honorable Mention: Messages
With the new update to Messages, you finally can edit and unsend messages that you've already sent. You may be thinking this doesn't sound all that significant in writing, and you're probably right, but this is the single most requested feature on Apple devices since the original iPhone. Apple is also expanding messages compatibility and connectivity with other apps. They're constantly adding support to share apps such as notes and all your favorite streaming services with other people through messages.
To see the full patch notes, here is the following link to Apple's official page