Tradition Unequaled: 1957 State Championship Football Team
The unbreakable bonds of brotherhood
November 7, 2022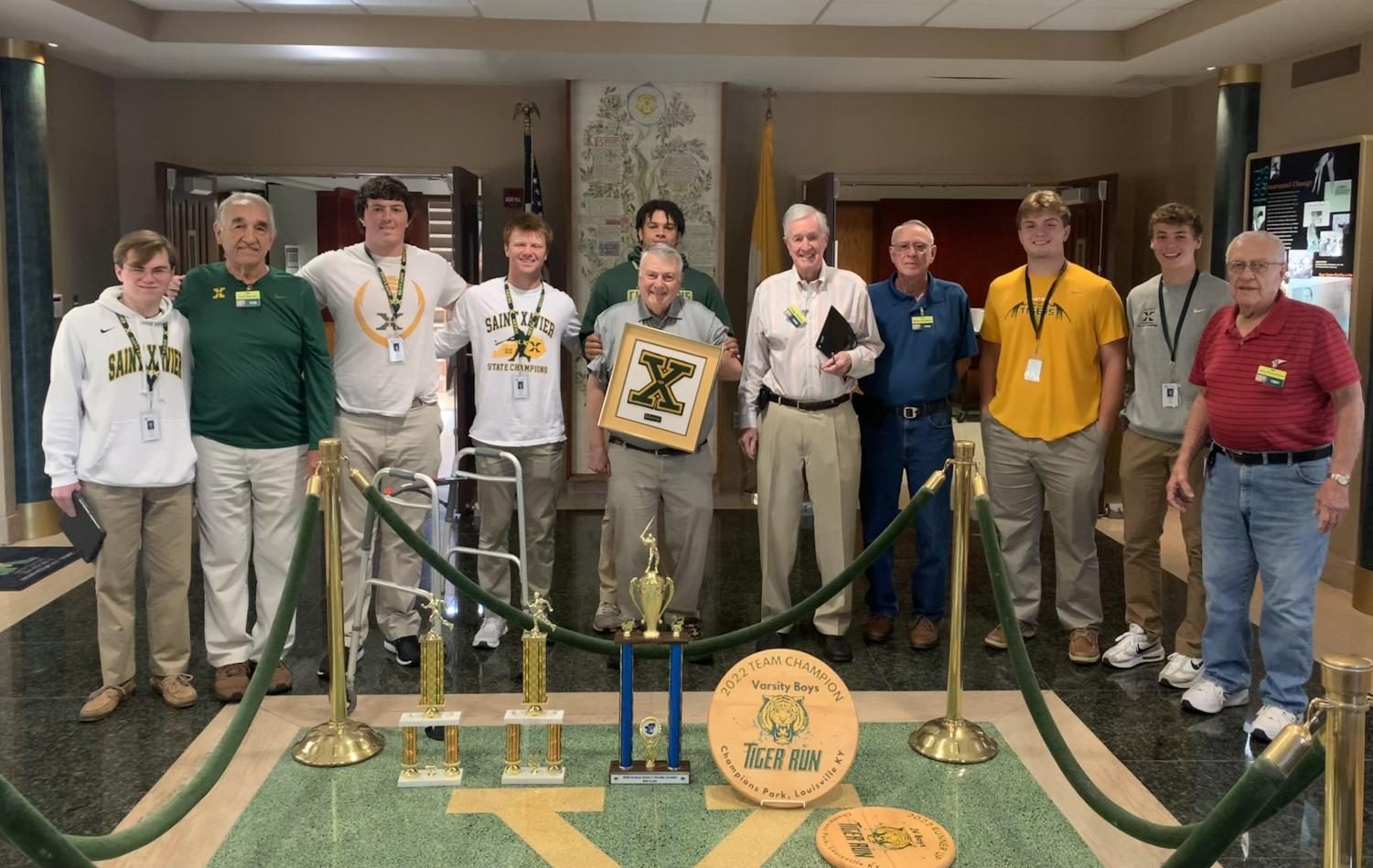 Growing up the son of a St. X graduate, I couldn't escape the constant conversations about the St. X culture. After being at this school for four years, I believe I am finally coming to understand what my dad was talking about. I can feel the history, like a thick fog, as I walk these halls. No matter what, I can't escape the brotherhood and connection to all those who have sat in the desks we now sit in. This indescribable bond is one by which I continue to build my life upon. 
When I heard about our story idea of getting some current football seniors to talk with some of the former players from the 1957 state championship football team about their experiences then and now, I was very excited to be a part of it. It's not every day that I get the opportunity to learn from an older generation of Tigers that have been in my shoes. For as high as my expectations were, these men and their stories exceeded them all. It made me even more aware of the unequaled tradition and brotherhood that we get to share…
---
What was the St. X football tradition like back then?
edited by Andrew Herp

Other than my grandpa, every member on my dad's side of the family went to St. X. The constant stories I was told could bring a smile to the face of thousands. Before even stepping foot on campus, I could tell there was a special connection. 

After finally going to St. X camps, games, and many other events I realized the bond that everyone had here. In grade school, my third favorite day of the year (behind only Christmas and Halloween) was the St. X vs. Trinity Football game. I would literally count down the days to the game. If you could see my reaction to seeing and meeting those players, you would've thought I had just met the most famous NFL players of all time. Those players were my idols. To me, this game might as well have been the Super Bowl. 

Coming to Open House, the one thing that was most apparent was the relationship everyone had, simply through walking the same halls. It was clear that people who may have never even spoken to each other truly had a bond with one another. I wanted to be a part of that. 
---
What does St. X football mean to you now?
edited by Andrew Herp

After being a part of St. X football for four years, I can only think of one word to describe it: family.

St. X football is knowing that you can trust every single one of the 120-plus guys on the team with any task. It's knowing that the guy next to you is going to give all that he has to make our team as good as he can. But this doesn't just stop once we come off of the field; the unbreakable friendships and bonds created off of the field are what keeps culture alive. 

This culture is seen in the classroom, at home, and especially after graduation. Making sure that everything academically is taken care of is emphasized daily by coaches, but what really gets through to those struggling, is the players' support. I have faith that every person on our team would be there to pick their brother up if they were struggling.

Something that goes hand in hand with communication is the responsibility of holding each other accountable. There is a constant focus on the two things we can control in every situation: attitude and effort. We focus on controlling the controllable and not making excuses in everything we do. But where all of this advice is put to use is in the real world. 

Sometimes this culture isn't immediately felt and it can take a little nudge to really get a feel for what it means. For me, this nudge was our annual Future Tiger Night. After a good win, looking over to the stands and seeing a crowd of grade schoolers flood the field for autographs from us made me realize just how special this is and the impact we can have. I am just a high school student, but to those kids, I might as well have been in the NFL. 

Another surreal moment was playing at Cardinal Stadium in front of 17,000 people — it was like something out of a movie. I remembered being in those seats as a kid, cheering on St. X until I lost my voice. Realizing that I was in a position that I had always dreamed of as a kid helped me appreciate the moment as best as I could. 
---
What did their advice mean to me?
edited by Andrew Herp
After hearing about our idea to interview people who helped begin the culture of St. X football, I was eager to learn as much as I could in the time I had. Upon meeting these former players, there was an unspoken connection as I could tell they were reminiscing on their times in my position.  It was obvious that after football ended, these men had not forgotten their teammates and experiences together. Their bond had expanded beyond football and they played an important part in each other's lives. 
After talking with Ted Penner, I learned about how the culture, which we build upon every day, was founded. Hearing about the brutal practices in which players wouldn't even be allowed to get water made me realize the changes over time. But even after hearing of all of the things that were different, I too felt a common bond with these men. 
One recurring theme that I have taken from these interviews is the ways playing football helps throughout the rest of one's life. Fighting through adversity in everyday life and how that was easier due to the hardships they faced in football spoke to me. The experience that football provides in dealing with hardships is one of the main things that makes our sport so powerful. 
Ultimately, these interviews helped me realize how special this school and football program was, and is, to these men. They had been where I am now and their expressions of how they wish they could be in my place again made me realize how special what I have is. 
Getting to meet with these men was a once in a lifetime opportunity. Learning more about where a big part of my life began gave me a newfound appreciation of the sport, these men, and especially St. X. As I spend my last year at this school that I've called home for the last three years, I aspire to make the most of every opportunity, and like Ted Penner said, "stick through the tough times in life." 
---