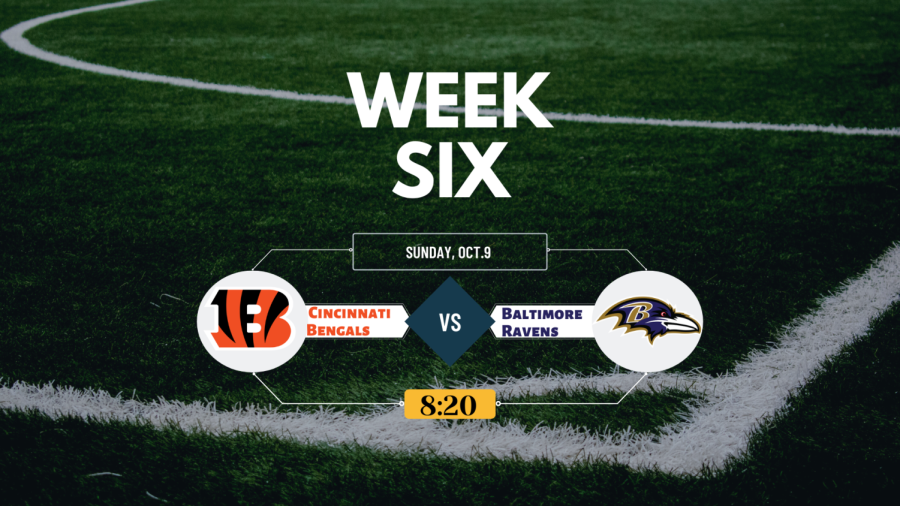 Week 6: Football Pick 'Em with Coach Larkin
October 7, 2022
---
There may be nothing better in football than an NFL division rivalry on Sunday Night Football, especially when the contest is between two of the best teams and quarterbacks in the NFL. I may be a little biased as a huge Louisville fan, but Lamar is probably the most electric, entertaining player to watch in the league. On the other hand, the swagger that "Joe Shiesty" plays with is must-see TV as well. This game is critical to what team will take control of the AFC North.
Aside from the elite quarterback battle, the key to this game will be the stellar wide receivers of the Bengals: Jamar Chase, Tee Higgins, and Tyler Boyd. These receivers are going against the very volatile Ravens secondary that has been torched in a few games this year. Although the Bengals have had the Ravens number as of late, I expect this game to be very close. I expect this high-stakes matchup to be a high-scoring shootout with both of these elite offenses firing on all cylinders. This game will be very interesting as a lot of people from our school are big Louisville fans so they will want to support Lamar, but a lot of NFL fans in Kentucky are Bengals fans as well.
Picks
Who's going to win outright/score?
Coach Larkin: Baltimore Ravens (38-28)
Adam Campisano: Baltimore Ravens (26-20)
Ben Purnell: Cincinnati Bengals (27-24)
Luke Daley: Cincinnati Bengals (30-22)
Who covers the spread? (Baltimore -3.5)
Coach Larkin: Baltimore Ravens
Adam Campisano: Baltimore Ravens
Ben Purnell: Cincinnati Bengals
Luke Daley: Cincinnati Bengals
Who has more total yards in the game between Burrow and Lamar?
Coach Larkin: Lamar Jackson
Adam Campisano: Lamar Jackson
Ben Purnell: Lamar Jackson
Luke Daley: Joe Burrow
What player scores the first touchdown?
Coach Larkin: JK Dobbins
Adam Campisano: Mark Andrews
Ben Purnell: Jamar Chase
Luke Daley: Mike Hilton (Pick 6)
Who will have the most receiving yards?
Coach Larkin: Tee Higgins
Adam Campisano: Tee Higgins
Ben Purnell: Tee Higgins
Luke Daley: Jamar Chase
Which kicker will make the longest field goal between Tucker or McPherson?
Coach Larkin: Justin Tucker
Adam Campisano: Evan McPherson
Ben Purnell: Justin Tucker
Luke Daley: Justin Tucker
Rankings
1. Ben Purnell 15-13
2. Coach Larkin 12-16
3. Adam Campisano 11-17
4. Luke Daley 9-19