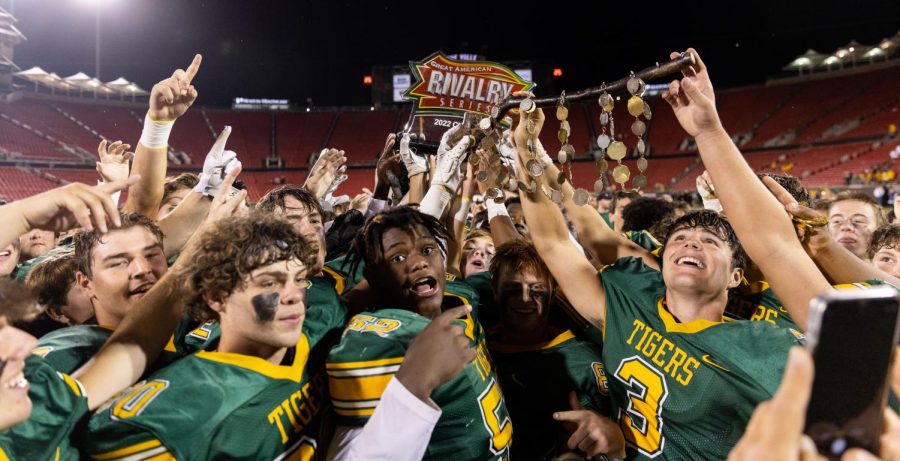 Photo used with permission of M. Haas
Tiger Defense Dominates the Rocks
September 26, 2022
If you're a fan of offense, Cardinal Stadium on Friday, Sept. 23 wasn't the place for you. St. X beat Trinity by a final score of 13-8. 
This game was a battle between two great defenses on both sides. The Tigers defense allowed Trinity to get close to the end zone multiple times but ended up escaping by only allowing two field goals. The Tiger defense also blocked a field goal attempt with the help of Jack Fitzgerald. Finally, the Tigers added an interception as Jackson Panariello tipped a pass which was eventually intercepted by Holden Siebel.
"I think that they stay motivated because they are locked in," Coach Bruner said. "They have a job to do, they prepare for that job, and then they are ready to execute on Fridays."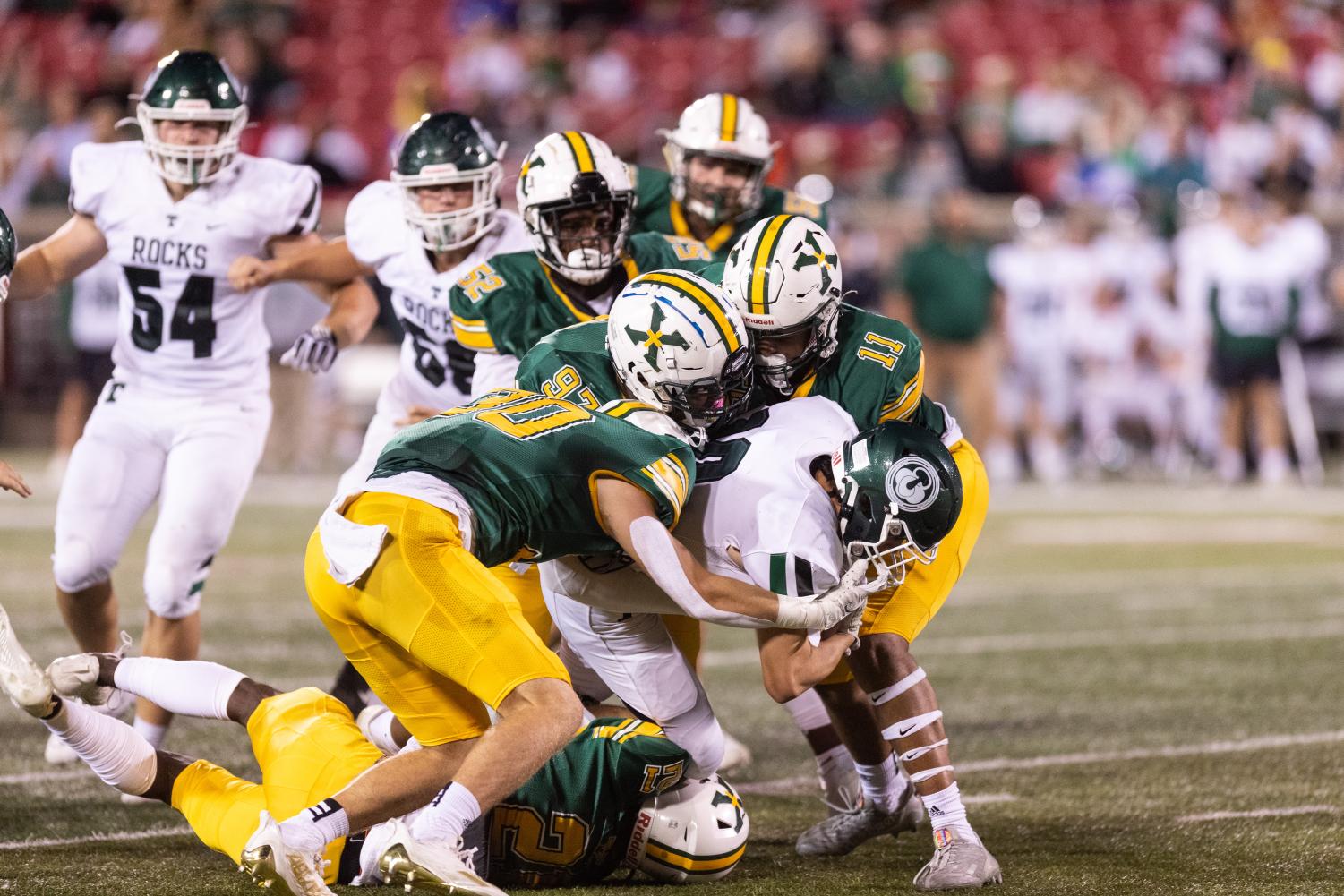 Unlike St. X, the Trinity defense couldn't prevent the opposing offense from getting in the end zone. The Tigers had two big offensive plays that made the difference in the game. These were two touchdown passes, one from Adam Boone to Jackson Campisano for 19 yards, and the other was a 56-yard bomb from Trevor Havill to Zach Marks early in the fourth quarter. This was the difference in the game because beside these two plays the Tiger offense was very ineffective.
"The energy and the situations [the defense] put us in just really caused the offense and me to really lock in on the sideline, lock in when we need big plays," Adam Boone said. "The offense didn't make a lot of them, but we made enough to beat the Rocks. " 
A failed 2-point conversion led to the Tigers leading by five with only ten minutes to go. Trinity drove down the field into the red zone, but on 4th down, the rocks threw an incomplete pass into the end zone. The Tigers would then run out the clock and secure the win for the second year in a row.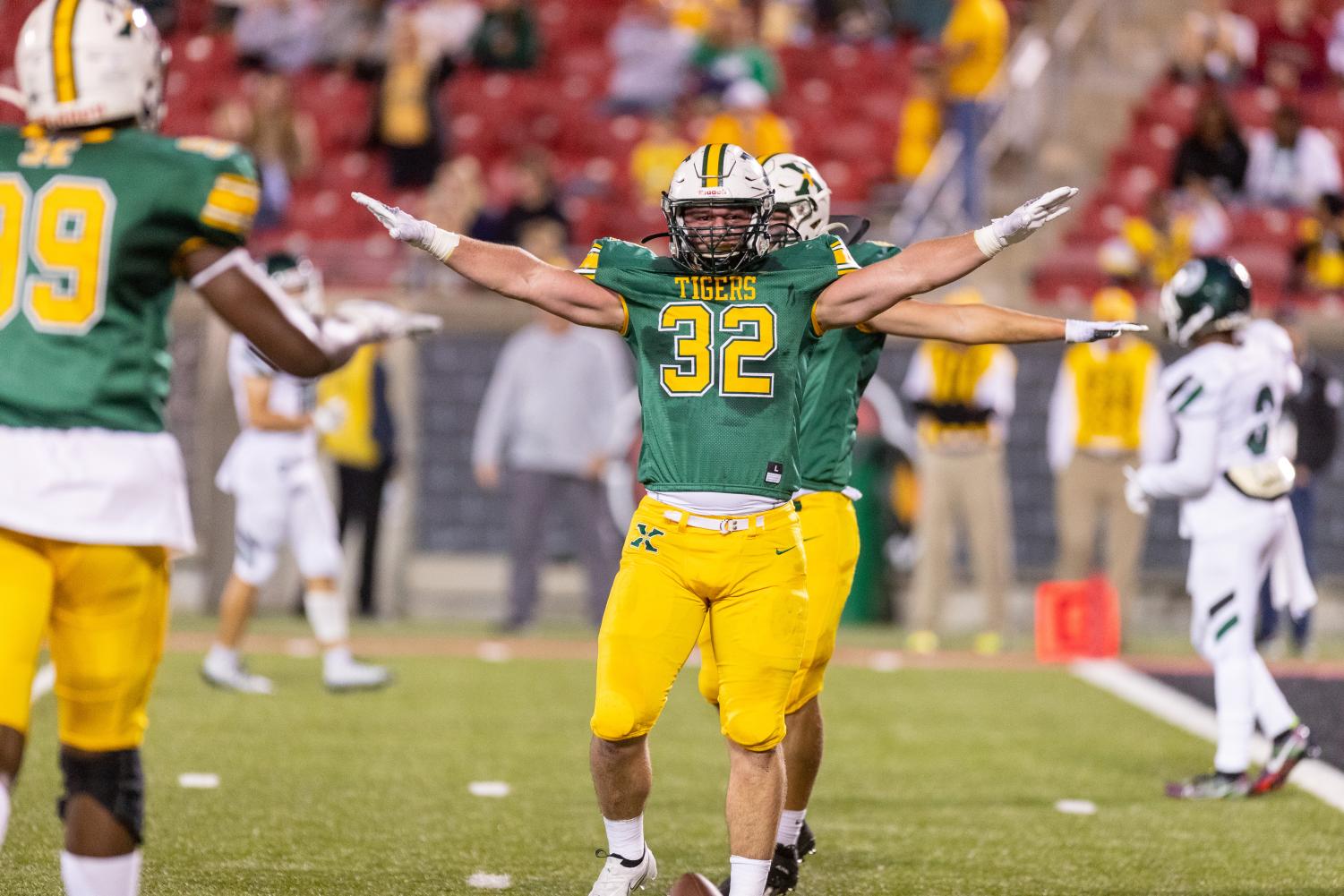 Since the Tigers won last year, we have successfully defended the Shillelagh, which is the trophy passed on year-by-year to the winner of the game. The Tigers took the job of defending the prized trophy against the Rocks personally. A gold coin will be added to the praised Irish war staff and stay with the Tigers for at least one more year.
The Tigers (4-1) are going into a game against Ryle this upcoming Friday. Wins against two of the top teams in Kentucky, Male and Trinity, cements St. X as serious contenders for a repeat at state. The Tigers are definitely hot.