Photo used with permission of M. Haas
Coach Kraeszig: An Uncommon Career
September 12, 2022
Former St. X wrestling coach Jim Kraeszig was recently inducted into the Kentucky Wrestling Coaches Association Hall of Fame for his achievements with the Tigers. Kraeszig coached three state championship teams — one as an assistant coach in 1998 and two as a head coach in 2001 and 2013.
Coach Kraeszig was voted Coach of the Year for each season that his team won the championship. He ended his coaching career on a high note, helping senior Matthew Meyer to an individual title in the 2021 KHSAA State Championship. Clearly, Coach K understood what it took to take his wrestlers to the top.
"I loved the building process. Taking a group and molding them into a functional team — a family," Kraeszig said. "Watching them evolve from a team that competes for its coaches to a team that wrestles for each other. That is when the magic happens."
Although his teams definitely won a lot, Kraeszig was more interested in the way in which they won. He took the time to instill the important values and life skills necessary to carry them throughout their lives.
"Having success is important, but success with honor is so much more rewarding. Building champions, Christian men, dads, husbands, people," Kraeszig noted. "I wanted my guys to be the best conditioned, toughest mentally, spiritually anchored, humble men that speak with strong actions."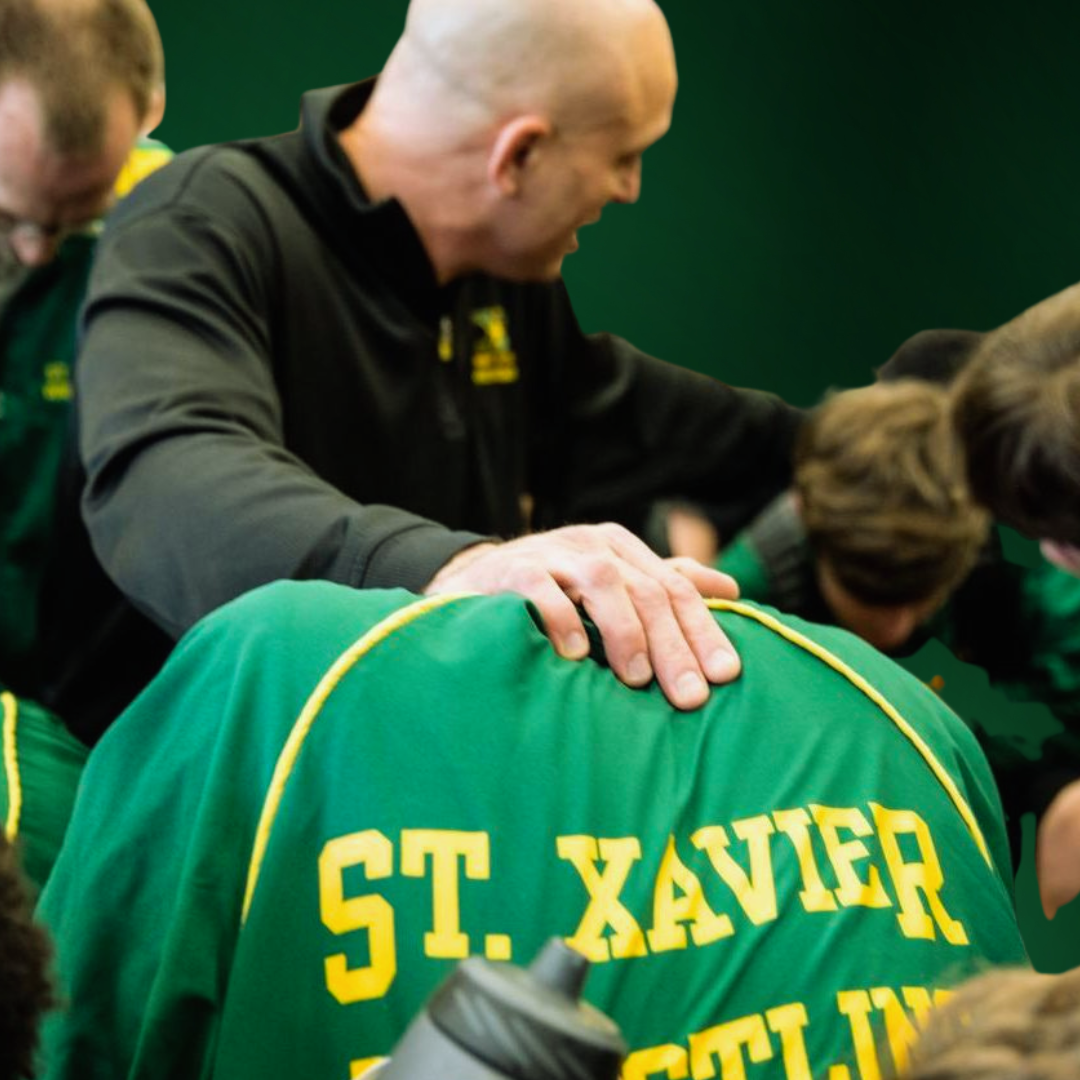 While he feels honored to represent the school with this award, he humbly redirects praise to others.
"The athletes are the most deserving of all recognition," Kraeszig said. "The coaches on staff are so much better than me. Isaac Knable, Efren Quirino, Elliott Bauer and Brody O'Leary are the reason our program is successful.  We are so fortunate to have great coaches in every sport here at St. X."
Coach Kraeszig's achievements extend well beyond wrestling. He is a St. X graduate of the class of 1985, a valuable teacher in the Science department and one of the greatest people to walk the halls. He always has a smile on his face and a cheerful attitude, and he always has a story to share, which makes talking with him so much fun.
He will be one of the coaches of St. X's history whose impact went way beyond the sport he coached — leaving his indelible mark on the lives of many.
"I want to be remembered as a man that made a difference," Coach K thoughtfully said. "I wanted my guys to be UNCOMMON. Common men go nowhere."