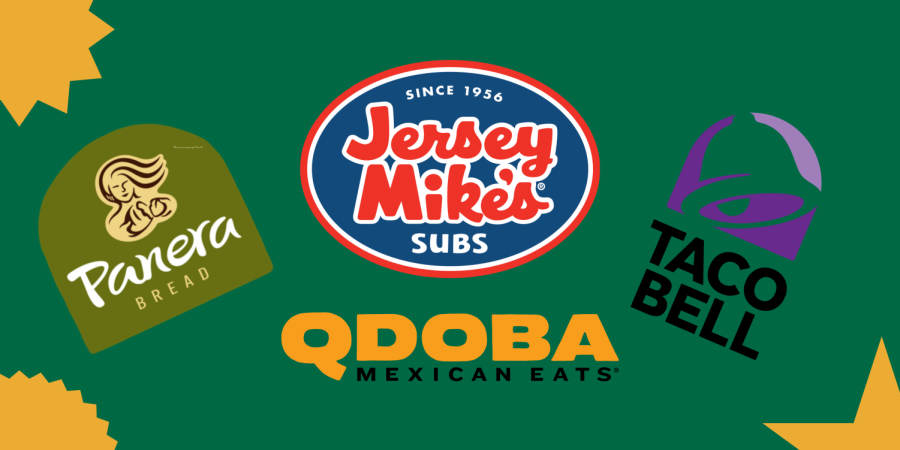 (Created by Ben Howard/Logos from Wikipedia)
Top Food Places Around St. X
September 8, 2022
Personally, I am as hungry as a whale after the school day. A lot of times, we as students have to kill time before a practice, game or event and need to get some food. As school cafeteria lines are very packed after school, we naturally expand our scope of food options to the restaurants around campus.  Here are some places that I recommend for our hungry after-school student population:
Jimmy Johns
The supreme sandwich shop — its diverse menu fulfills our desires. Jimmy Johns is the perfect meal for a pre-practice grub session. The sandwich fills you up, the chips give you the crispy side to the meal, and the drink helps you stay hydrated for practice. The bread at Jimmy Johns will be the highlight of your trip. One con about this popular destination is the distance from campus. Driving or catching a ride is most likely necessary, unless you like the Oregon Trail and want to make the trek.
Qdoba 
This is the top bulking food for the hungry hungry hippos of the world, or if you're just craving some quality Mexican food. I would not recommend eating Qdoba before a practice or game due to the possibility of re-tasting it on the way up. If you have no after-school activities, Qdoba is the spot with many overjoying options of a burrito, burrito bowl, or a quesadilla. 
Jersey Mike's
Another top-notch sandwich spot for our hungry stomachs after school. Jersey Mike's is a nice option if you have the money — it will put your wallet in a hole of about 15 dollars. If you are a big food consumer, you might want to go to Jersey Mike's to meet your needs, but if you throw up while doing physical exercise it's nobody's fault but your own. Jersey Mike's separates itself with the quality of the sub including all the ingredients of meats, cheeses, veggies, and oils coming together to make a quality sandwich.
Panera
Panera is on this list due to its professional environment. Only the most studious come to Panera to munch on some baguettes and sip on some chicken noodle soup. It has a vast menu with many different types of foods. They have pastries, soups, salads, pizzas, and sandwiches. Jason Barkley-Witt, a worker of Panera and Saint Xavier student, says his favorite food is the Signature Chicken Sandwich. With nice, elegant food and a professional environment for studying, Panera stands out as an after-school chill zone.
Taco Bell 
Taco Bell is on this list for one reason and one reason only — pregame meals. You will have a fiesta of fun for your friends and family at Taco Bell. It's the best fast-food grub spot for the boys before St. X destroys its opponent. The quantity is unmatched for the price, although quality may need improvement. There are a lot of options on the menu, from tacos to burritos at budget friendly prices.