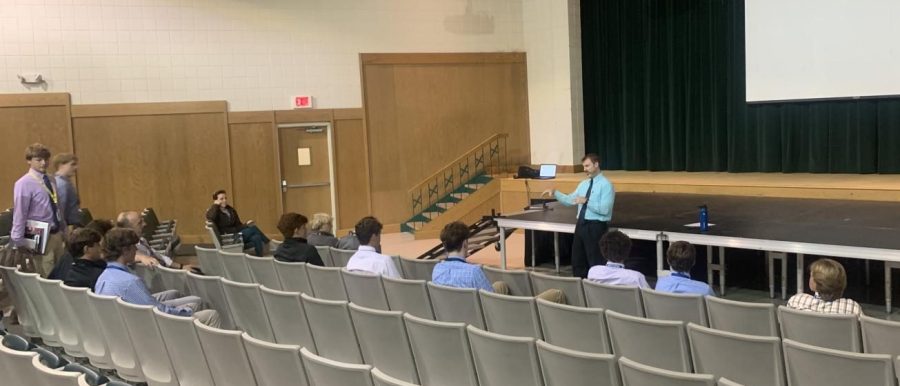 New Club: Tigers for Christ
September 3, 2022
Tigers for Christ (TFC), headed by Coach Cotty and student leaders at St. X, is a new club centered on the attributes of Jesus. TFC meets in the auditorium every other Tuesday with the purpose of encouraging one another by creating a caring, faith-filled support system for the St. X community.
"
Students might be wondering how to join this group, but they are already in it. This group is for all–not just athletes, Christians, students, or faculty–but all Tigers."
— Landon Akers
The speakers chosen by the TFC huddle will keep you engaged and your mind churning at all times. These speakers include a six-time football coach of the year, outstanding high school and college athletes, and even the city's best teachers.
In addition, every week, trivia questions concerning the next week's speaker will be released. The individual who properly guesses the answer and contacts Coach Cotty first earns a free TFC t-shirt.
Coach Cotty gave an amazing speech at the inaugural Tigers for Christ meeting last week. He was able to relate his hardships and poor judgments as a youngster to the everyday issues that students encounter at St. X.
These actions may have had a bad influence on his life at the time, but God always had a plan to guide him to prosperity. As Coach Cotty stated, the closer we keep to God, the faster and smoother our path to achievement may be.
If you attend the sessions, I guarantee that a few things will remain with you and that you will remember and use them to improve yourself. It may be difficult to wake up so early in the morning, but after hearing these inspiring stories, you will have a successful, optimistic, and energetic day ahead of you.
Come to the auditorium in the morning, even if you are late or can only catch the final two minutes of a meeting, since you never know whether anything said will really resonate with you. Let's fill our next meeting with 40 or more students and continue to spread Christ's love across our school community.