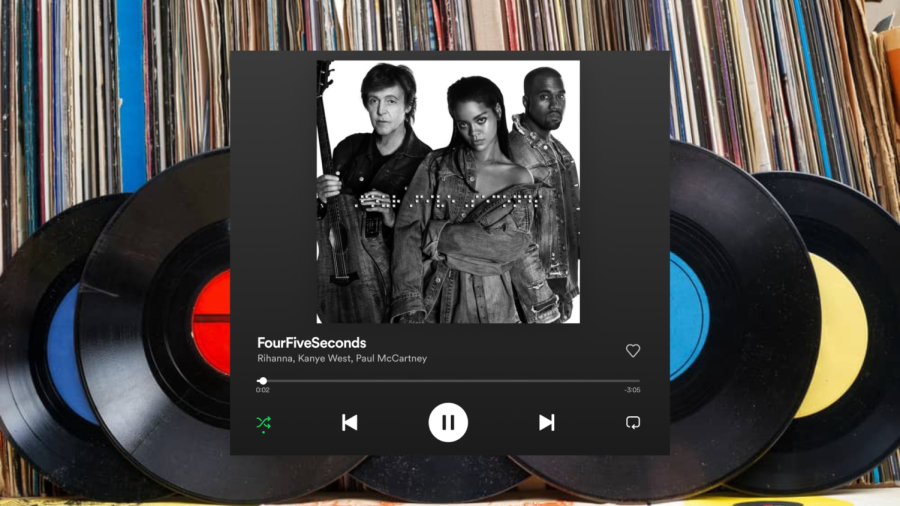 Sam's Throwback Thursday
When the world needed them most, three superstars of the music world came together to make a simple, legendary song.
September 1, 2022

What song could feature one of the best rappers of all time, a world-renowned queen of hip hop, and an iconic member of the Beatles? "FourFiveSeconds" by Rihanna, of course. 
Kanye and Rihanna have collaborated on more than one occasion. They've made songs that will be played for decades, with songs like "All of the Lights", "Run This Town", and "Famous". With the addition of someone with such a deep history as Paul McCartney, any song produced would be an instant hit.
Starting a song off strong is essential to hook the listener, and this song does just that.  Rihanna delivers a textbook performance showing off her range and versatility when transitioning from a soft piano to a powerful organ. She hits all of the notes while delivering lines like, "cause all of my kindness is taken for weakness." Rihanna catches the exact energy of the song and matches it perfectly to add another standout performance to her collection. 
Kanye plays his part and, like usual, exceeds expectations. By no means is it an earth-shattering verse, but it sure is a memorable one. It is true that sometimes, less is more, and Kanye's subtle and soft delivery proves this statement true.  He delivers two verses, both only lasting close to 20 seconds, where he delivers some memorable lines like, "they wanna buy my pride, but that just ain't up for sale." With these simple, yet powerful verses from Kanye, Paul McCartney, drives the song home with his guitar. His soft-played guitar further emphasizes the simplicity of the song. "FourFiveSeconds" gives off a sense of comfort and reality from Rihanna and Kanye which engulfs all who listen. 
This song is like a hot cup of hot chocolate on a cold winter day after being out in the snow. This song is like a big gasp of air after being underwater for too long. This song is like getting the perfect tear on a piece of paper from your notebook. This song is simple, yet legendary.