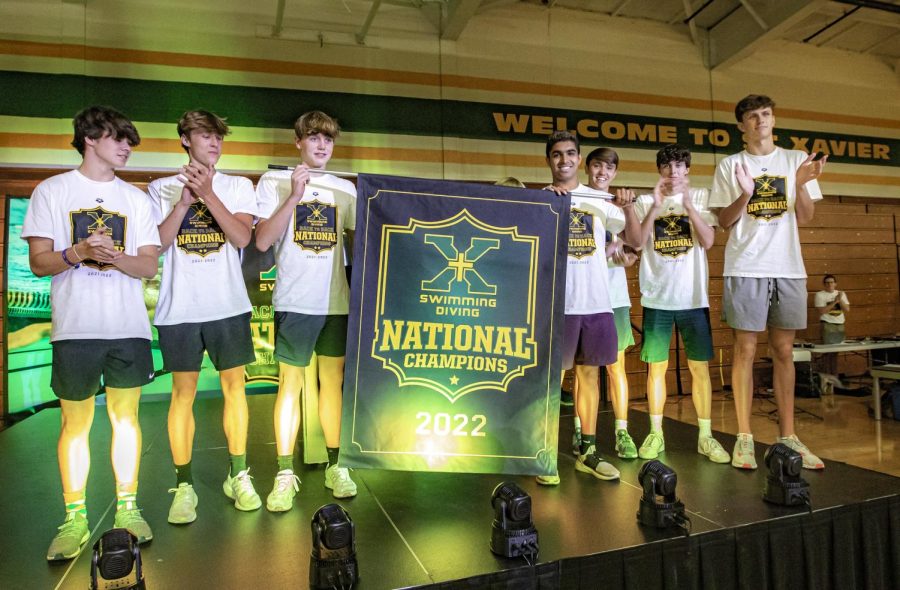 St. X Swim: Working Towards Three-Peat
August 31, 2022
Winning a championship is hard, winning a national championship is something incredible, and winning a second consecutive national championship is something unheard of. The St. X swim team has done just that.
The St. X swim team has won the national championship two years in a row because of their coaching, raw talent, work ethic, and player mentality. The two wins are even sweeter considering the results for the 2020 season when the St. X Tigers came in second.
"The fact we were runner-up or 2nd in 2020, coming so close, it gave us an edge, putting a chip on our shoulder," Coach Larkin said. "It pushed us toward – One Road/One Goal/One Team!"
The senior leadership of both teams was a big factor in the back-to-back championship run.
The seniors led by their actions, they walked the walk and bought into the mission," Larkin stated. "I feel they were very supportive and positive."
The Tigers are aware of what it takes to be the best and they intentionally work to establish a new identity each season to keep the winning culture strong. It's never an easy road to the top, and it takes miles and miles of hard work.
"We know to be the best team in the country, we have to outwork the country," Larkin expressed. "I believe in this team, and belief in our process."
St. X lost some major leadership and talent, which will surely present its challenges. The Tigers will rely heavily on Will Scholtz (University of Texas commit), a current senior and a member of both national championship teams.
"This year we took a hard hit in some events due to a few key players graduating and going off to college," Scholtz said. "While there is a hole, if underclassmen are willing to step up, this hole will be filled, and the team can return to its state last year, which I find very likely."
The St. X swim team has done something incredible and, should be an example of the perfection that St. X strives for. These past years' swim teams have cemented their spot in history. As we look forward to this 2023 season, I would keep an eye on our swimmers; they just might hit the trifecta.