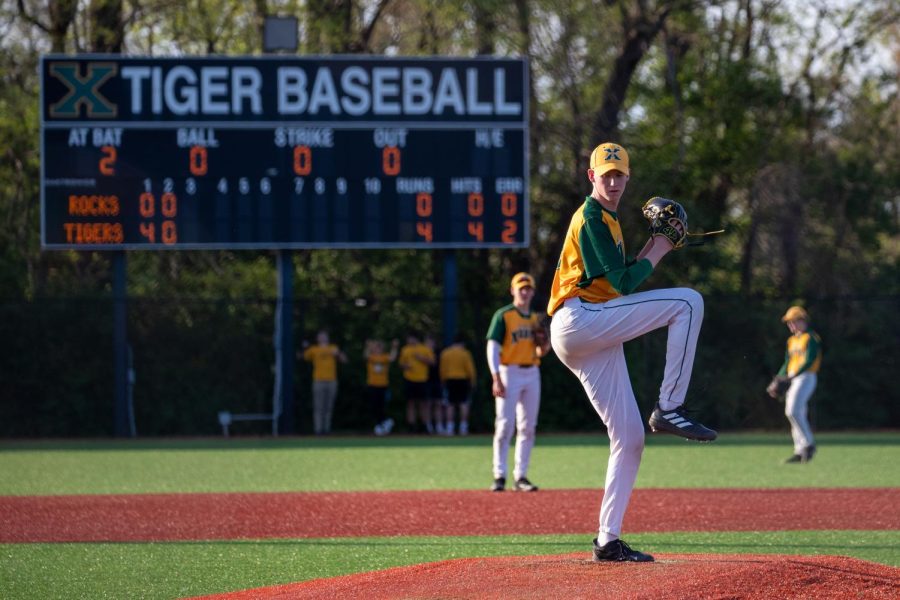 Tigers Dominate the Rocks on the Diamond
Wednesday, April 27 — The Tigers got their revenge against the Trinity Shamrocks from last year in the Regional Championship. The Tigers led the whole game and won 8-2.
May 3, 2022
Trinity traveled to Poplar Level Road to take on the Tigers at Mueller Field. It was the first time St. X played Trinity at home since 2019. The Tigers won that game and they got off to a hot start in this one.
Junior starting pitcher Ty Starke, who just committed to UofL, worked out of jam in the first inning and the Tigers' bats were as hot as ever. They came out in the first inning scoring four runs. Landon Akers, Cooper Smith, Jake Gregor, and John Paul Jardina all crossed home with authority. Gregor, Jardina, and Ryan Comella all had RBIs in the first. Comella, only a sophomore, has been swinging it exceptionally well as of late.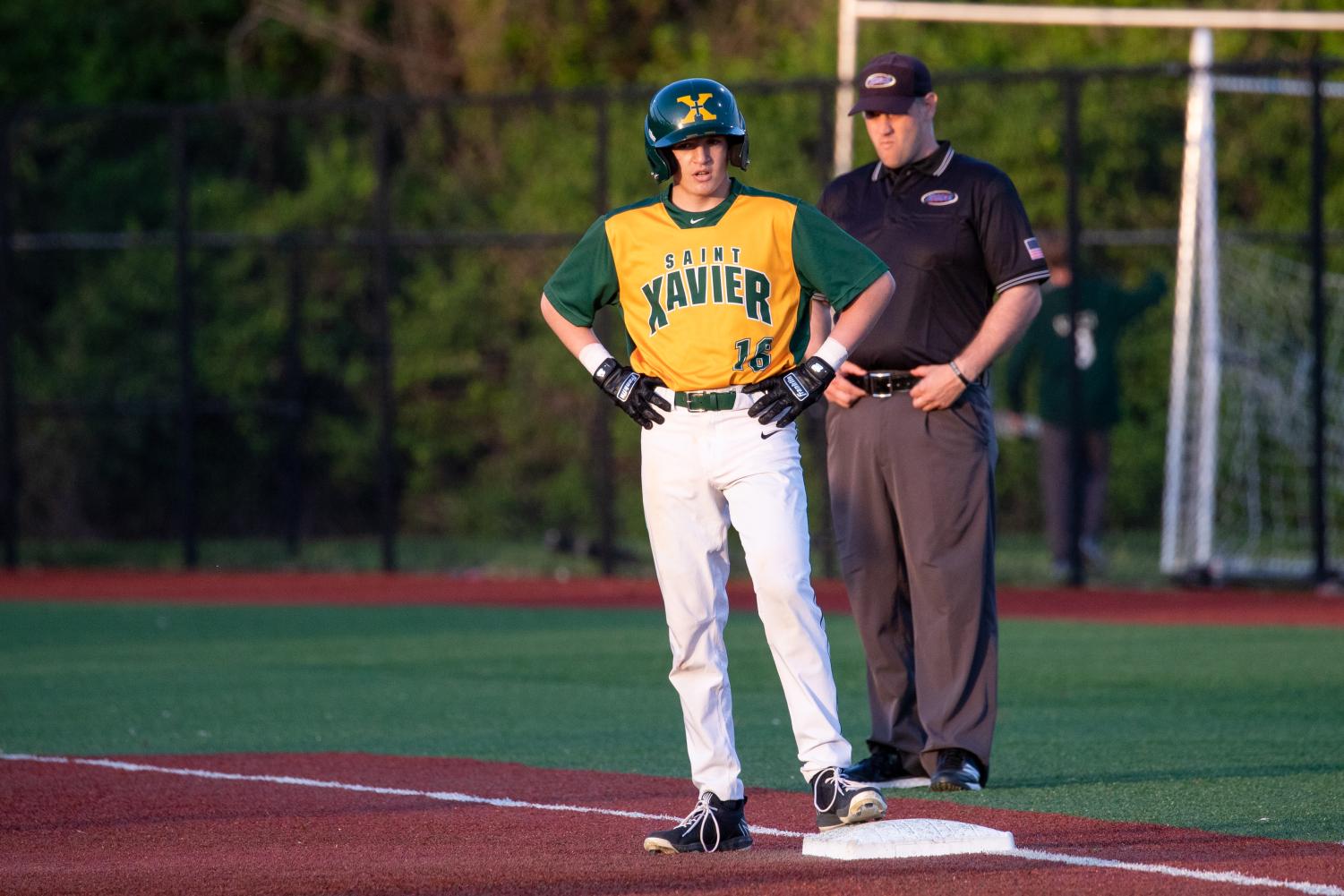 "As for my approach at the plate, I just stepped into the box thinking just to put a good bat on the ball and get on base however possible," Comella said. "With composing myself, it sort of came naturally. I was nervous as the game approached and I saw my name in the lineup, but as soon as that first pitch was thrown the game took over and I was relaxed."
Starke was dominant on the mound and kept Trinity's offense off-balance and scoreless through the first five innings. 
"After the first inning I just had to focus on my mechanics and slow the game down. When you get into a moment like that it goes very fast and you cannot rush yourself. I didn't feel pressure during the game but I felt the crowd's presence and it helped me to pitch well," Starke said. "My favorite part of the game was getting the final out of the first inning. I really felt like that gave us good momentum. Considering we turned around and scored four runs, I would say it did."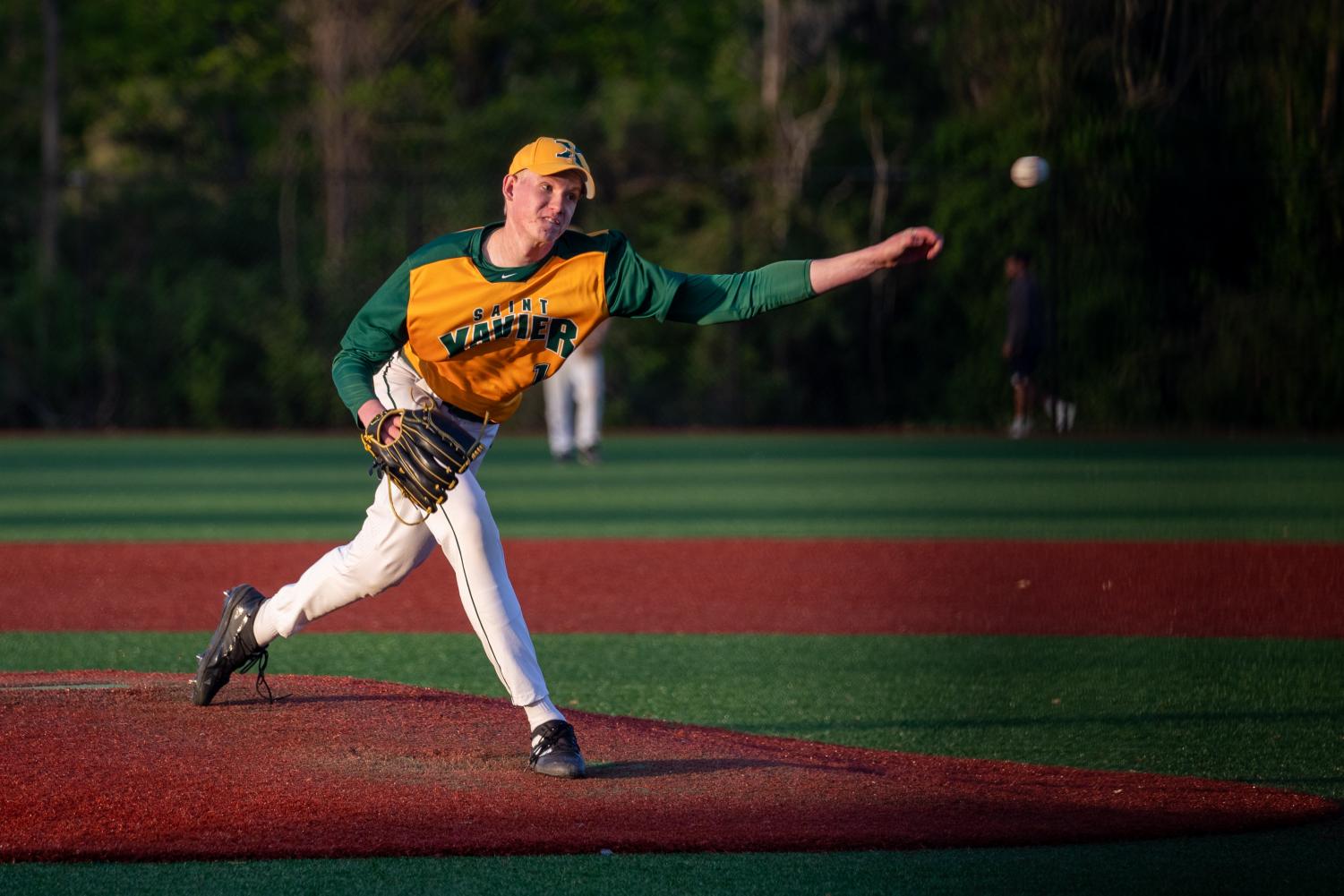 Starke mixed in his strong fastball with multiple inches of arm side run and it got up to 86 miles per hour. His off speed consisted of his circle changeup and curveball. He was up in the count the whole night and that was key for his success. St. X preaches getting up early in the counts and Starke was working 0-1 and 0-2 all night.
His 'go-to' was definitely his fastball but he got strikeouts with his change up and curveball. This Trinity team had ten guys batting over .300. This was a team with consistent hitters up and down the lineup. St. X was able to support Starke's stellar pitching with eight runs. They eventually put away the Rocks with a score of 8-2, with a great relief appearance from senior pitcher Quinten Shewmaker. 
"Finally getting the win on the baseball field felt great. We always knew we could beat them, but it felt good to prove that we could. It proved we are a different team than the one that lost so many times," Jardina said. "The dugout played a huge role in the game. Everyone was laser focused and positive. The post game celebration was relatively muted, while it was a fun game and a rewarding win, the real celebration comes in June. We know the job isn't done and we still have beat them again at Jim Patterson." 
The Tigers' next home game is May 5 vs. Fern Creek High School. The team is now 22-7 and is going in the right direction for a State run with this deep pitching staff.