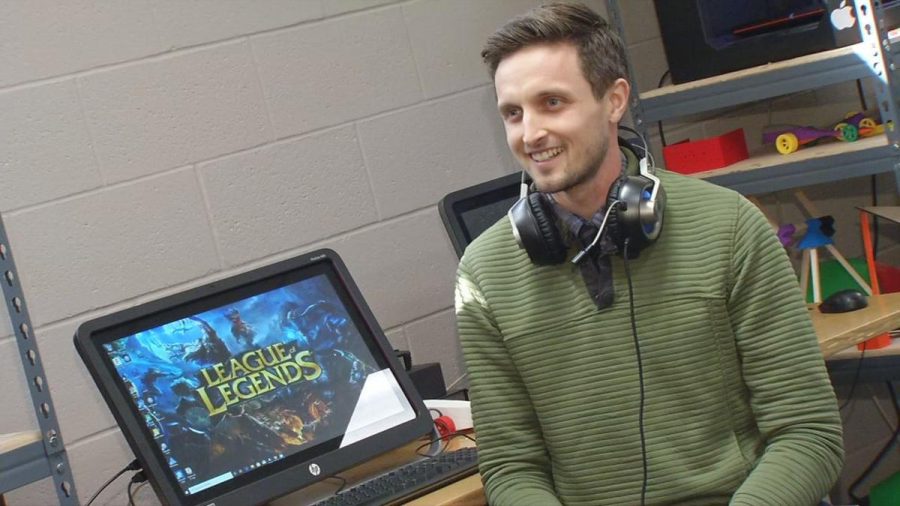 Getting to Know Mr. Spears
May 17, 2022
Mr. Spears: a man who many can say they aspire to be like–a teacher, streamer and overall great guy. I've always wondered how he never seems to have a bad day and he's always coming to class with the same energy, always giving maximum effort. He's never afraid of conversation on off-topic subjects, and for that I have deep respect. To understand where and why all this energy comes from, I figured, why not just ask him myself? And well that's exactly what I did.
From a young age, Spears looked up to his family members, especially in his parents and grandparents.
"I realized they had already lived through so many experiences and were able to share their failures and successes with me," Spears said. "I always took them to heart since I knew they had already had the time to reflect on them, hoping that I would avoid the same mistakes and try to mirror the same successes."
Being leader of SAC at St. Xavier, Spears has a strong feeling of community here. When asked what keeps him going on a tough day, he replied, "Knowing that everyone at this school, faculty, staff and students has each other's best interest in mind.  I've had many people check in or help during times that were tough.  It's nice knowing we have such a great community we can count on each day."
When it came to teaching, he was never quick to jump on the idea–even reluctant at times. It took some coercing from peers to really push the envelope on the idea of teaching.
"I've always enjoyed being social and I had participated in my high school's theater program for four years, so having to a job in which it felt like a performance everyday appealed to me," Spears said. "Plus, math is easily the best subject so it was a perfect fit!" 
To say Spears has a non traditional teaching style would be an understatement; students often left wondering what makes his class more interesting than others. 
"My class is personable and engaging, at least that's my hope," Spears responded. "I try to keep this mentality because I certainly know it helps students get through the year, especially in mathematics since it can be tedious at times."
Word has spread that Spears is actually a vegetarian. The world was intrigued and starving for the answer: what does the man eat at lunch?
"I will either go with the veggie wrap or find various vegan food items around the cafeteria," Spears said. "This means a lot of random vegetables and other protein sources, like beans or tofu."
Last but not least, the legend of MadMyler, Spears' Twitch username. The only question that comes to mind is, will the return be permanent?
"Streaming is fun but also is a full-time commitment.  I'm hoping that to use it for good and raise money for charity, while also promoting our eSports program and the new broadcasting program we started this year," Spears said. "It should be fun, but my plan is to only use it when I want to do things like that in the future."
It's no secret that Spears is in his prime. The man's potential is as deep as the Grand Canyon. One thing is for certain: whatever Spears decides to do from here on out, the St. X family will be here to support it wholeheartedly.