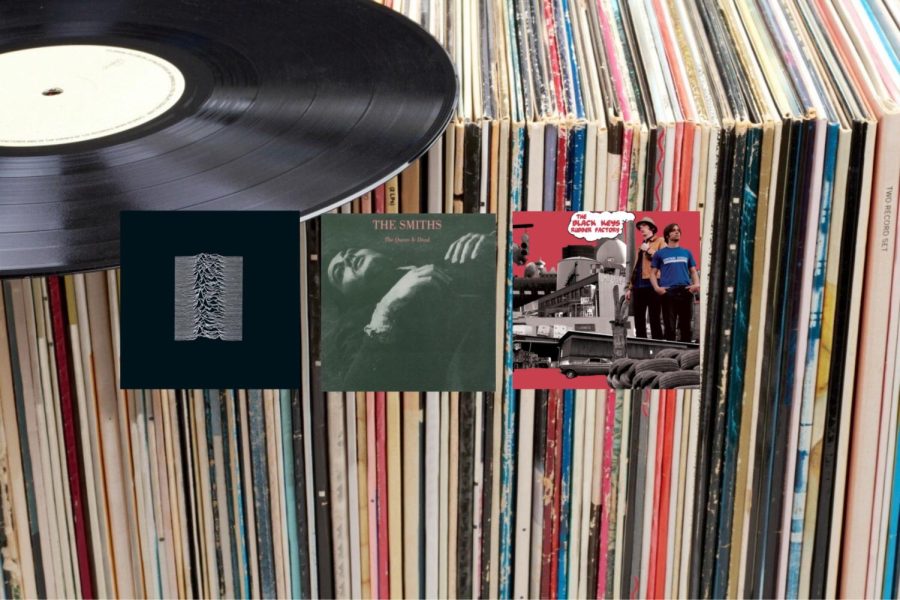 Sky and Joey's Throwback Thursday (feat. Mr. Stemle)
March 31, 2022
For this week's throwback, Joey and I are tackling one of our favorite genres/movements in all of music, indie, specifically indie rock. Indie implies that it was published without a major label, but the term has grown more obscure in modern times. Indie rock has such a distinct sound that we believe it is its own genre. Indie rock is slower, deeper, and more emotional than your average rock genre's music. The indie rock movement effectively laid the groundwork for the grunge, emo rock, garage rock, and modern alternative rock scenes.
Sky – "Disorder" – Joy Division
"Disorder" is incredible not only in its composition, but also in its mastering. This song feels like a night out in the rain, alone on an empty street, with only a streetlight to accompany you. It feels like so much goes on in this song, with the rapid drumming, erratic guitar, time-keeping bass, and the lyrics guiding you through the emotions. "Disorder" lives up to its name, with its progressions and lyrics getting louder and more distinct as the song goes on. "Disorder" feels like it represents the heart and soul of indie and alternative music, popping up in alternative media such as James O'Barr's The Crow and video games like Skate 3; it may be a song that "everyone and their mom" knows, but that does not devalue its creativity, enjoyability and replay value. I highly recommend "Disorder" and the rest of Joy Division's rather small discography, as it provides a wonderful bridge to the rest of indie/alternative rock.
Joey – "I Know It's Over" – The Smiths 
I understand why people slander The Smiths — especially Morrissey. However, to me, The Smiths are what indie music should be. Love or hate them, they were extremely important for the genre as a whole. This song is a masterpiece. You have to be in the right mood or atmosphere to experience the greatness of this song. The best time to play this song is on a cold, rainy day. The depressing, yet beautiful vocals never get old. I have many memories attached to this song, and every listen brings me back to simpler times. It's brilliant, and you should check it out.
Mr. Stemle – "When the Lights Go Out" – The Black Keys
I think there's a reason our Throwback Thursday column has more audience interaction than our Release Radar—the memories attached to music. Indie rock as a genre has to be my most influential musical category growing up, and there is no bigger band for me growing up than The Black Keys. Their first three releases aren't only rock, they're indie rock to the core. What's more indie than renting out an abandoned tire warehouse to record your whole album? The intro song from The Rubber Factory is reminiscent of Johnny Cash's "God's Gonna Cut You Down" but with way more elements of rock and blues. I could've chosen any of the songs from the Keys' magnum opus of an album, so I chose the first so you can just keep the tracks rolling all the way until the end—no skips needed. "When the Lights Go Out" makes me think of my elementary school days, the listening station at Ear X-Tacy, my dad's old Chevy Blazer, and being inspired to learn how to play the guitar. Most importantly, it makes me think of indie rock. Give it a spin!
A very special thank you to Mr. Stemle for the feature this week; we always love insight from the goat. 
We now have a playlist where you can listen to the songs we feature!
Check it out here