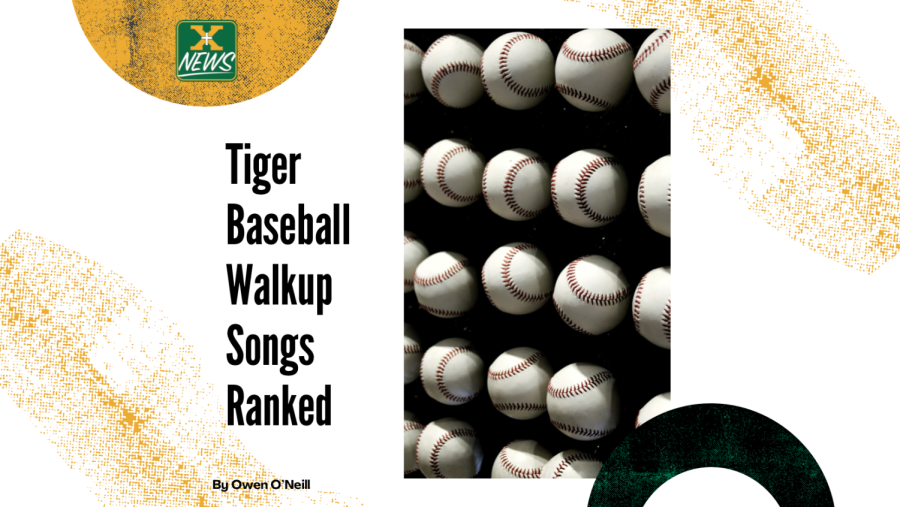 Tiger Baseball Walkup Songs Ranked
Since the Tiger Baseball season has officially started, that means the players have each chosen their "walkup" songs for the season. 
March 25, 2022
I love the idea of walkup songs. It's a fun way for each and every player to be more involved in the game and add some more excitement. But a walkup song isn't just for show, sometimes it actually can help decide a player's at-bat. Sometimes the walkup songs have personal meaning, and sometimes they don't. With my love for music combined with the fact the baseball team has each chosen their walkup songs, I thought it was only right for me to rank the top nine walkup songs in order of most favorite to least. Without further adieu, here we go:
---
Starting Nine:
1. Joey Raybourne – "The Next Episode" by Dr. Dre and Snoop Dogg (0:00-0:20)
The second I saw this song on the list, I immediately knew it would be competing for that number one spot. This is a CLASSIC. The flow and the beat of this song is perfect for a hype and energizing burst seconds before you go at bat. 
2. John Paul Jardina – "Mary Jane's Last Dance" by Tom Petty (0:00-0:20)
I, for one, am a fan of an older, rock-style walkup song and this song perfectly fits that mold. Though I would've liked for the song to start playing when the lyrics started, I still love the choice. 
3. Cooper Smith – "Without Me" by Eminem (0:22-0:40)
All I will say is Cooper picked the perfect part of "Without Me" to play. As the song starts, Eminem famously says, "Guess who's back, back again." This phrase is perfect for a walkup song, and might I add, I love when the lyrics play along/have meaning.
4. Max Cherry – "Swag Surfin" by F.L.Y. (0:04-0:22)
Yet another classic rap song used and it's another banger. This is the picture perfect definition of a great walkup song. You can never go wrong with "Swag Surfin". 
5. Zack Marks – "Bottoms Up" by Trey Songz (0:00-0:20)
This isn't exactly hype in terms of walkup songs, but this is a hilarious one. Right as the song start playing, you can hear, "It's Mr. Steal Yo Girl." As stated earlier, I love when the lyrics play along with a walkup song, and this certainly does. 
6. Luke Lantz – "Holding Out For A Hero" by Bonnie Tyler (0:56-1:15)
I love the classic songs and this again fits the criteria. Not the most hype song in the world, which is why it's not as high on the list, but nevertheless, it was a good choice. 
7. Hayden Guenthner – "Can't Hold Us" by Macklemore and Ryan Lewis (0:06-0:26)
This is a great energizing song. It's a pretty common walkup song, which is why it isn't higher, but I still love the lyrics to it. 
8. Jake Bennett – "Shake The Room" by Pop Smoke (0:10-0:30)
A good ole fashioned hype song. Not many lyrics to it, but it definitely gets you focused and pumped and certainly gets you ready to "go yard," especially for Prime. 
9. Jake Gregor – "Can't Tell Me Nothing" by Kanye West (0:00-0:15)
The beat goes from slow at the start and speeds up in an electrifying fashion. Great, classic Kanye West song. 
---
Here are the honorable mentions: 
Adam Campisano – "Walk in the Park" by Jack Harlow

(00:03-00:20)

Alec Hildenbrand – "Ni**as In Paris" by Jay-Z and Kanye West

(0:00-0:20)

Ben Bruenig – "Biggest Alley Oop" by Quavo

(0:25-0:40)

Ben Purnell – "Show Goes On" by Lupe Fiasco

(00:14-00:34)

Ben Tedesco – "Word On The Street" by Key Glock 

(0:05-0:20)

Jack Thompson – "Cash War" by Gunna

(0:00-0:20)

Landon Akers – "That's It" by Future and Lil Uzi Vert

(0:00-0:20)

Matthew Schaftlein – "Father Stretch My Hands" by Kanye

(0:29-0:45)