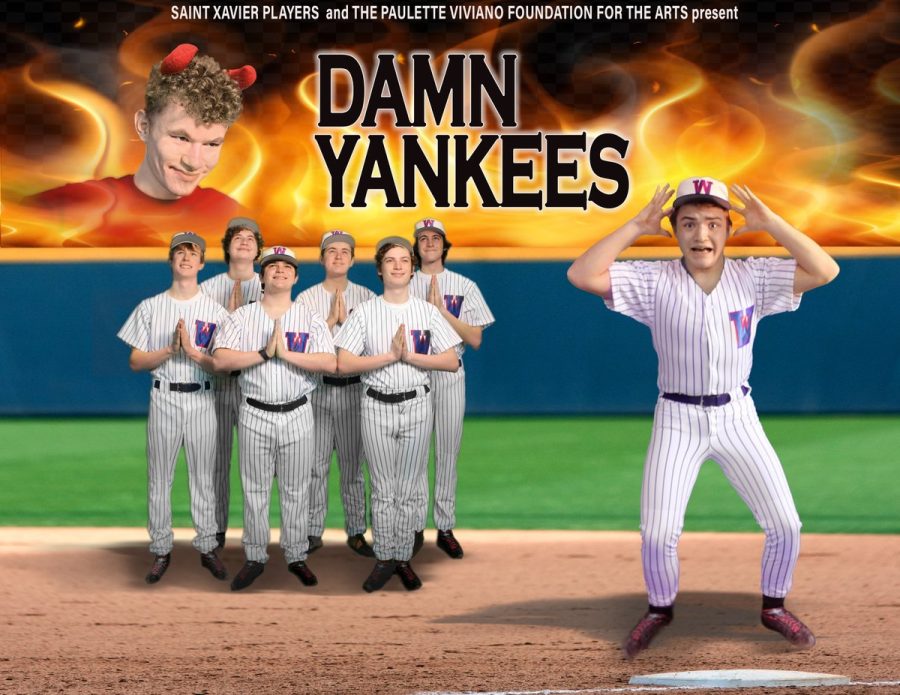 St. X Theatre Takes on "Damn Yankees"
March 17, 2022
Our very own theater program is coming in hot with their upcoming play, "Damn Yankees" on Saturday, March 19. I didn't know much about the play, so I reached out to some of our actors. Truthfully, they can tell you about the play much better than I can, so you can now hear it directly from them:
Evan Bockelman
"Damn Yankees" is about a typical American husband named Joe Hardy that makes a deal with the devil to become a great baseball player. Though he is tempted by worldly pleasures, he remains true to himself as an honest and caring person. I think the most interesting part of my character is his role as the pitcher of the team. There are a lot of cool situations my character gets to do in different scenes and musical numbers as a pitcher, and a lot of it is pretty comedic. This show is a great, wholesome story for everyone, and the music sounds great. 10/10 would recommend.
Joshua Burge
"Damn Yankees" is about a man who sells his soul to the devil so he can play for his favorite baseball team. The show not only has catchy songs, but has an interesting storyline that teenagers can understand and cope with. There are also many funny one-liners.
Leo Carias
My character is cool because he is the commissioner of the baseball league. He controls Joe Hardy's career which makes him an important character even though he is a small one. Don't you want to see a show where a man is willing to sell his soul to the devil for baseball?
Joe Stack
This show is about a man who makes a deal with the devil so that he can become a young, good baseball player again. He's a long time fan of the Washington senators and wants them to beat those "Damn Yankees" just once. Something that's interesting about my character is that he's the catcher of the senators baseball team and I have multiple solo parts in the songs. My largest solo part is my opening in the song "The Game" and I'm super excited for it.  You should see "Damn Yankees" because why not? It's going to be maybe an hour and a half of your time and you get to support your brothers that are in the show. A show becomes much easier to perform in when there's an active crowd there because it feels much more natural. So, please come so that we can have a better performance and to support your friends and brothers.
Ryan Becherer
"Damn Yankees" is a story about a man who has to decide between love and fame. There's a lot of funny and heartwarming moments throughout, and I think it delivers a strong message. Joe Hardy is at the center of the struggle, with all these wheels spinning around him that he has to keep in check. He's working with limited time, a baseball team that's in the gutter, and is just trying to keep everyone happy. It's a really fun show with some very clever humor. This production engages the audience throughout and is just an overall positive experience.
Adam Kamer
My character, Mr. Applegate, is a sadistic, devilish businessman. He revels in the struggles of other, but he is a massive control freak who doesn't like being told what to do. You should see the show because it's simple, plain fun. You can sit back, relax, and enjoy singing, dancing, and comedy at its best brought to life by passionate performers.
Mrs. Reisert
Not only is "Damn Yankees" a tremendously fun comedy, but it's also a salute to America with its focus on baseball, choosing the good of a team over individual glory, and preferring family to celebrity.  Plus when else do you have a chance to see a professional baseball team that sings and dances?
St. X Players will perform "Damn Yankees" March 19-26. Tickets are $10 for adults and $5 dollars for students and senior citizens over 65. Come out and see the show!