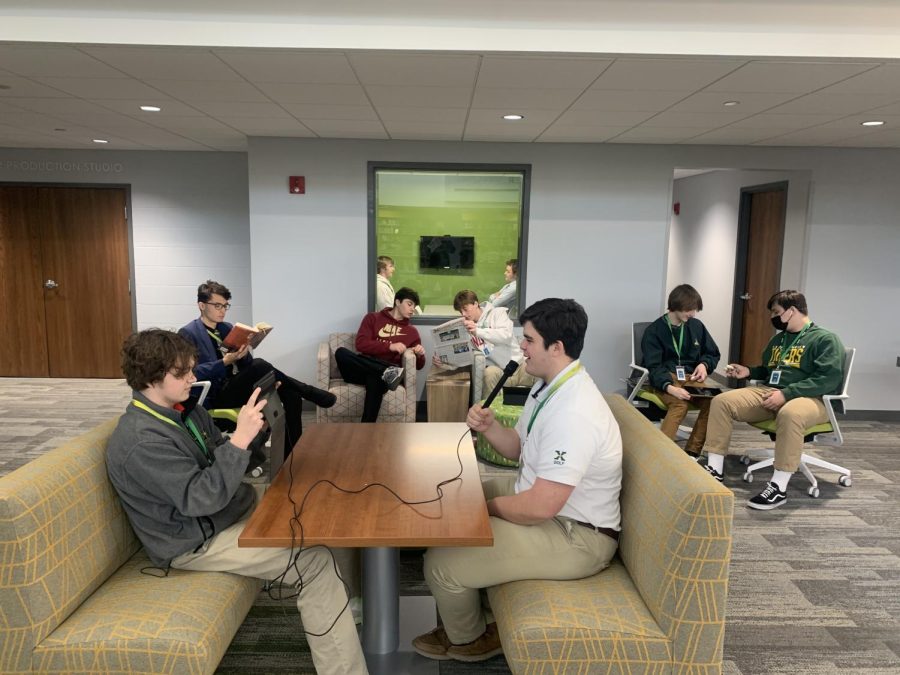 Why You Should Join Journalism
March 4, 2022
When you hear the word journalism, what do you think? Do boring hours of pure writing come to mind? If so, you're not alone; however, Saint Xavier's journalism is different. If you don't believe me, then see what some of the members of the Xavier News have to say. 
Owen O'Neill — "This class is extremely fun. It feels like a break throughout the school day where you are free to express your ideas and work with your friends. There are so many opportunities within the class — broadcasting, promos, stories, etc. I really recommend joining this class. It has, by far, been my favorite class at St. X." 
Reece Sutton — "Prior to this year, I had never even heard of journalism class. When I signed up for it, I really did not have a great idea of what to expect. I took it with the intention of becoming a better writer, and being able to write about topics I enjoy to write about. After taking the class for the entirety of this year, it is a great change of pace from my other classes. It is definitely a more laid-back environment, but we still keep professional and get the work done when we need to." 
Ryan Prestigiacomo — "Students should consider journalism because it's a great way to get better at writing. Not only that, you can actually cover interesting subjects, not just your average boring news. The agenda isn't hard to keep up with, just find a subject you enjoy and write on it — you can't go wrong."
Joey Maier — "Journalism gives me the chance to write about things I enjoy. It is one of the few classes I actually look forward to. It is very chill, and Mr. Stemle does a great job teaching the class."
Sky Kustes — "As an A&E Writer, journalism gives me a space where I can express my feelings on topics I am interested in or offer helpful criticism."
DJ Stobbe — "You can express your ideas, the class is easy-going and free; if you have any idea then you have the opportunity to post it and share it with others. The opportunities journalism class creates are huge."
Samuel Carr — "Journalism is an essential and useful class to take at St. X. The articles and information about everything going on in the St. X community is informative, interesting, and most of all fun."
If anything that the current journalism staff had to say about the class sounds appealing to you, consider trading one of the electives you might not be overly interested in for one that will both be useful to the rest of your entire life and also very enjoyable as part of your day-to-day schedule. Consider joining the journalism class next year. It is a class that will not disappoint!