Lacrosse Looks to Defend Its Title
March 10, 2022 — The Tiger lacrosse team faced-off against Collegiate last week. This kicked off the beginning of a 21 game regular season with hopes of a 4th straight title.
March 10, 2022
It's become an expectation for St. X lacrosse to compete year in and year out for the state title, and this year is no different.
This year's team has lost a lot of experience and talent from last season. Last year's seniors contributed to three straight titles for the program, making it a grand total of 14 state titles. With all that winning, there is a lot of leadership to go around. With all that being said, our seniors this year are ready to step up.
Senior defenseman Matt Donhoff commented on their past senior's leadership, saying, "(They) taught us how to lead a team on and off the field, both by words and actions. Not to take any team lightly or play down to weaker competition."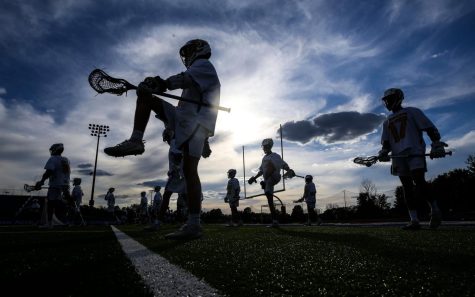 Senior midfielder Jackson Poma stated, "Lacrosse has always been a fun sport for all the people on the team, and the seniors have shown us that we can joke around and truly enjoy the sport, but also still get the work done in order to finish the job and win state."
The team, as always, is shooting for the stars. They are prepared to win at all costs, and they are putting in work to back that up.
Senior defenseman Ben Marks is prepping for the ultimate goal, saying, "We are prepared to reach the state championship by continuing to get better every day at practice. I think our tough out of state scheduling every year also helps us immensely."
A huge part of lacrosse is physicality. Being able to beat your opposition to the ball, outwill, and overpower your opponent is everything in lacrosse.
"We've all been working hard," Poma explained. "Almost everybody has been in the weight room since the fall." He went on and talked about how dedicated everyone has been. "…Many players get shots up and throw with each other whenever they can."
After interviewing multiple seniors, I got a similar statement from all of them: they are preparing to hoist yet another trophy later this spring to make it four consecutive titles. Though the Tigers are 1-2 on the season, their two losses are coming from top-25 teams in the country. Their next game is Saturday, March 12, at Carmel High School.