The Cats Comeback to March Madness
March 11, 2022
As the big month of March has arrived, the NCAA Men's Basketball Tournament is soon to begin. Coming off of one of the absolute worst seasons in Kentucky basketball history and an absence from March Madness, us Wildcat fans have been itching for a redemption season.
With a current record of 23-6 and a ranking of 7th, this team has already blown the team of last year out of the water. The team has obvious stars and fan favorites in Oscar Tshiebwe, a dominant rebounder, defender, and offensive force, TyTy Washington, an elite shooting guard and point scorer, and Kellan Grady, our three point specialist.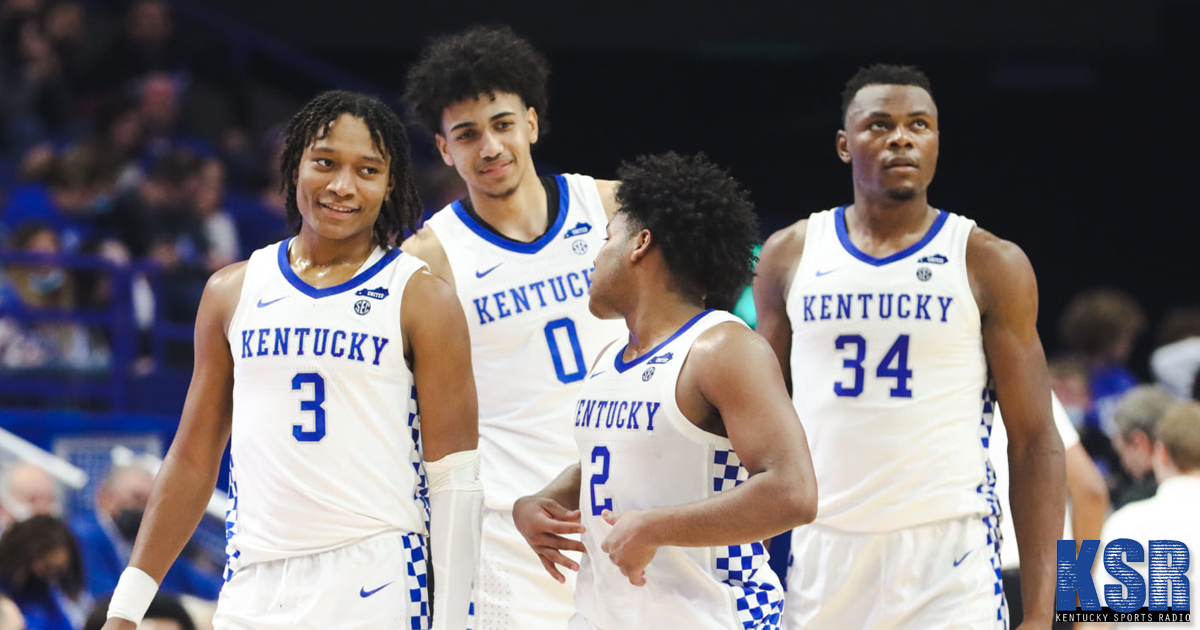 In a season where there is no clear-cut favorite, the Wildcat faithful are more dedicated than ever as the Madness begins once again. They have thrown their full support and faith in this team, and only time will tell if they will deliver for the fans. 
Questions being asked to current St. X Cats fans:
How does the current Kentucky team compare to teams of the past?
What are your thoughts going into March Madness?
What do you think it is going to take for the Cats to win the tournament?
---
Aidan Welborn (senior)
"This is the best team that we have had since the 38-0 team that lost to Wisconsin in the Final Four. I'd rank this team below 2010, 2012, and 2015, but I think it is better than the Fox-Monk-Bam 2017 team, the COVID 2020 team with Maxey, and the "Cinderella" 2011 and 2014 squads. The reason why this team is so special is because they are unselfish. There are some games where Oscar gets 30 points and 20 boards and Tyty only has five points, but his presence on the court is enough for us to get a solid win."
"My thoughts going into March Madness are that this year needs to be at least a Final Four at the minimum. The reason for this is because Coach Cal finally has a team with experienced leaders and a superstar freshman. The SEC is the best league this year, and all of our losses have been due to injuries. If TyTy doesn't get hurt when we are up nine on the road against Auburn, we win. That would give us enough momentum to beat Tennessee on the road, and if Keion doesn't lose the ball on the rebound with us being up by a point against Arkansas, we win that game and are the number one team. A team like Gonzaga or Arizona would get annihilated by us because we can play for forty minutes straight against Quadrant One teams every week."
"We are the best team in the nation (fully healthy), and we have the two best overall wins to prove it by beating Kansas on the road by almost 20 and beating a final four contender in Tennessee by almost 30. No one can stop Big O. He is the first humble superstar we have had in a long time. He is proud to represent our state and put on The Blue and White. If we win the National Title this year, Oscar will come back and make more money from NIL deals than Sheadon Sharpe would, and he is the number one pick for the 2023 draft. Oscar's motivation to move his family from the Democratic Republic of the Congo to the United States will be the motivation for the team to win it all. With all of our teams that have made it to a Final Four, there's a buzz in the Big Blue Nation. In 2011 it was Jorts and Knight, in 2012 we had Anthony Davis and the Unibrow, in 2014 we had "The Tweak", and in 2015 we were undefeated and had NBA All-Stars on our bench. This year it's Oscar."
---
Tyler Boggs (junior)
"In the past we've had 3-4 freshmen in the starting lineup, but this year's totally different. We have experience in every perspective of the team. This is one of the oldest teams Cal has ever had with great guard play, the best big man in the country, and solid bench players."
"Going into March Madness, I feel this team is ready. They've learned from their losses, and I feel the BBN will follow through with every game no matter where it is."
"I feel the difference maker in our team is how many shots Kellan Grady and TyTy can get. Against #18 Arkansas, which was a loss, Kellan only had three shots. Cal will have to game plan to get him more shots if we want to win it all. TyTy is a projected lottery pick, but sometimes he puts himself out of the game. He needs at least 6-8 or more shots a game for the Cats to make it to the chip."
---
Jacob Davis (senior)
"I think this Kentucky team is not as deep or as top heavy with talent as some of Cal's best teams; I think the 2012 team was more talented, and the 2015 team was both more talented and deeper. However, I think this is still one of his top five best teams, and they can win a title. This team has a great blend of experience, stars, and shooting. The one thing separating this team from any team in the past is Oscar, though."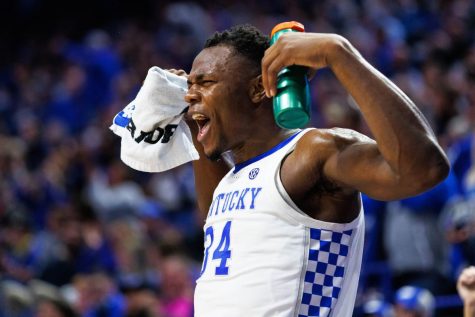 "I do not think there are any extremely dominant teams this year. Last year, Gonzaga and Baylor separated themselves as the two best teams, but this year there are many I could see winning the title. I could see practically every team that is projected to be a top three seed winning the title, plus some others. This should be a very wild, exciting March — maybe even more than usual."
"Most importantly, Kentucky needs to stay healthy to win the tournament. TyTy Washington and Sahvir Wheeler playing their best basketball and getting fully healthy is a necessity if Kentucky wants to make it back to New Orleans. They need to start defending better too because the way they have been defending over their last four is not going to cut it. Their 1.057 defensive efficiency rating over their last three is not even in the top 100 nationally. They also need Grady and Mintz to combine for at least 6-7 threes a game. They can't go cold one night if Kentucky expects to beat a very good team. The X-factor for Kentucky is, without a doubt, Oscar Tshiebwe. His high scoring, unsurpassed rebounding, and relentless work rate make him the best player on the floor at all times, and gives him the ability to help carry Kentucky through March. When Kentucky plays their A game, they are arguably the best team in the nation, and if they play like this come tournament time, they can win it all."
---
Sam Hayward (junior)
"This Kentucky team looks pretty similar to the team back in the 2019-2020 season. They have a lot of fight in them and great chemistry, which is what it takes to go far in March. As a loyal Kentucky fan, I believe that Kentucky has as good of a chance as any other team. On a good day, we could beat anyone in the nation. For the cats to win, Tshiebwe needs to stay consistent, we need to be healthy, and we especially need to limit the turnovers."