Matt Weir '99 Honors School Founder With Statue
March 7, 2022
In preparing for and thinking about this article, one thing above all else has become evident to me: there is almost nothing more inspiring than hearing and seeing the passions of others. Recently, I was blessed with the opportunity to meet Matt Weir '99, and I left feeling invigorated. Weir invited me to his studio to talk about the new statue that he has created for our campus. The statue was erected just outside the Callahan Media Center in the court yard near the teachers' parking lot, and depicts Brother Paul Van Gerwen, our school's founder.
This is not the first piece that Matt Weir has created for St. X; rather, this is his third piece on our campus. Weir's history with St. X goes back much further than his current work; however, much of his foundation was built in our hallways. Weir is extremely fond of his time at St. X and feels honored to be able to make his mark on our campus through his work. He graduated in 1999 as an outstanding art student. He especially remembers his time with Ms. Mary Ann Bowman. Weir said it was common for him to spend three periods a day in the art wing during his final year at St. X. He would take an art class, sign out of study hall, and return once more to the art wing after finishing his lunch. During his senior year, Ms. Bowman came across a piece of soapstone in a storage closet and gifted it to Weir. This was his first introduction to stone sculpting.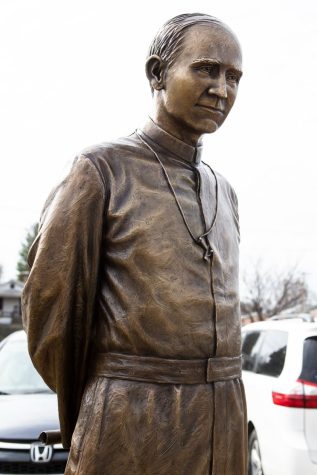 After high school, Weir began working with the late sculptor Paul Fields, who introduced Weir to an old-world apprenticeship in which Weir was able to learn and grow in his passions. It was also during this time that Weir began school at the University of Kentucky. Weir returned to Louisville after one year and enrolled at the University of Louisville where he graduated cum laude. Throughout this time, Weir continued working with Fields and at Bright Foundry, which was a workshop for casting metals. Bright Foundry was founded by Barney Bright in the mid-'70s and later closed in 2016. The Bright Foundry was unique in that it incorporated a sort of old-world apprenticeship practice where ideas could be passed on easily and effectively. Fields was one of Barney Bright's first students. This sort of chain educated many artists and was extremely influential in the life of Weir and numerous other artists. Weir considers himself to be lucky because of his training in both a formal setting on the university level and as an apprentice.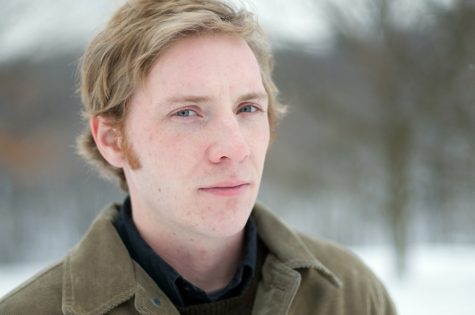 After graduating from the University of Louisville, Weir began working full time at Bright Foundry. His time at the Bright Foundry trained him in the ancient practice of the "Lost Wax Casting Process." This is a method of metal casting in which molten metal is poured into a mold that has been created utilizing a wax model. This is a long process that allows the artist to incorporate small, meaningful detail into their pieces. Weir has become an expert in this process and has utilized this same technique for the statues here at St. X. In 2016, Bright Foundry closed. Weir and his partner, Scott Boyer, felt this left a tremendous hole in the development of Louisville's next generation of artists. This is exactly why they opened Falls Art Foundry in the historic, Portland neighborhood. They have faced enormous challenges in becoming business owners, however, they truly felt that this was something that our community needed and, therefore, they assumed the task. Falls Art Foundry looks to offer exposure, tools, and experience for individuals to confidently approach the world around them, and to become our region's next generation of critical and creative innovators. They do this by exposing both the creative and practical elements of sculpting.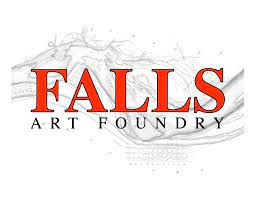 Around 2007, Weir made a proposal to Dr. Sangalli to erect a bronze tiger. Of course, today, we know how integral this tiger is to our campus. The piece, officially named "Panthera Tigris," sits in the Glaser Plaza. In 2014, Weir returned to St. X and completed the statue of Theodore James Ryken, which is located outside the Callahan Media Center.

The first step in creating these pieces is modeling. Weir took it upon himself to be the model, using a borrowed cassock from one of the brothers. When someone is actually wearing the cassock it is easier to identify folds in the way it sits when being worn. Weir then went through about fifteen steps, encompassing the "Lost Wax Casting Process."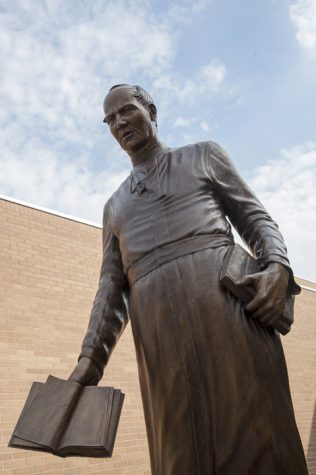 Weir's process for completing these figurative pieces differs from his normal creative process. Weir has an enormity of talent, and he tends to gravitate toward the more abstract in his creative process. On a normal day, you might find Weir creating an abstract piece exploring evolutionary biology, or perhaps an esoteric work demonstrating the enormity of time and space. Weir differentiated between a statue and a sculpture. Perhaps some of his most seen work is located at Bernheim Forest. "Earth Measure" weighs more than more than 200,000 pounds or 100 tons and resides in Bernheim Arboretum and Research Forest. This project intends to invite persons to explore notions of science, geometry, sound, and architecture, while deepening their connection with nature. 
Another one of his works, "Presence," is located on the northwest corner of 4th and Market Street in Downtown Louisville. It metaphorically presents the formation of Earth and all its landforms developing within a 24-hour period. 
Weir has numerous other works located throughout the city. We constantly hear about what St. X can teach us. We hear that once we've graduated, we're going to miss this place. We hear how we'll want to give back. This is the most tangible evidence I have seen of this mindset yet. Weir was able to explore his passions here at St. X, then he went and saw the world, became inspired and extremely successful, and now, he still wants to give back to St. X because of the foundation he was able to foster here. This week, take a walk outside and experience the artistic gems we are blessed to have on our very own campus.