Colts Travel to Poplar Level for a Huge Friday Night Matchup
Friday, Feb. 11 — This game features a rivalry matchup for the Tigers. The DeSales Colts have gone through a couple rough stretches this season, but their guard play and steady big-men could make this a very interesting game.
February 11, 2022
St. X has been a team on a mission as of late. Despite their loss to Collins on Tuesday, the Tigers have won 11 of their last 14 games. With a 16-7 record, they have been led by their tremendous guard play — seniors Cole Sherman and Mekhi Smith have been the leading scorers for the Tigers. Sherman has averaged 12.9 ppg and is shooting an astounding 46.8%, additionally Smith has been putting up 16.3 ppg.
The Tigers season is highlighted by their three-point shooting. As of now, they sit at 4th in the entire state in three-point percentage at roughly 42.3%. They have five players (Nelson Williams, Mekhi Smith, William Hinkebein, Ja'vin Jones, and Cole Sherman) that are currently shooting over 40% from behind the arc — let me tell you, that is NOT normal, especially for a high school team.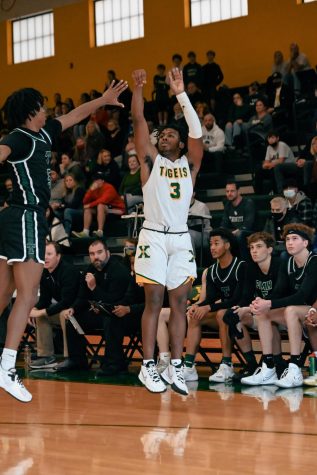 Additionally, the Tigers are in the top 11 in field goal percentage, posting an impressive 52.6% from the field. Much of that can be contributed from the Tigers unselfish offensive attitude.
The away team, DeSales, comes into this matchup sitting at 10-12. They are led by their strong, quick guard play. Senior guard Carter Bischoff and Rico Carr-Cole headline the Colts backcourt. Bischoff averages 15.3 ppg on 42.9% from the field and senior guard Rico Cole averages 14.1 ppg on 41.6% shooting. 
The Colts front court possesses the Gibson brothers, Crew and Will. They have had a huge presence on the court — for one being the fact that the brothers are 6'5 and 6'6 — but they also have been tremendous throughout the season. Will is scoring 15.5 ppg and grabbing 7.0 rebounds. His older brother, Crew, is averaging 11.6 ppg and posts an impressive 8.1 rpg. 
It will be an intriguing battle between the bigs Friday night. St. X center Nathan Barnes, accompanied by the presence of Tommy Scanlan, will have their hands full with the Gibson brothers. The Colts potent offense — a top 50 ppg offense, for that matter — will be primed to have a bounce performance coming off a loss to Fern Creek.
This is a huge 6th vs 7th region matchup on the hardwood. We need everyone to show up to the game and have a packed Rage Cage. If you can't make it to the game, seniors Owen O'Neill and DJ Stobbe will be broadcasting the rivalry game. Link to the broadcast.