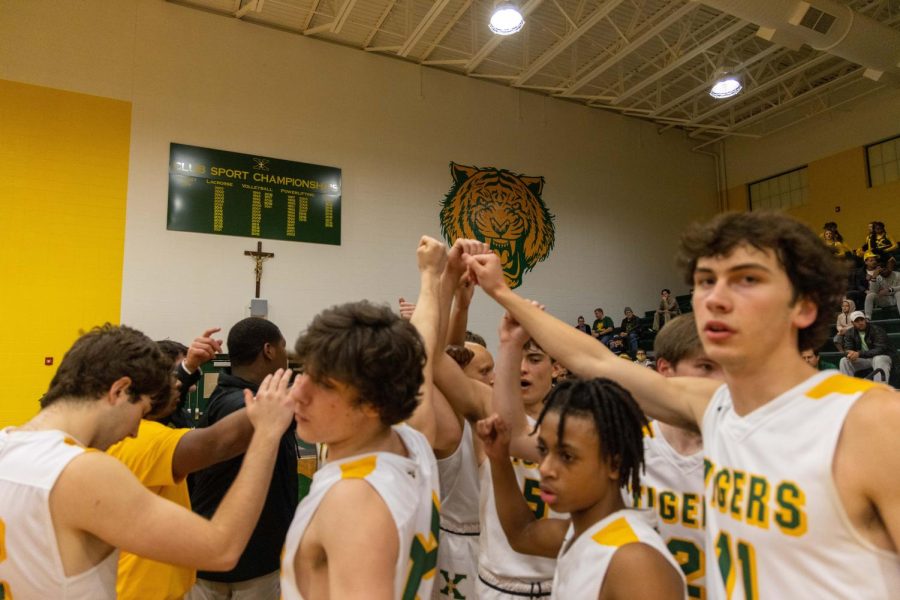 The Hot Streak Continues on the Hardwood
Saturday, Jan. 29 — Mekhi Smith and the Tigers continue to impress as they route the Bardstown Tigers 83-64. 
January 31, 2022
The St. X Tigers came into this matchup between two of the top teams in their respective regions on a hot-streak, and they carried it on throughout the game. They jumped out to a commanding 18-0 lead in the first quarter, and they never looked back.
Much of that lead can be attributed to senior guard Mekhi Smith's stellar start to the game. Smith had 14 of the first 18 points for the Tigers. Smith finished the game with 33 points on 82.4% (14/17) shooting.
Though St. X struggled to handle the ball at times, they shot an outstanding 68.8% from the field, including 55.6% from downtown — over 13% above their season average. Their great shooting performance led them to a 83-64 win.  
Senior guard William Hinkebein and junior guard Nelson Williams both added a pair of threes during the game — finishing the game with 11 (Williams) and ten (Hinkebein). Senior guard Cole Sherman also finished with 11 points, and guarded the Bardstown Tigers' best scorer (Andrew Mason), and held him to just 13 points — eight points below his season average. 
The St. X bigs were undersized in the matchup, but that didn't stop senior center Nathan Barnes from grabbing nine boards in the game. Barnes along with the rest of the St. X bigs have continued to show their grit and toughness in the paint. 
The Tigers have been on a tear as of late, winning ten out of their last 12 games.  
The Tigers next home game is a big one. On Friday, Feb. 4 (this Friday), the Ballard Bruins (17-6), one of the top teams in the 7th region, come to the Wills Center to take on our Tigers. Make sure to show up and be loud. Seniors Owen O'Neill and DJ Stobbe will be broadcasting again if you cannot attend. GO TIGERS!
(To find more information, follow @stxtigers_xaviernews on Instagram and/or Twitter.)