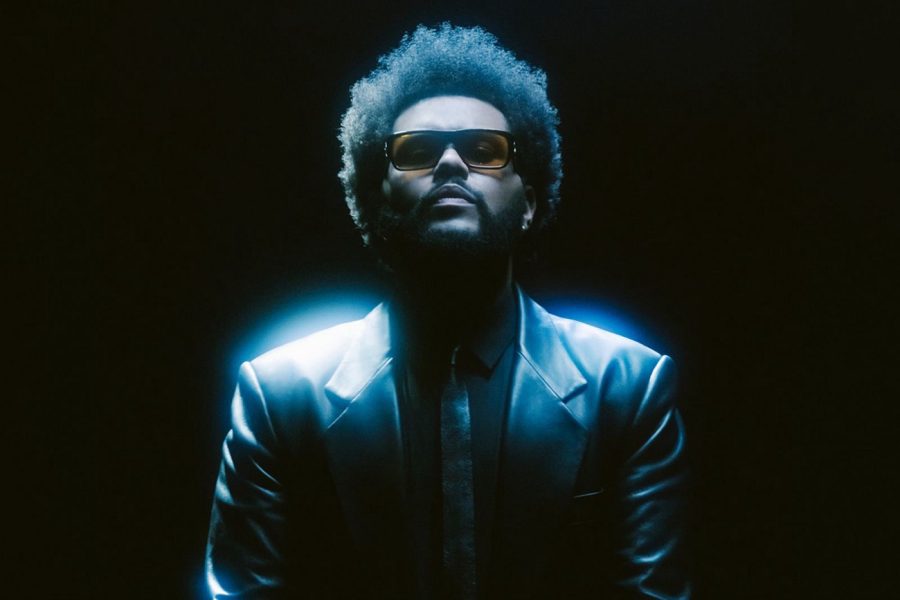 Dawn FM: A Worthy Sequel
If After Hours was some late-night speeding down the Las Vegas Strip, Dawn FM is the slow, mellow ride into the sunrise.
January 20, 2022
From his chart-topping "Blinding Lights" (2019), which was the first song ever to spend a full year in the Billboard Top 10, and performing a memorable halftime show at the 2021 Super Bowl, The Weeknd has probably had the craziest career in the last few years. He had one of the greatest album rollouts in recent history with After Hours (2020) and also one of the greatest verses on Kanye West's Donda (2021). Riding off of all that success, The Weeknd's latest album, Dawn FM, is a strong sequel in the current trilogy The Weeknd is weaving in the shadows.
The Songs
This album is coherent and has a distinct retro synth sound to it. The features are strong, the solos are excellent, and I'm sure subtle notes about this album will age like fine wine. This album would work as good ambient music for when you're driving late at night or when you just want to lay down and stare at the ceiling and think. 
My favorite songs are below:
"Phantom Regret by Jim"
This is Jim Carrey's spoken word spotlight. He reads his own poetry that rhymes and flows well with the synth in the background. Softly speaking and having you reminisce on your life while he guides you to the afterlife. 
"Here We Go… Again" (featuring Tyler, The Creator)
The Weeknd talks about getting involved with another girl that has a boyfriend, trying to split them up, and eventually waiting it out for them to break up. 
"Out of Time"
The Weeknd wants to love a girl and settle down with her, but he does not have the time to be with her. Going back and forth between things they could do together, but reminding himself he is out of time
The Features
While not a feature-heavy album, Dawn FM shows that having solo songs is still in style. The features of this album are strong, with Tyler, The Creator delivering a strong verse and adding his signature lyrical style to "Here We Go… Again". Lil Wayne rapped his way onto "I Heard You're Married", adding his iconic vocals that compliment The Weeknd's chorus and verses. In truth, without the features this album would be good, but the features turn the album from good to pretty good. The best feature on this album is one that goes mostly uncredited, Jim Carrey plays the radio announcer that pops in every few songs to remind you: "You're listening to 103.5 Dawn FM". His inclusion was a nice surprise, with his own spoken word track at the very end of the album. 
I'm no Fantano, but this gets a 7.5/10 (Pretty Good)
Overall/TL;DR
This album is a solid entry in The Weeknd's discography, earning an honorable 7.5/10 from me. While this album is just under an hour like most of The Weeknd's albums, the slower songs make this album feel slightly longer than it actually is, and that's not a bad thing. There are two credited features which are Tyler, The Creator and Lil Wayne, but they aren't the only artists to make an appearance. 28-time Grammy Award winning producer Quincy Jones tells a tale from his past. Jim Carrey chimes in every now and again with his soothing voice, and has a spoken-word poetry track. All in all, this album is good. The Weeknd truly doesn't fail to disappoint, in this new era of living the high life in After Hours, and mellowing out on the way to the afterlife in this synth-filled, mellow, and girl-crazy album.
Rating Scale
10 – Masterpiece, possibly album of the year, definitely deserves a listen.
9- worth the listen, extremely solid and the artist's best work.
8- very good, go out of your way to listen, solid album with minimal skips/weak moments.
7- good, some weaker points, but overall strong.
6- better than average, if you're a fan, give it a listen.
5- average, it's okay, but just okay.
4- below average, this could have maybe used more work in the studio before being released.
3- subpar, needs more time before being released to the public, feels like minimal effort was put in.
2- terrible, very rushed and incoherent.
1- was this released by accident?
0- this was in the concept stage and horribly rushed, do not listen to this unless you want to throw up, cry, and profusely bleed from your ears.