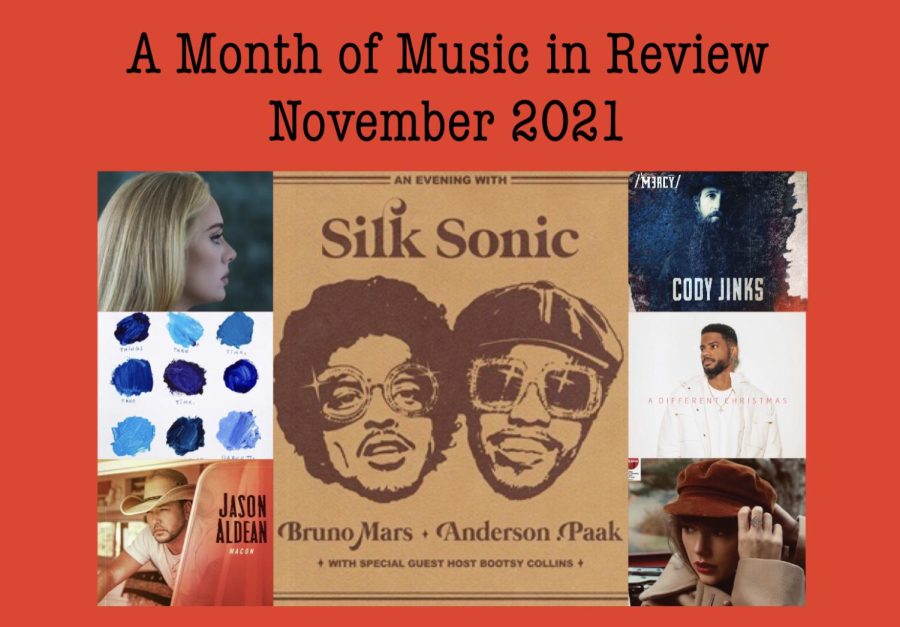 November: A Month of Music in Review
December 13, 2021
As a month full of highly anticipated new releases, November was bound to be a letdown for listeners everywhere. There was so much to look forward to with guaranteed new music from Cody Jinks, Adele's first full album since 2015, but perhaps the most anticipated album of the year, Bruno Mars and Anderson .Paak's collaboration with Silk Sonic. No one thought they could live up to the expectations or the excitement, but they did. For the first time in our musical review history, not only did an album score above a 9/10, but THREE were able to surpass this once unbreakable barrier. So with all of that being said, I present to you "November: A Month of Music in Review." 
Bruno Mars, Anderson .Paak & Silk Sonic: Nov. 12 — An Evening With Silk Sonic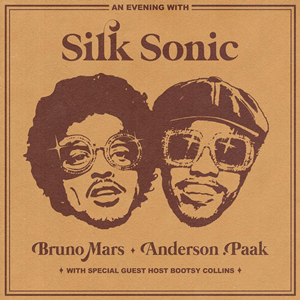 After all the anticipation, suspense and excitement for the collaboration of this duo, everyone thought that the actual release would surely be a let down. There's no way that Mars and .Paak could live up to such unrealistic expectations — but they did. Even with so many other fantastic albums having already been released in 2021, this could possibly be the album of the year (one of two this month that will surely be in the running for the award). Sonically, it pushes the boundaries of our current generation's music by transporting us back in time to the soulful sixties and seventies and the sounds of Detroit's Motown. Other than the more well-known songs, my two personal favorites are "Fly As Me" and "Put On A Smile." The energy of the entire album is unmatched and could be the doorway to the future — a place where the old has been revived and combined with the new. The only downside of the album — it is sadly only 30 minutes long. But even with that, it is officially the highest rated album of our Month of Music in Review's and the first ever over a nine. 
Rating: 9.8/10
Taylor Swift: Nov. 12 — Red (Taylor's Version)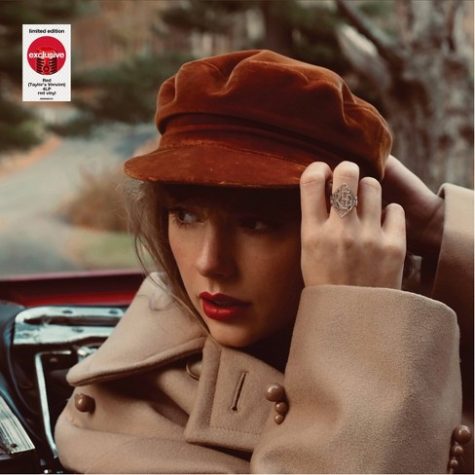 I'm not a relatively big Taylor Swift fan. I like some of her songs and can respect how incredibly gifted she is as a songwriter and vocalist, but having to listen to the same songs over and over again because of my sister or the radio has always kept me unfortunately a little bit burnt out. On the plus side though, I am well-versed in some of her older work, including the original Red album. To understand Taylor's Version, you have to know the original. If you don't, you may say, "Yeah, it's a fantastic album with some super deep lyrics and fantastic songwriting, but any of the greats could do that." But if you've heard both, you know that she absolutely destroyed the old album, tore it apart, and then rebuilt it in a more mature, angrier, improved manner that just shows how much better she's gotten from the 21 year old version to now. It's incredible. Classics like "22" and "I Knew You Were Trouble" are just as good now as they were in the original 2012 versions, but still improved upon. But the highlight has to be "All Too Well". I knew she was good, but I didn't know she was this good. Now I just have to pray I don't get sick of this album because I want to enjoy it for as long as I possibly can. 
9.5/10
Jason Aldean: Nov. 12 — MACON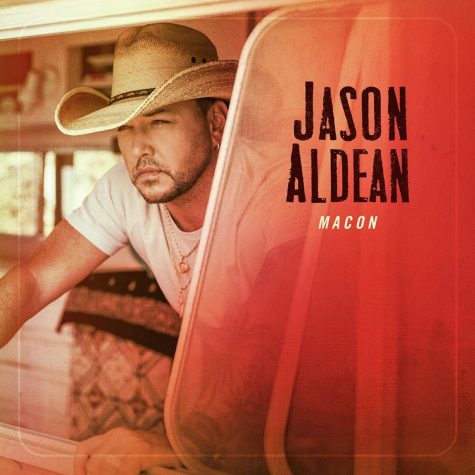 As an avid Jason Aldean fan, I was pretty excited to see what he would bring with his tenth studio album, but I must say, it was a bit of a disappointment. Songs like "If I Didn't Love You" and "Small Town Small" are definitely noteworthy, but the rest of the album, in general, is subpar. The live songs from some of his greatest hits at the end of the album are a nice feature, but I would much rather listen to one of his EPs specifically released for that type of music. With another album on the horizon (titled Georgia and set for April 22), hopefully Aldean can renew my love for his music and release another classic album, or at least something with more than one song better than his usual hits. 
Rating: 6.8/10
Courtney Barnett: Nov. 12 — Things Take Time, Take Time
Courtney Barnett, an Australian based singer-songwriter, released her third LP of her career with this stellar, intimate album — her first in three years. A collection of songs written throughout the strict quarantine in Melbourne, Things Take Time, Take Time is a combination of easygoing rock and a light inclusion of folk singer-songwriting to create a very unique sound on each of the ten tracks off the album. Highlights include "Rae Street" and "Before You Gotta Go," both of which include interesting electric guitar and live drum patterns that aren't considered "normal" in today's digital music age, a nice change to the charts. Overall, it's not bad, it just isn't what I am looking for in any particular circumstance when listening to music. It isn't a super uplifting album, nor is it a depressing one written about heartbreak. It's more of just an honest piece of work that doesn't really fit the criteria for anything I would especially enjoy. 
Rating: 6.6/10
Cody Jinks: Nov. 12 — Mercy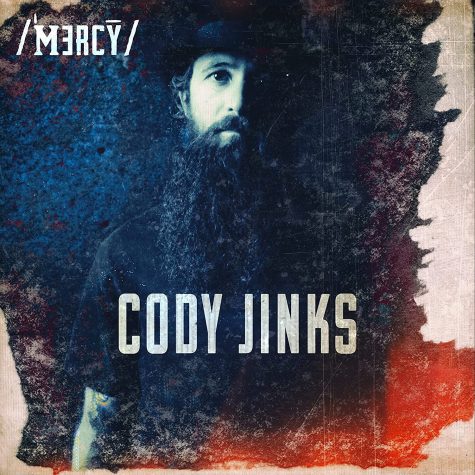 Staying true to his classic sound, Jinks again delivered with a fantastic album. But what's possibly even more impressive is the fact that he's continuing to do so all by himself. As an independent artist, Jinks doesn't garner the radio support big-time labels can help bring in. On top of that, without a publicist to promote his work, some people worried that no one would notice he even released an album. That's where his fans stepped in though, selling out his shows and pushing him to the top of the album charts. This album was written for them, the diehards who have always loved his music, because it is that classic sound. Songs such as "I Don't Trust My Memories Anymore" and "Mercy" headline the album with some stellar writing, but "Dying Isn't Cheap" and "Feeding the Flames" are my personal favorites for the crying steel guitar that I know and love. If you haven't liked his stuff in the past, this probably won't be for you, but otherwise this is just another album to add to his already impressive collection. 
Rating: 7.7/10
Adele: Nov. 19 — 30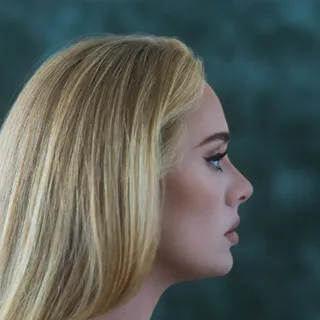 Five years removed from her previous album, Adele's 30 was another highly anticipated work due to come out in November and again, it did not disappoint. Like I mentioned in my October Review in regards to her single "Easy On Me," Adele's voice is once in a generation and it seems like every single track has some incredible vocal run that only she can do. Not only that, but her songwriting abilities are practically unmatched as well. On top of "Easy On Me," the main tracks of the album include "Oh My God," "Hold On," and my personal favorite, "I Drink Wine," all of which are completely different from the others, truly showing Adele's versatility across all types of subgenres in music and vocal ranges. Though slightly lower on my scale in comparison to Silk Sonic's album, this is another one that could easily, and will be, in contention for album of the year. 
Rating: 9.6/10
Bryson Tiller: Nov. 19 — A Different Christmas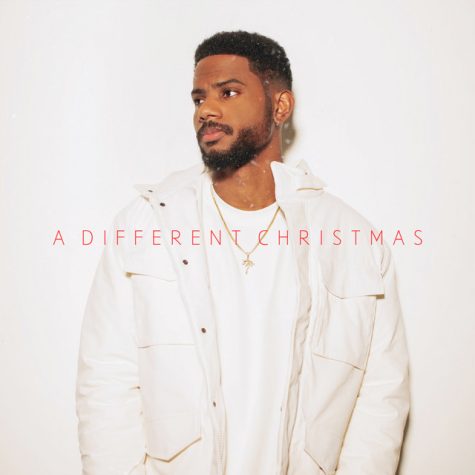 I am a firm believer in not listening to Christmas music until after Thanksgiving, so it was definitely tough trying to judge this in a time where I didn't even really want to hear it. With that being said, I was able to listen to it again when I was in a more festive mood and still couldn't really get into the album. I've always enjoyed listening to Bryson Tiller, but I've never loved it, and this was the exact same situation. Bookended by the songs "Be Mine This Christmas" and "Winter Wonderland (feat. Halo)," both of which were solid songs, I've come to the consensus that while it may be "A Different Christmas" like he calls it, it isn't the one that I would go to if I wanted to enjoy some holiday music. I respect the attempt, but cannot say I will be adding this to my Christmas rotation. 
Rating: 5.8/10