The Storied Basketball Rivalry; Louisville at Kentucky Preview and Student Predictions
Wednesday, Dec. 22 — UofL travels 80 miles down the road to Rupp Arena to continue a historic rivalry versus UK.
December 14, 2021
A historic, hate-filled, and simply invigorating rivalry is approaching. Louisville vs. Kentucky. Two of the nation's premier basketball schools will face off on Dec. 22; one might say it's an early Christmas present for basketball lovers.
The two schools have combined for 11 national championships, 27 finals fours, and over 4,000 wins. They have battled 54 times — the first meeting began on Feb. 15, 1913. Kentucky leads the series all time 37-17, but Louisville won the last meeting 62-59 back in 2020. Let's take a deeper dive into how the two teams have fared so far this season. 
---
Kentucky
As of Dec. 10, Kentucky currently ranks No. 10 in the country and is 7-1 on the season. With an early loss coming to top-ranked Duke, Kentucky has bounced back and John Calapari has the Wildcats playing some of their best basketball in this young season. 
The Wildcats are led by dominant big-man Oscar Tshiebwe. The Democratic Republic of Congo native and West Virginia transfer is averaging a double-double on the season — 15.3 ppg and 15.4 rbg (along with 2.0 bpg). Guard TyTy Washington does it all for the Wildcats averaging 14.8 ppg, 4.9 rpg, and 3.1 apg. 
This isn't your normal "one-and-done" Wildcat team. Kentucky only has three freshmen on their roster this year and nine upperclassmen. Experience is something the Wildcats lacked last season during their out of the ordinary poor performance. The Wildcats are poised for a deep run in March considering the depth that John Calipari has to work with. Though it's early, ESPN Bracketologist Joe Lunardi currently has the Wildcats as a 3-seed for this upcoming tournament after missing the tournament last year.  
---
Louisville
As of Dec. 10, Louisville is currently unranked, however, considering their strength of schedule and lack of head coach, has an impressive 6-2 record so far this season. The Cardinals started out the season with an early loss to Furman, but has since beaten multiple P5 teams (Mississippi State, Maryland, and NC State). Head Coach Chris Mack served a 6-game suspension to start out the season, and the Cardinals seem to finally be settling in. 
The Cardinals, similarly to Kentucky, are a very deep team this season. With the addition of multiple grad transfers — Noah Locke (Florida), Jarod West (Marshall), and Matt Cross (Miami) — and Sr. Center Malik Williams deciding to stay for one last year, Louisville is seemingly determined to do a complete 180 from last seaon's woes. 
Florida transfer Noah Locke is Louisville's leading scorer with 11.3 ppg and center Malik Williams is second in points with 9.0 — he leads the team in rebounds with 9.8 rpg. Chris Mack did a makeover with his staff and decided to make some changes regarding Louisville's tempo for their offense — believed it was too slow— and it seems to be making a difference. 
---
Overview
I feel like every year Louisville and Kentucky are complete opposite in terms of depth and playstyle, but this year feels a little different. No, I'm not saying Louisville has a big man as dominant as Oscar Tshiebwe is, or that Kentucky is as deep as Louisville, but the two teams have many similarities.
First off, both teams have something to prove. Last year they each had disappointing seasons that ended with them watching March Madness on the couch, which is not the norm for either program. After last season, both head coaches came out and said they were making major changes in how they coached and the players they would play. They each seemed to learn from their struggles last season. 
Additionally, both teams are very experienced. For Louisville, that's nothing new. The Cards seemingly always have experienced guards who have won/played in a lot of games. But for Kentucky, that is very new. Many fans are accustomed to the Wildcats having multiple 5-star freshmen at guard, which they still do have, but this year they have multiple experienced players to help lead their highly touted freshman — Sahvir Wheeler, CJ Fredrick, Kellan Grady, and Davion Mintz are some notable upperclassmen. 
Lastly, — this has been a negative so far for both teams — they are both really struggling shooting the three ball so far. Louisville is shooting an abysmal 30.6% from three, and Kentucky isn't doing much better at 32.7%. This is surprising for both teams considering the sharpshooting transfers UofL and UK brought in this offseason. 
So let's get to the prediction. The game will be played at Rupp, which is traditionally an extremely hard place to play in — especially when Louisville comes into town. I think it will be closer than many folks will predict, one reason being that Louisville has a lot more depth at the center position, so they will be able to throw a lot of guys at Oscar Tshiebwe in hopes of getting him in foul trouble and/or tired. Additionally, Louisville's backcourt consists of two tremendous on ball defenders, which I believe will lead to some turnovers from UK's freshmen guards. But, Kentucky's talent and potential is undeniable, and Calipari was left with a bad taste in his mouth after last year's defeat back in Louisville. Especially since the game is being played at Rupp, I'm taking Kentucky by a score of 74-68. If Louisville wants to win this game then they are going to have to start making shots consistently from behind the arc, and they haven't shown that they are capable of that yet. I believe both these teams have potential of being second weekend tournament teams, but some more fluidity has to come from both of them to get there.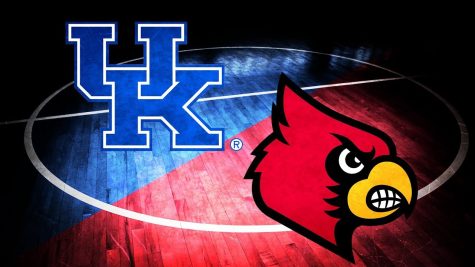 Enough with my opinion, let's hear from some St. X students about their prediction for the game!
Matthew Schaftlein: senior student and Louisville fan 
I believe that the key to a Louisville win will be our three point shooting. Our defense has been solid all year and I believe that will continue. With the game being at Rupp, our young team might struggle in that tough environment. I think that Louisville will pull out a close win 73-68.
Cole Sherman: senior and Louisville fan
I predict Louisville will stomp the Cats this year because they're deep. We're going to be applying pressure and turn the young Cats over the whole game. I predict the Cards will win 71-64. The Cards are a top ten team in the nation, no kizzy.
Jake Davis: senior student and Kentucky fan 
UK-UL is arguably the most intense in-state rivalry in college sports, but it is taken to a whole new level when it comes to basketball. Due to the game being at Rupp this year, Kentucky's dominant Oscar Tshiebwe down low and their future lottery pick TyTy Washington, I have a difficult time picking against the Cats. However, I expect it to be a close one as eight of the last ten matchups have been decided by ten points or less. Kentucky 75 – Louisville 68.
Aidan Welborn: senior student and Kentucky fan 
With the most wonderful time of the year being around, one thing that isn't wonderful is the University of Louisville. A pre-Christmas matchup between Kentucky and Louisville on Dec. 22 is one of college basketball's most storied, scandalous, and intense rivalries. With the Wildcats suffering a horrible season last year due to COVID-19 restrictions on the crowd, Kentucky and Coach Calipari have reloaded with NBA lottery picks and All-Conference transfers TyTy Washington, Damion Collins, Oscar Tshiebwe, and Kellan Grady. Kentucky will gain the victory in this year's Battle of the Bluegrass vs Louisville due to "Big O's" presence on the glass and TyTy Washington and Grady's scoring capabilities. The final score of the game will be Kentucky 88, Louisville, 72.