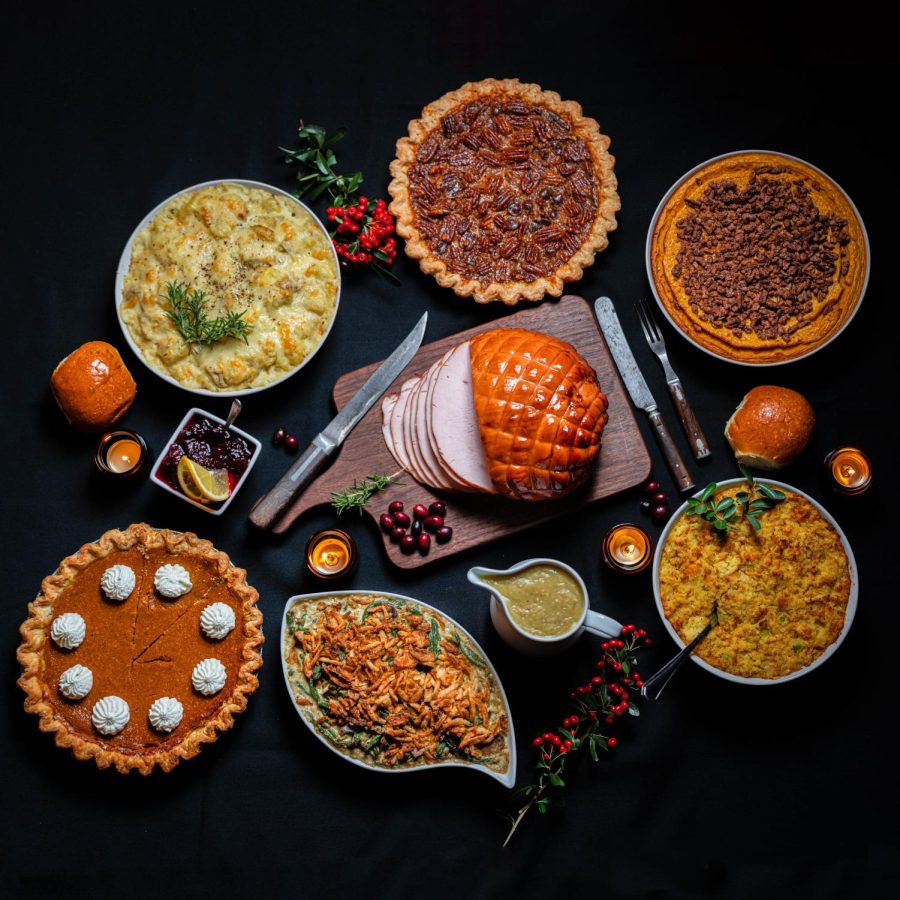 Our Thanksgiving Traditions
November 25, 2021
There are so many different traditions celebrated on Thanksgiving. Here at Xavier News, we share the joy of Thanksgiving all differently. Even though we all may have different traditions, we all feel that coming together on Thanksgiving with our loved ones is important and builds great relationships.
Sean Livesay
On Thanksgiving, my uncle gives me and my cousins a dollar for every point the Dallas Cowboys lose by. Our family shares a common, passionate hatred for the Cowboys, so there's nothing better at bringing the family together and then watching them lose. My uncle believes teaching the younger members of our family to hate the Cowboys is a valuable life lesson, hence why he rewards us for their loss on Thanksgiving.
Luke Napier 
It's definitely a tradition that we've slowly grown out of, but every Thanksgiving and Christmas, all nine cousins and I would split into two teams in the basement of my grandparents house and have a Nerf War. This isn't your typical Nerf War though. All year long, each family — and even each individual person — would modify their Nerf weapons, making them faster, more powerful, and everything in between. Now most years this would end in a shouting match debating if someone did or didn't get hit or if friendly fire is or isn't allowed, but even so, some of my fondest Thanksgiving Day memories are from our all-out battles in my grandparents' Cincinnati home basement.
Kegan Porter
My favorite Thanksgiving tradition in my family is when we gather our friends and family for a football game. We call it the Turkey Bowl. It's the Super Bowl, but turkey edition. We start off by selecting teams and then it's just regular, classic 11-on-11 football. I usually play wide receiver during the game. It's a fun way to kick off the holiday.
Reece Sutton 
Thanksgiving is absolutely one of the best holidays, second only to Christmas. Each year, all of my immediate family takes the trip to my grandma's house on the side of my mom's family. My dad's side lives about three hours out, and we usually only make that trip for Christmas. At my grandma's we all spend time in the living room catching up and watching TV. Eventually, all the food is finished, and we gather around at a big table to share the meal. There is always fantastic food, and I love getting to catch up with everyone.
Nick Wilson
I love Thanksgiving. The lack of priorities and the coming together of family makes it easily the most relaxing holiday. After all the great food is consumed, my family and I usually will play a few games of Left, Right, Center. Then after this, my brother and I always go to the outlet mall for Black Friday shopping, and that is always very fun.
Josh Koetter
One of the best parts of Thanksgiving is when me and my cousins play 3-on-3 football. It's usually two hand touch, but sometimes we switch it up and play tackle. We usually just play first to 50 and it's all around a great time, I mean who doesn't love backyard football on Thanksgiving?
Clayton Jaggers
I usually go to my grandmother's house for Thanksgiving. I enjoy seeing distant family members there because I haven't seen some of them for months or even years. Sometimes I don't even recognize some of them, so it's nice to be able to meet them for possibly the first time.
Darren Davis
I normally just go and eat Thanksgiving dinner with my family somewhere. I like sometimes going to my nana's house after Thanksgiving and watching movies or doing other stuff with them.
Dominic Garcia
During thanksgiving, we gather with extended family. Often making traditional food for the Thanksgiving season. After that we plan for the coming Christmas season then we all enjoy each other's company until the day ends.
Joey Maier
On Thanksgiving, my entire family gets together. We do all the regular thanksgiving traditions. These include eating lots of food, watching football, and just catching up with family. In my family it isn't as serious, and we are really just getting ready for the Christmas season.
Owen O'Neill
My favorite Thanksgiving tradition is watching football with my family. We always sit down together and watch football all day, even while we are eating. It's something that I look forward to every year.
Jake Bennett
My grandparents always spend the night before, and my mom and grandma cook a nice breakfast. Then they work on Thanksgiving dinner while my grandpa, dad and I build a fire and watch football.
Luke Wright 
My favorite Thanksgiving tradition is attending my grandparents' house where a massive amount of food is waiting. Sitting down around the table and sharing memories always brings my family closer together. Pumpkin pie is also my favorite dessert, so enjoying a whole pumpkin pie by myself is always an enjoyable moment.
All of Xavier News wishes you, your family, and your friends a Happy Thanksgiving.