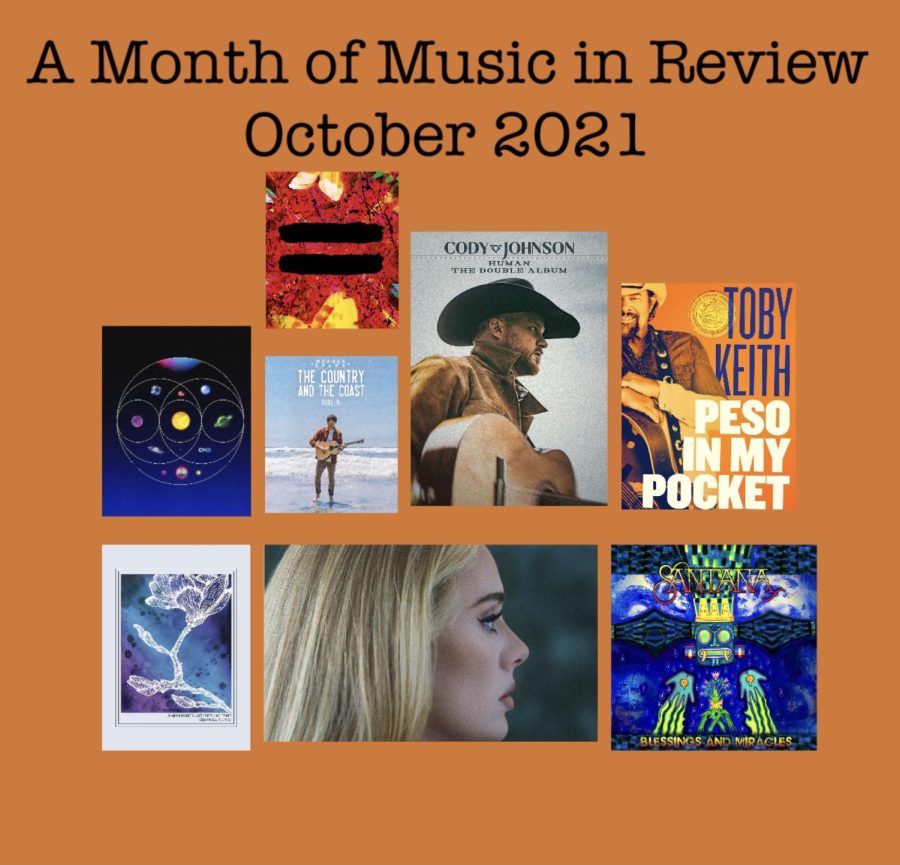 October: A Month of Music in Review
November 10, 2021
The first edition of our newest series, A Month of Music in Review, October was a month of fantastic, highly-anticipated releases that lived up to the hype and others that, well…not so much. From the country sounds of Cody Johnson and Zac Brown Band to the pop music of Ed Sheeran, this month produced quite an array of hits across all genres (and even some that cannot be categorized like Coldplay and Santana). But without further ado, here is a quick overview of October: A Month of Music in Review. 

Cody Johnson: Oct. 8 — Human: The Double Album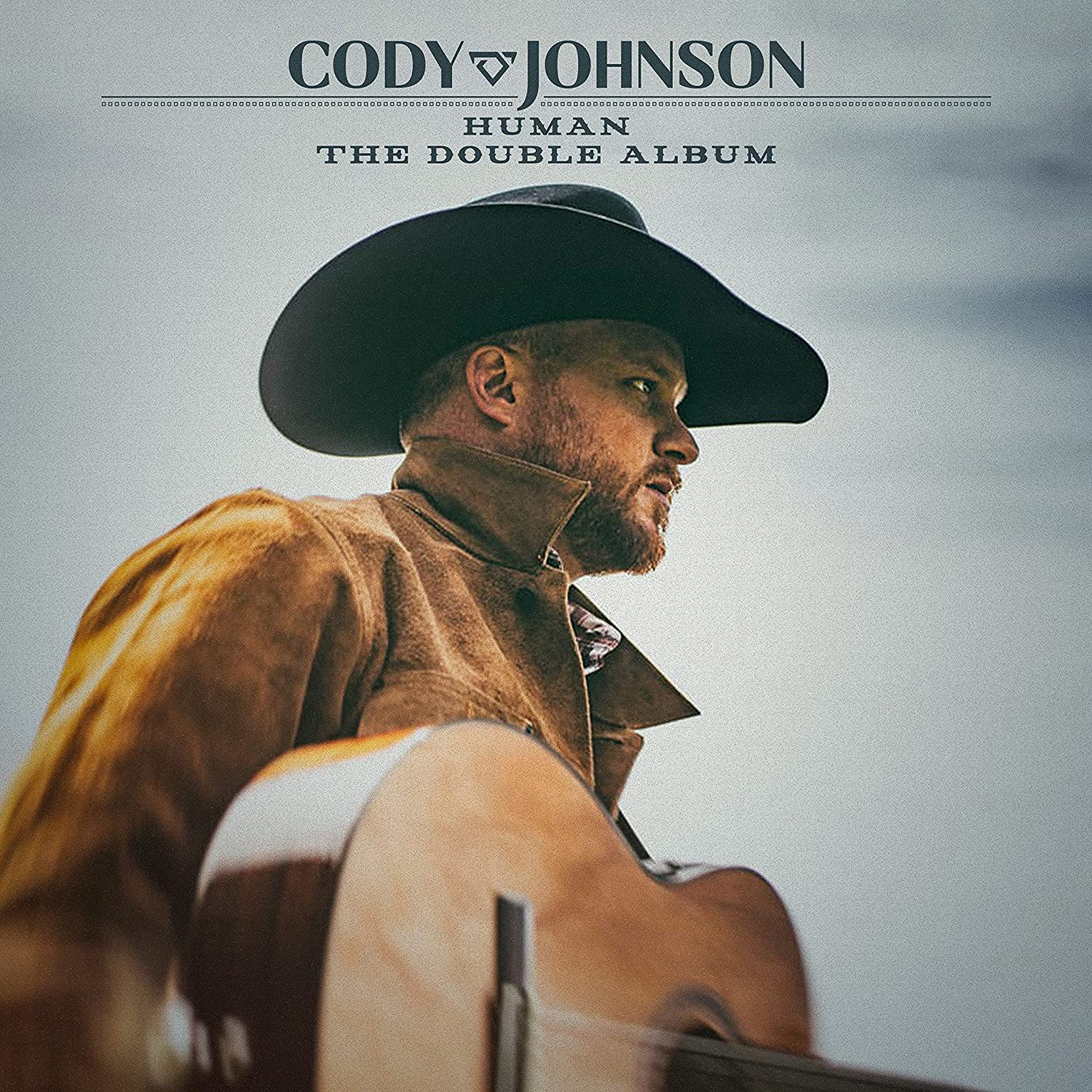 Following his breakout album in Jan. of 2019, Cody Johnson solidified his spot in Nashville with his first ever double album this fall, Human. The opening track of the same title deviates from that Nashville sound though, going with a more intimate feel than the normal pop-country sound of the city. Similar songs such as "'Til You Can't" and "Made a Home" are both highlights of the album, with the latter of the two being a touching love song written for his wife. But even with all of the slower ballads, Johnson still is able to jam out with rocking guitar pieces in "Honky Tonk Hardwood Floors," "I'll Be Known for Loving You," and "Let's Build a Fire," especially in the final one. Overall, this is a fantastic album that really shows how far Johnson has come since his early success, as he has continued to build upon it in promising fashion. 
Rating: 8.3/10
Toby Keith: Oct. 15 — Peso In My Pocket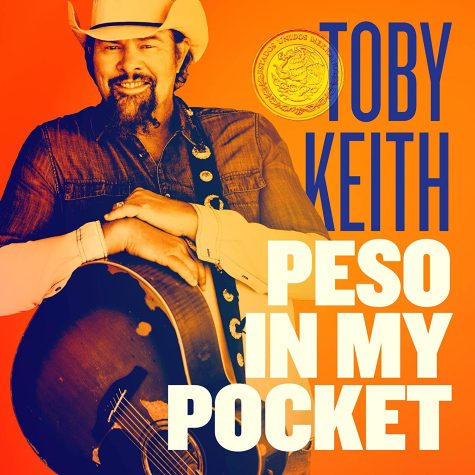 In his first truly new music in a little over six years, Toby Keith's Peso In My Pocket includes a mixture of both originals and covers. Though on the shorter side (10 songs, 38 minutes), the overall feel of the album is still authentically Keith, with kicking drums and his signature vocals. For the headliners, "Oklahoma Breakdown" and "Peso in My Pocket" are very reminiscent of Keith's classic sound with rocking drums and electric guitar throughout the entirety of both. But my personal favorite comes from a cover song, "Take a Look at My Heart," originally written and recorded by the late-great Kentucky singer-songwriter John Prine in 1991. Consistent with most of the music of the times (and Keith's true specialty), this song again has that heavy drum line throughout the entirety of the song as well as clean electric licks and power chords all the way through. While this isn't my favorite work that Keith has released throughout his illustrious career, and certainly not the best of this list, it was still worthy of one listen all the way through, just not an addition to any playlists. 
Rating: 6.4/10
Jason Isbell and the 400 Unit: Oct. 15 — Georgia Blue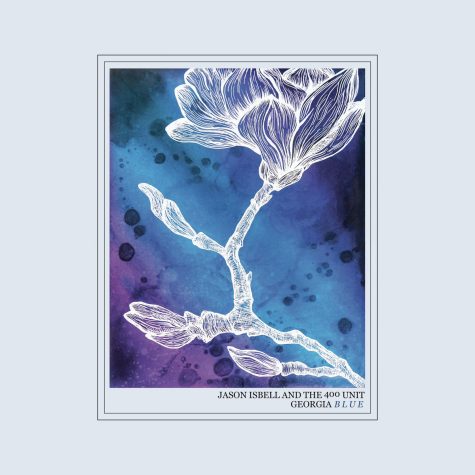 Jason Isbell, though known for his poetic songwriting and ability to paint a picture with words by telling beautiful stories in his songs took an entirely different approach to this album in an angle that I have never seen or heard before. Dedicated to covering and serving tribute to Georgia's best musicians and songs, Isbell and his band, The 400 Unit, released Georgia Blue, composed of strictly covers and/or musicians from the state. Some of the highlight covers include R.E.M.'s "Nightswimming" and "Driver 8," two lesser known songs by the hit alternative group. My personal favorite off the album though is "Midnight Train to Georgia," where Isbell had the chance to team up with up and coming singer-songwriter Britney Spencer. Originally written by former Ole Miss Quarterback Jim Weatherly for Gladys Knight and The Pips, Brittney Spencer fulfills the role of the female part magnificentally, with smooth vocals and runs that are quite impressive. But possibly the most impressive vocals don't come from this song, but rather in both "I've Been Loving You Too Long" and "Sometimes Salvation" where Isbell is able to stretch himself to get outside of his normal vocal range. Overall, while this is an odd concept album, I did enjoy listening to it and did add a few songs to my daily playlist, so I must recommend it overall:
Rating: 8.1/10
Zac Brown Band: Oct. 15 — The Comeback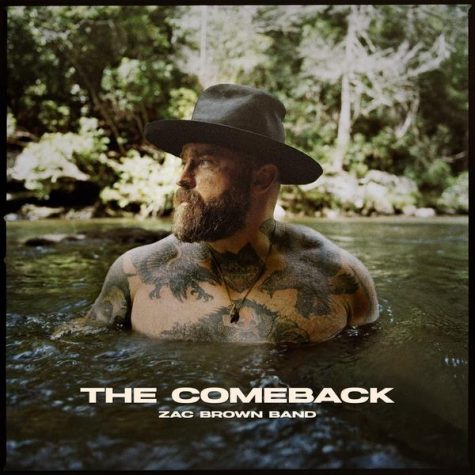 It seems like ZBB constantly has the next great concept, song, or even album ready to be released, and once again, they came through. In this case, the group was able to alternate between slower, easy-going tunes and upbeat, intense jam songs to create a nice mixture of two types of music. In regards to the individual songs, "Out in the Middle," a rocking tribute to the band's country way of life and roots, is one of the highlights of the album and is just second on the list when listening to it in sequential order. But while the song is most definitely doing well, the pre-released song "Same Boat" has yet to be surpassed in popularity, reminding me of their classic "Chicken Fried" guitar picking patterns and vocal harmonies. Perhaps the most underrated song on the album comes after the headliner though, with "Stubborn Pride" (feat. Marcus King) being a less successful, yet equally good song in my opinion. I will note that I have been a huge fan of Marcus King and his band for the past few years, but the combination of two such unique voices is quite a sound to hear. Though I wouldn't want to listen to this daily, I can recognize how and why this has been so successful, as it is very well-produced and written, so I must tip my cap to the group for a job well done. 
Rating: 7.2/10
Santana: Oct. 15 — Blessings and Miracles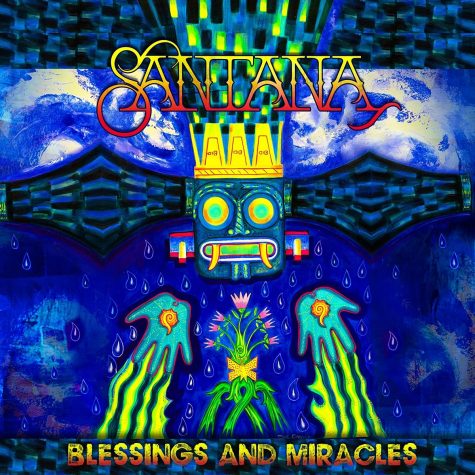 I must say, I was a little apprehensive about this album when I saw the features and duets planned, but I was pleasantly surprised to hear how well they turned out. Santana, a guitar legend on his own, is not someone I would peg to collaborate with Chris Stapleton or G-Eazy, but he actually decided to do so — and all on the same album, crossing genres multiple times along the way. In his duet with Chris Stapleton, Santana's "Joy" is composed of the classic guitar licks and solos including multiple stretches of tapping, a technique that I always enjoy hearing in a song of 2021. The very next song is "Move" though, which goes in the opposite direction entirely, sounding like a cross between Santana's normal rock and the feature American Authors' pop sound. Again, this is surprising, but pleasantly so because it actually works. While this isn't my go to genre of music (if you can even categorize it in a single genre), I genuinely enjoyed listening to this album and wouldn't mind doing so again if presented the opportunity to choose. 
Rating: 7.7/10
Coldplay: Oct. 15 — Music of the Spheres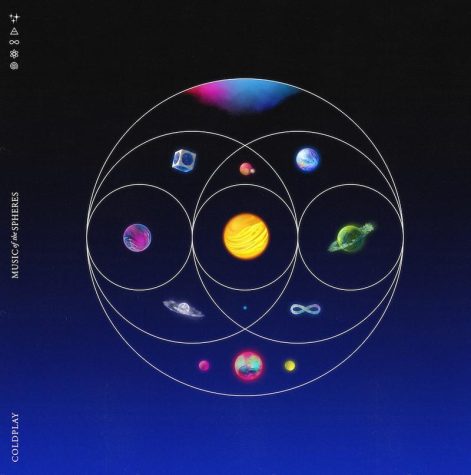 Coldplay has always been known for their experimental approach to albums, and once again, their newest one, Music of the Spheres, is just that. This is one of those albums that someone could say, "This could be the music of the future" and I wouldn't question it at all. "Let Somebody Go," featuring Selena Gomez, is one that is very…..interesting. It's not necessarily bad, just different. But the highlight of the album has to come from their collaboration with BTS in "My Universe." This combination of the older, original super-band with the new K-Pop band is a kind of a passing of the torch of some sorts and representative of what the people of 2021 truly want. 
Rating: 6.8/10
Ed Sheeran: Oct. 28 — Equals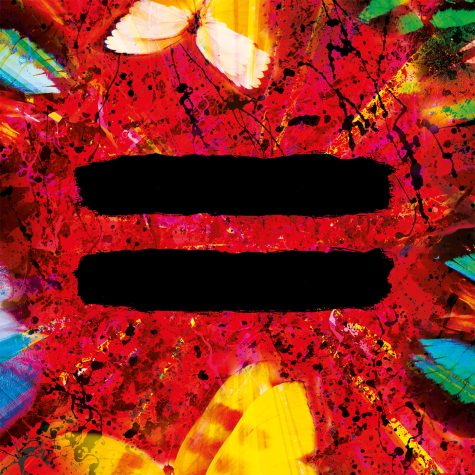 Probably the most highly anticipated album of the month, Sheeran's Equals isn't a total letdown….but personally, I don't feel like it's on par with some of his best work. The two pre-released songs, "Shivers" and "Bad Habits," were both very solid and did incredibly well commercially, but they really set the tone of the album, letting everyone know that this is a mainstream pop album that's going to be heavily produced. While most of the songs turned out to be similar (high octane pop songs with lots of electronic sounds and instruments), one of the few acoustic songs did stand out to me; "First Times." Like most of my favorite Sheeran songs and arguably his best work in the past, "First Times" has a catchy fingerstyle guitar pattern with a full story told within the song, taking listeners along the journey of his life. Unfortunately though, this seemed to be one of the only songs that lived up to my expectations for such an accomplished songwriter and artist as himself. 
Rating: 5.9/10
Morgan Evans: Oct. 29 — "The Country and The Coast Side A" – EP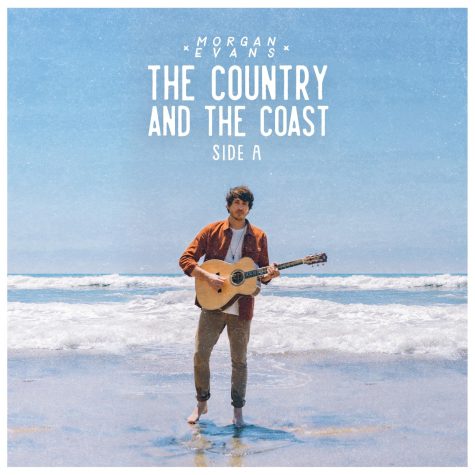 One lesser known star did release a country (or country pop) EP that I was pleasantly surprised with — Morgan Evans "The Country and The Coast Side A." The Aussie-born singer-songwriter (heavily influenced by fellow countryman Keith Urban) combined some stellar songwriting with the Nashville pop-country sound to produce an interesting set of songs that I actually really enjoyed. The EP opens with the song "Love Is Real" where you can really hear that Keith Urban influence based on the vocal pitches, reminding me a lot of one of his greatest hits, "Somebody Like You." But the real highlight for me was the real love song of the album, "Beautiful Tonight." Though still highly produced, the songwriting alone is just too good to pass up and was one of two songs that I just HAD to add to my playlist. It wouldn't be my go-to music for daily listening, but having one or two of the songs off of this on a playlist adds some nice variety to the normal country sounds of 2021. 
Rating: 7.6/10
Teaser Song of the Month: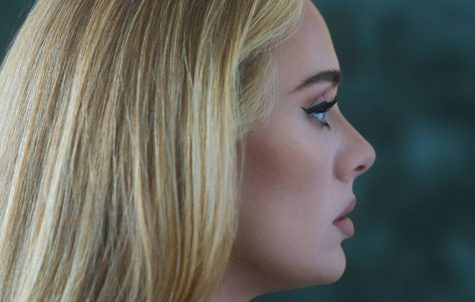 With the conclusion of October, we are now in the final few days before the release of possibly the album of the year, Adele's 30. But even before the official release which is set for Nov. 19, one of the greatest vocalists of all time has already given us a preview with her smash single "Easy On Me." Opening with a beautiful piano intro, it's nice to hear that she hasn't strayed from the roots of her success. As always, Adele's voice captivates audiences in a way that hardly anyone in today's musical industry can rival, and that shines bright in the record breaking single. Upon its release, "Easy on Me" easily broke the all-time record for the most streams on Spotify for a single day, surpassing 24 million global streams along with the week-long record of 84.3 million. Additionally, as of the time I am writing this, her official music video has just under 150 million views. The expectations surrounding this album couldn't be higher, and I would be surprised if I were disappointed with the results.