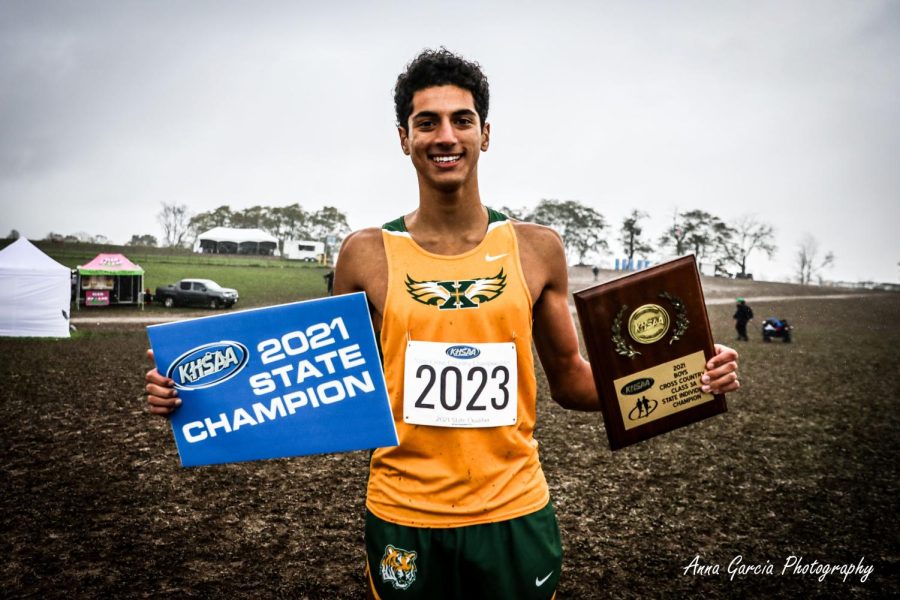 Sami Hattab Wins 2021 Cross Country State Championship
November 2, 2021
On Saturday, Oct. 30, Junior Sami Hattab ran a thrilling, tactical race in a come-from-behind victory at the Kentucky Class AAA State Championship.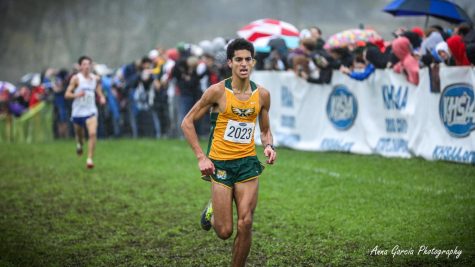 Hattab, one of the captains on this year's team, was not favored going into the race, seeded 7th based on his season's best 5,000m time of 15:52.77 at the Trinity Valkyrie Invitational. And with big names such as Brady Masters and N.C. State commit Jimmy Mullarkey taking the race out fast from the gun, Hattab knew that he was going to have to stick to his original race plan.
"I knew Brady would be out fast so I wasn't too surprised," Hattab said. "I just had to stick to the plan and have faith in all of our training and my own fitness."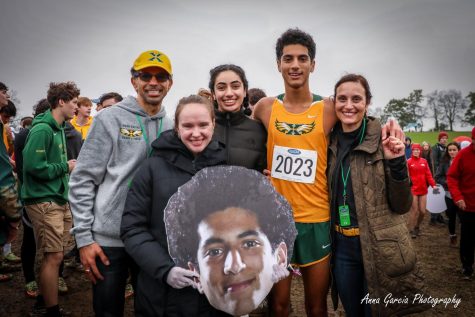 The tough competition wasn't the only thing he had to battle on Saturday though, as 48 hours of rain leading up to the competition created sloppy conditions on the race course in Bourbon County, Ky. Additionally, five other races were conducted before the final one of the weekend, the Class 3A Boys Championship race, so every step was a disaster waiting to happen for all competitors.
"The race conditions did not affect the plan at all," Hattab said. "The plan was to get out fast and in a top position early in the race."
Even after running 5:06 for the first mile of the race, Hattab still sat in fourth, almost ten seconds behind the leader, Brady Masters. Even entering the final mile of completion, Hattab was still fourteen seconds back from Masters and hadn't yet broken away from the chase pack. It was around this moment though that Head Coach Kyle Yochum saw the potential opportunities ahead.
"After the third big climb before the long last loop, Sami looked like he was absolutely prowling," Yochum said. "I didn't realize that Brady was struggling, but I felt certain that Sami was going to have a great last mile."
With no spectators out on the back portion of the course, no one really knows when Hattab closed the gap, but he did so in a massive way, surprising everyone with just over a quarter mile to go.
With a little over 400m to go, Brady Masters was pushing up the final hill towards the finish line when Hattab came charging around the corner, eating up ground with every step. Closing quickly, the roar of the crowd cheered on the two competitors, excited that there was finally a race at the front for the individual title. But just as Hattab pulled up beside Masters to finally take the lead, Masters slipped and collapsed, giving it his all with just 200m to go. From there, Hattab never looked back, flying up the final hill at a 4:15 mile pace to secure the first St. X individual title since Connor Sheryak in 2011.
Even after Masters fell, Hattab still pushed all the way through the finish line, leaving no doubt about who had won the race. He also ended up finishing four seconds ahead of second place finisher Thomas Ashby (Apollo).
"Before I crossed the finish line I had my eyes on the line the whole time because I didn't want to be surprised by anyone," Hattab said. "Once I crossed the line I was in shock and I didn't really know what to think. It took a little bit to really register that I was the state champion."
Coach Yochum, who at the time of Hattab's finish was further out on the course, didn't even know about Hattab's win until asked by a reporter for a comment on the championship.
"As it sunk in, I was so proud for Sami to reach this level as a junior against some top-level competition," Yochum said. "With Sami's approach to the work, I thought last year during track it would just be a matter of time before Sami started placing firsts. With championships, any given day can reveal who is readiest for that 15+ minutes of work, and this day made perfect sense."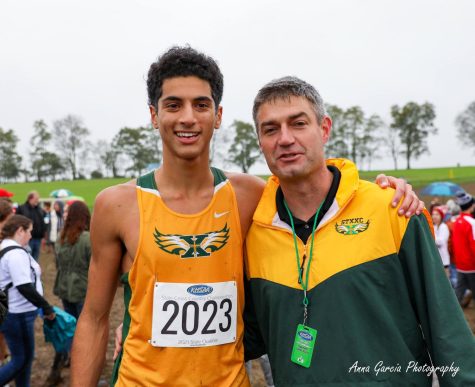 Yochum credits a lot of Hattab's success to his approach to the work, dedication, and belief in the program.
"Our program has always been blessed with believers, and Sami epitomizes that. He has a very mature, business-like attitude towards the lifestyle work that makes great runners great," Yochum said. "He also has a love for the sport and those who respect the work it takes. He's also physically and mentally gifted, in his ability to identify and maintain intense paces, from the 800 through the 5K, with very little over-reaction to feedback.
Hattab's performance on Saturday was one for the ages individually, but he also led his team to a second place finish, extending the program's streak of 13-consecutive seasons of placing in the top-2 at State. Though the team wasn't able to bring home the title this year, Hattab was still proud and thankful, saying, "I'm just happy I got to do all of this with maybe not the fastest team in the state, but the best team in the state."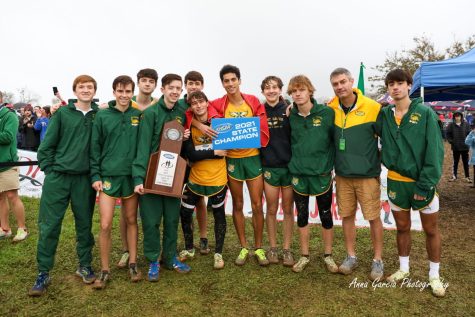 "It's such a privilege to work with young men who dedicate themselves like Sami does, and we've had dozens of them over the years," Yochum said. "I know every coach would agree that it's very special to coach a champion, because it helps every kid who's willing to work for it understand that faith in a team can lead to the highest possible achievements."