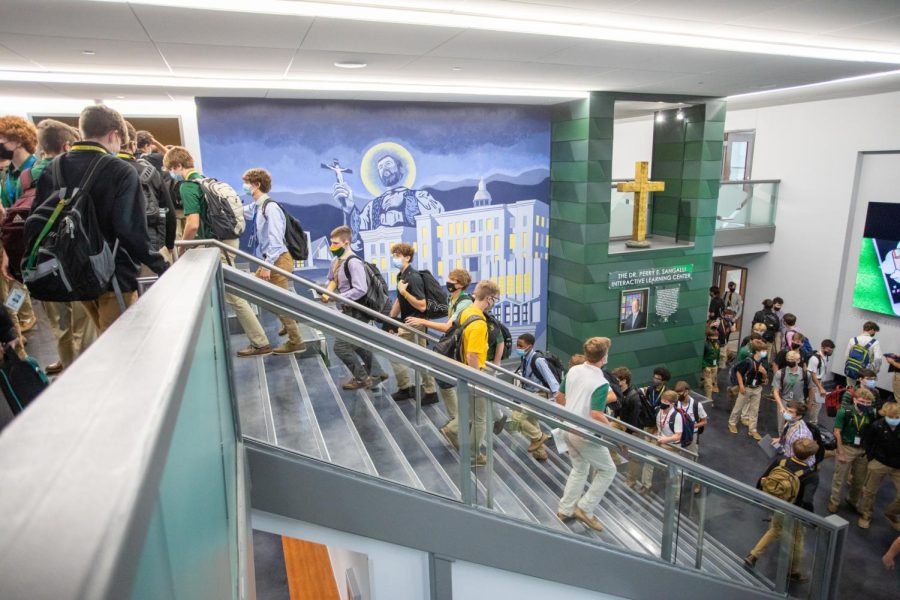 Finishing Touches Made On Newly Renovated CMC
After years of meticulous planning, one of St. X's biggest renovations has been completed.
October 4, 2021
The Callahan Media Center (CMC) has undergone massive changes to provide better utilities while continuing to keep a sharp appearance. The completed project includes an up-to-date section of the school that holds the newly built library and classrooms, as well as a brand new commons area for students and faculty alike. This modernized addition gives a unique, refreshing experience at Saint Xavier that can hardly be rivaled. 
The spacious remodel has a warm, welcoming aura with the ability to attract students from all parts of the campus. Despite being the newest addition to the school, it has become one of the most favored by students, faculty, and guests.
Mrs. Jarboe, who has been a librarian at St. X for five years, said, "I love how bright and clean it is. Mostly, it's nice just to see so many students choosing to come in here, and kids don't have to come in here. They can do everything on their iPads if they wanted, but they want to be here, which is nice. It's not a dark, dingy place, it feels like a college library to me."
The students share similar opinions, calling the renovation "comfortable" and "enticing". Many are also enjoying the equipment that came from the renovation as well, ranging from the new computers to the enjoyable furniture.
The CMC has been a part of Saint Xavier's campus since 1973 when it was decided that more space was needed. After nearly four decades, it was once again time to begin thinking about expansion and present-day reconstruction to fulfill St. X's ever-growing need for learning facilities. Clearly an ambitious task, the refurbishing of the CMC was swift and efficient, finishing just in time for the start of the 2021-2022 school year.
The renovated region has been named after the late Dr. Perry E. Sangalli, in loving memory of his life that he devoted to the school. To honor the memory of the Tigers' beloved president and the celebration of the new school addition, a dedication will be held on Oct. 13.