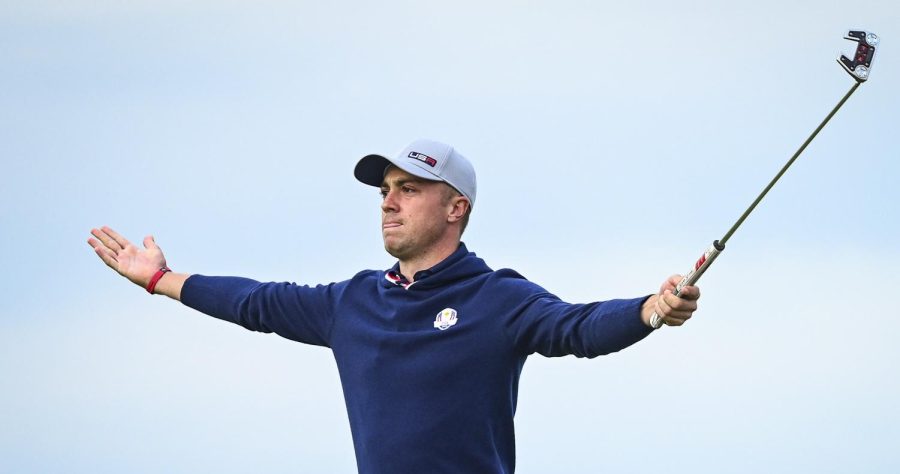 Justin Thomas Becomes "Captain America" at Ryder Cup
October 4, 2021
At 8:05 am on Friday, September 24, the biannual Ryder Cup teed off at Whistling Straits in Wisconsin. Thousands of fans ventured from all over to watch the historic event play out.
What makes the Ryder Cup so important? The star studded match contains 12 of the best US golfers pinned against 12 of the best European golfers; it's a territorial clash. Not to mention, the tournament was cancelled last year due to COVID-19, so this year's event was even more highly anticipated. The prize? A chance to represent your country and earn the ultimate bragging rights.
One of the 12 best American golfers that competed in the Cup happens to be one of St. X's most notable grads, Justin Thomas.
This is Thomas's second straight appearance in the Ryder Cup. He previously competed in the 2018 Paris Ryder Cup, where the US fell to Europe 17.5-10.5. Despite being the top American performer, the loss left him yearning to play again.
In 2018, according to RyderCup.com, Thomas explained, "I just cannot wait to play in more of these and cannot wait to play in one in the States." 
Thomas and the rest of the Americans proved their readiness this year by dominating Europe — winning by a score of 19-9, which happens to be the largest margin of victory in Ryder Cup history since the 28-point format was designed. Thomas added to the historic American performance by making a total of 2.5 points in his four matches played.
Thomas, a natural showman, was certainly the most entertaining golfer during the event. Fans took note of his amusing antics and fiery competitive nature, and by the end of the tournament, he was arguably the fan favorite. 
Many media outlets even coined him as the new "Captain America", a nickname previously given to Patrick Reed, but since receded for his rule breaking fiasco and unsatisfactory excuses.
Thomas commented on the U.S.' performance, saying, "I'm proud of everyone on the team." He went on to state, "I'm glad that all these guys on our team this week are on my team."
Thomas is most certainly not "all talk" as he currently stands as the No. 6 ranked golfer in the world. You can catch the St. X alum again in October, when he competes for the The CJ Cup at The Summit Club in Las Vegas, NV (10/14-17).