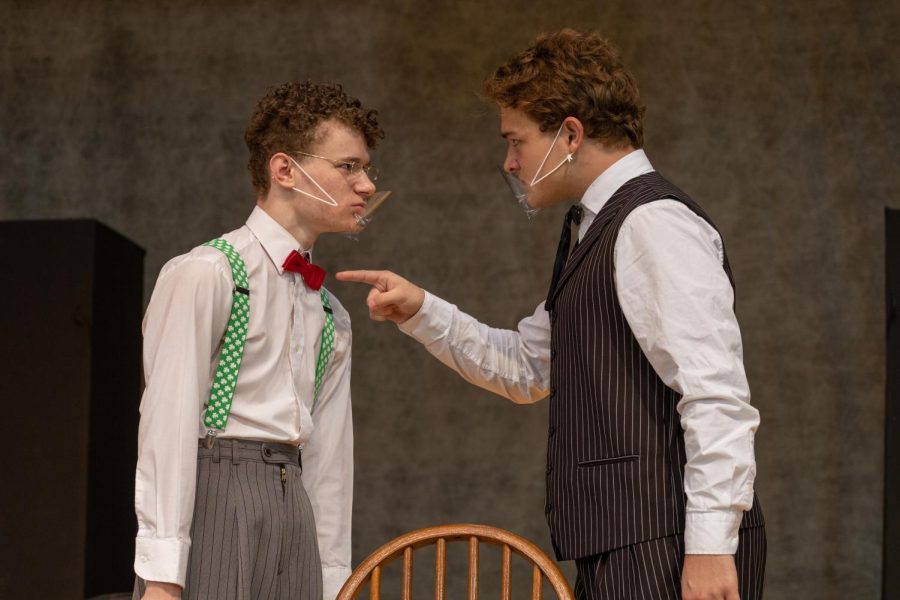 St. X Theatre is Back in Action
September 30, 2021
St. X is preparing to perform its first in-person play, "Inherit the Wind," in over a year, and it will premiere on Friday, Oct. 1, at 7:00 p.m.
Jerome Lawrence and Robert E. Lee's original play fictionalizes the 1925 Scopes "Monkey" Trial. The 1925 Scopes "Monkey" Trial was when John T. Scopes was convicted for teaching Charles Darwin's theory of evolution to a high school science class, contrary to a Tennessee state law.
Senior Adam Kamer plays Henry Drummond, a defense attorney who strongly believes in what is right and will fight long and hard in the name of justice.  Kamer said, "People should come see the play to support their St. X brothers! It's been a long time since the school has been able to put on a live show open to students, and coming to the show will help bring back that feeling of normalcy."
When asked why she chose to start the school year with this play, Mrs. Reisert, Saint Xavier's theatre director, said, "The issues it raises are very timely in today's culture.  It has lots of roles, so after last year with very limited productions we were able to expand and get lots of new people in the program."
Junior Joe Stack plays E.K. Hornbeck, the reporter from the newspaper company in Baltimore that is doing a piece on the court case that happened.  He said, "Ms. Reisert focused heavily on people in the background's reactions to the trial to make the whole scene feel so much more life-like."
"You should come see this show because it is, honestly, my favorite show we've done since I've been on the St. X drama," Stack also said. "We've done some pretty interesting shows like 'And Then There Were None', but I think that the small reactions and the very moving ending based off of a very real and interesting court case makes this show worth a watch."
To view the play, showtimes are Oct. 1 & 2 at 7:00 p.m., Oct. 3 at 2:00 p.m., and Oct. 8 & 9 at 7:00 p.m. in the auditorium.  The show lasts around one hour and 40 minutes and costs $5 a ticket for students.